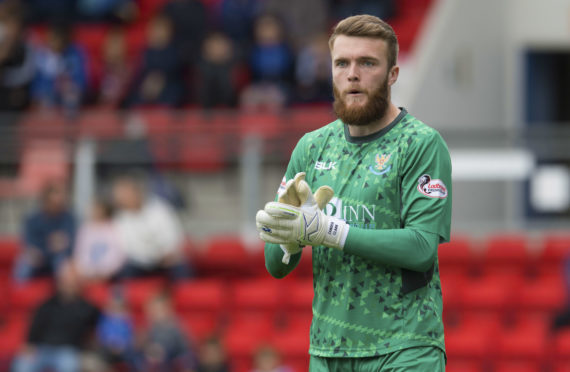 Scotland coach Peter Grant may have jumped to the wrong conclusion but St Johnstone keeper Zander Clark believes his display in the 6-0 hammering by Celtic was one of his BEST of the season.
Explaining the keeper's omission from Alex McLeish's squad for a November international double-header, a defensive Grant said: "A couple of weeks ago you lose six or seven against Celtic, James Forrest gets four and you are crucifying the goalkeeper."
However, as Clark prepares to face the Hoops again at Celtic Park tonight, he insisted that the McDiarmid Park scoreline didn't tell the full story.
"Obviously that's what he thought," said Clark.
"A lot of folk might look at a 6-0 and assume that the keeper hasn't had a good game.
"But personally, I thought I played well.
"I had a few good saves. It could actually have been one of my best performances of the season.
"It was certainly one of the busiest games I've had.
"The comments didn't mean much to me. I wasn't expecting to be in the squad anyway.
"I just focus on what I'm doing. If I'm pleased with how I'm playing and the manager is. That's the main thing.
"You can win a game 1-0 or 2-0 and people think that you've had a better game than if you lose 6-0. But it's not always the case."
What isn't up for debate is the upturn in Saints' form after the Celtic defeat. The run that followed was eight games unbeaten, with six wins and seven clean-sheets.
"The Celtic game was part of our learning curve," said Clark. "You dwell on it after the match and during the international break but once you get back into training all your focus is on the next game.
"That was the same for all the boys.
"It's not just me who has done well after that game. The back four have been solid since then as well.
"There were games in the run of clean-sheets that I wasn't having much to do at all.
"A lot of folk were thinking 'where do they go from here' but we've made them eat their words, I would say."
Saints have reasons to be optimistic at Parkhead this evening.
"After the last Celtic game we became much more solid and were harder to break down," said Clark.
"With the attacking threat that we've shown – with Mikey (O'Halloran) adding to it – we've got another dimension now.
"We'll try and be as tight as we can and hope that one of our attacking players can nick us a goal.
"They're on a great run, particularly at home, but we have to try and focus on what we can do."
Saints are coming off a rare off-day against Hearts at the weekend, which resulted in a 2-0 defeat at Tynecastle.
"It was disappointing for our away run to end in that way," said Clark.
"We didn't do enough in the game. Luckily we've got another game coming up quickly.
"The biggest frustration was the fact that we never really got a foothold in the game or put Hearts under any real pressure.
"You need to try and put your marker on the game, particularly away from home."
Another man who Saints fans believe will be a Scotland international is Jason Kerr.
And Clark has had a close-up view of his progression.
"Jason's been excellent," he said. "Joe (Shaughnessy) has as well. And Joe's helped him a lot with the experience he has passed on.
"The two of them have been solid.
"It's incredible to think how composed he is at 21, and how he reads the game. You'd think he had been in the game for 15 years.
"If he keeps his feet on the ground he can go a long way.
"He's vocal in games too. That side of it has developed as he's played more.
"You become more confident when you've been doing well.
"Like I said, he's got a big future in the game."