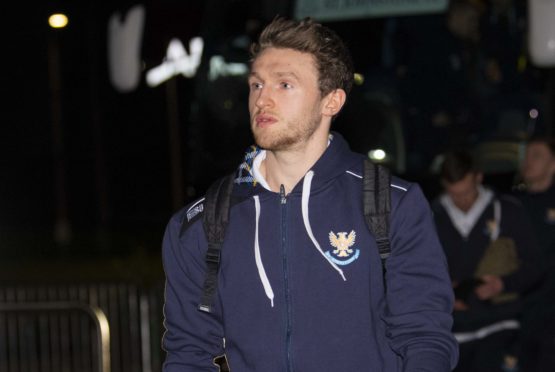 Niall Keown is well aware that breaking up the Joe Shaughnessy-Jason Kerr central defensive partnership will be no easy task.
But moving to St Johnstone wasn't a hard sell to a player who had been frozen out at Partick Thistle long before the temperature plummeted across the country.
Keown has swapped Firhill for McDiarmid Park, with Steven Anderson going in the opposite direction.
And the Englishman is thrilled with his side of the deal.
"Thistle had made it clear they were trying to move me on in both the recent windows," he explained.
"I was delighted when this came about and we got it sorted.
"I had things in my contract which didn't fit in with the financial framework of the club when we were relegated.
"They wanted to restructure things and that was the message I was getting.
"I only stayed in August when there was a late cruciate injury to one of the centre-backs who was going to be out for the season.
"But come December I was frozen out of things.
"When it is made clear to you I don't have a problem. That's football.
"It's easier when you're given it straight.
"My dad (Martin Keown) understood things and told me to look at the bigger picture.
"If things haven't worked out you can't just down tools. You have to keep working even harder to make sure you keep yourself right for the next opportunity when it comes along.
"He knows how frustrating it has been for me and maybe he could have been aggressive in that situation himself.
"But he knows you have to keep the head. There's no point having a massive fall-out or having a sulk about it.
"There are ups and downs in football but I always give it my best shot, no matter what."
With Shaughnessy, Kerr and Liam Gordon currently ahead of him, getting first team starts between now and the end of the season are not a given.
But that situation might change in the summer, particularly with the team captain attracting interest from the likes of Aberdeen.
"My contract at Thistle is up at the end of the season and I see this is as a chance to make an impression here," said Keown.
"There are no guarantees but that is my aim. Hopefully I can bed myself in and make myself a part of things.
"It is good to move on and I definitely see this as a fresh opportunity.
"The manager said he had been interested in me in the past and that gives you confidence as a player.
"I have played against the guys here since I have been in Scotland.
"We have had a good few battles, especially when we both made the top six.
"I have been impressed with what his teams are all about.
"It's clear that they take pride in their defending and they have a great record again this season.
"The players work hard for each other. They enjoy their defending and I like that about them. The team is structured and well organised.
"It is good to become part of it.
"I know I have my work cut out getting into the side because the defensive record has been great.
"But I am going to be ready when the opportunity presents itself.
"I have done more training than ever knowing I wasn't going to get first team matches at Thistle.
"Now I want to do the best I can to give myself a chance of being here next season."
Manager Tommy Wright likes the attitude his new defender has adopted.
"Centre-back wasn't a position I had thought about adding to but Ando wanted to go out and play, so things changed," he said.
"I have always liked Niall and speaking to him since he arrived, he's hungry.
"He won't accept that he's here as fourth choice. He's determined to do well enough to push for a place in the team.
"So it's a good situation for both parties.
"Niall is out of contract in the summer so he has a chance here to show what he can do. That's not just in games – that can happen in training every day."
Chris Kane will miss out against Celtic tomorrow but should be fit for the Scottish Cup clash next weekend. Brian Easton has now returned to full training.
Looking forward to part two of the trilogy, Wright said: "Playing them three times so close together is tough but we can't be negative and defeatist about it.
"I have options to change things around and that's something I would be doing anyway because of the volume of games we have."