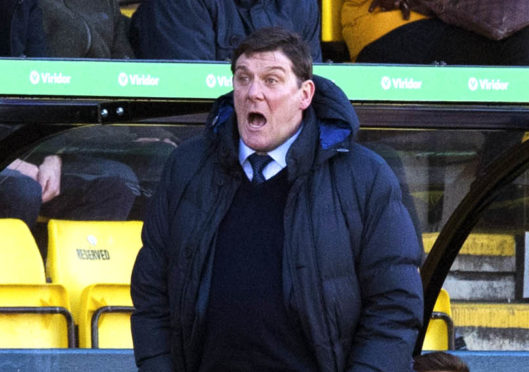 Tommy Wright has challenged his St Johnstone to get mentally tougher in their bid to halt an alarming form slump.
Saints haven't won any of their last nine games and have only drawn one of them, transforming the Perth club from strong top six favourites to outsiders.
Wright insisted that the only team to outplay them in that time has been Celtic and reiterated that recent results need to be put in perspective.
But he isn't blind to his side's recent failings, some of which were highlighted in the defeat at Livingston on Saturday.
"First and foremost we can't be feeling sorry for ourselves," said Wright.
"We have to work hard and keep trying to improve. It's obvious the areas where we have to do better.
"But after 33 games last year we had 38 points. We have that after 29 games this season.
"Overall it has been a good season in terms of our targets. I know people might disagree but I don't care.
"It's coloured by us being in this horrible run at the moment and that encourages negativity out with the club.
"I detest losing so it's not been great for me, the staff, the players and the supporters.
"But we have to remain positive. The bottom line is that we are doing better than last season when we were looking over our shoulder a little bit in terms of 11th place.
"That isn't the case this season. We have to remind ourselves of that.
"But obviously we have to improve because results just have not been good enough."
Wright added: "The overall responsibility is mine as the manager but the players have to take responsibility as well.
"It's how we are reacting to situations going against us that has been worrying. We have to be stronger.
"We had miles more possession than Livingston but I have been saying for years that possession doesn't win you games.
"We had only five shots with nearly 60% of the ball. Our build-up play is too slow and people aren't being brave enough on the ball.
"At the other end of the pitch players who were turning in a great run of clean sheets earlier in the season are being punished for their mistakes.
"Put all that together and it is a recipe for the poor run we have been on. These are all the ingredients needed not to win games.
"We are all frustrated but no team other than Celtic has dominated us.
"These are the same players who were on a great run before Christmas and started off well in January.
"So it's disappointing because we had a great opportunity to cement top six over the last few games.
"Now we have put ourselves in a real dogfight for it.
"They have to be stronger mentally and deal with set-backs better.
"We went 1-0 up against Hibs and Livingston and normally I'd expect us to see those games out.
"I've told the players that just because we aren't looking over our shoulders we can't just write the rest of the season off and let it drift away.
"I can't accept that and neither should they.
"We have let games slip but we still have an opportunity to make the top six.
"But that really isn't my priority at the moment. I am just concentrating on getting back on track with three points against St Mirren this weekend.
"Hopefully that will kick start things and we can go again."
There are no fresh injuries and Zander Clark will be monitored as the week goes on to determine whether he can make his comeback against St Mirren. Brian Easton will play for the reserves against Dunfermline today.