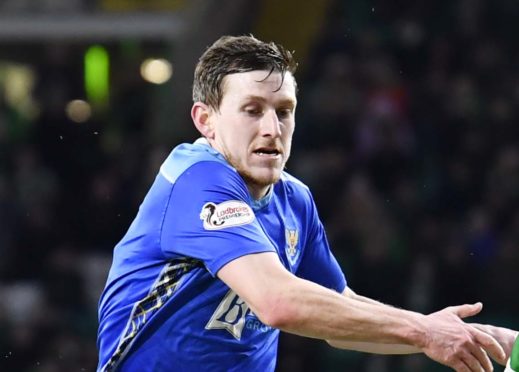 Four out of four is the aim for St Johnstone in the remaining Premiership pre-split fixtures, according to midfielder Blair Alston.
Four is also the number of points Saints are now behind Hibs in the battle to make the top six, and the former Falkirk man admitted that if they are going to successfully play catch-up, it needs to start against St Mirren tomorrow.
"We've now got four games that we see as 'we need to win all four' to have any chance to try to look up the way," he said.
"I think we have had a hard run where we have played so many of the big teams in a row but now we have a chance to get back on track.
"St Mirren is going to be as difficult as any other game because they are fighting for their lives.
"Even a point for them is going to be massive so they are not going to come here and lie down by any means.
"So we need to go about it the right way, not lose poor goals and work hard as a team and then be more clinical going forward.
"We've got to just take care of ourselves and we have lost a bit of momentum recently, Hibs have it in their hands at the moment.
"If they win every game they'll get it. But if we win our games we are going to make it really difficult for them.
"I think it will be hard for us, Motherwell and Hibs to all win every game we play, particularly so close to the end of the season.
"There are no easy games with everyone fighting for something. Whether it be top six or relegation.
"We know there are still big points to be won so hopefully we can pick up as many as we can."
There is no dressing up a nine-game run without a loss and Alston admitted that improvement is needed across all areas of the Saints team.
"It's obviously not what we wanted," he said.
"We've probably not handled ourselves as well as we would have liked have to.
"Things aren't quite falling for us and we need to bounce back this weekend.
"We need to be, and we have previously been this season, a good team when we have the ball.
"We have lost poor goals recently but we never looked like scoring (against Livingston) and I think that we need to turn that back around.
"I think there are times earlier this season where we'd lose a goal but we still felt we could score two or three and that's probably what we need to get back to.
"We want to get back to being tighter at the back but also need to be more clinical going forward and that's something that we can hopefully turn around."