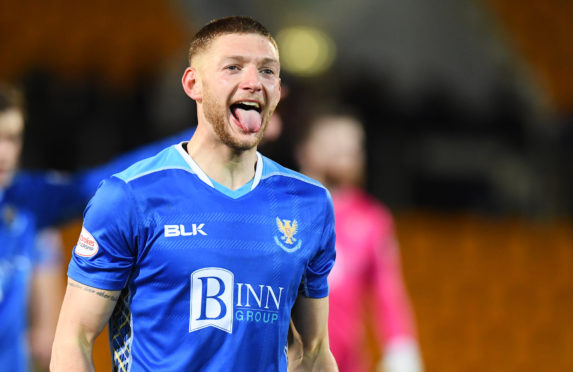 Joe Shaughnessy is likely to be his centre-back partner against Dundee on Saturday, but Liam Gordon is determined to prove that he and Jason Kerr can be the long-term pairing at the back for St Johnstone.
With the Irishman set to leave McDiarmid Park in the summer, local defender Gordon is in pole position to replace him when the new season gets underway.
And doing well in the weekend clash with Tayside neighbours Dundee would certainly help his cause.
"Obviously Jason is suspended this weekend but looking ahead I have played with him a lot in the youth team when we first came here," said Gordon.
"That was before we both went out on loan, which was good for both of us.
"We are different types of players.
"But we know each other's game and I feel we can work well together.
"I know what I can bring to the table.
"I have been patient and I just have to keep working hard and take my chance when it comes."
The 23-year-old has made 12 appearances so far this season, eight of them in the Premiership.
Even though he isn't quite at the stage of being called a first team regular, he's getting close.
And, with two years left on a recently–extended deal, time is on his side.
"I would like to have played more games but it has been a season of progress for me," said Gordon.
"Things are definitely going in the right direction for me personally.
"Hopefully I get games between now and the end of the season.
"If I can get a good run it will give me a chance to show what I can do with next season in mind.
"I want to show the manager I am one he can put on the team sheet and can trust and rely on.
"That is definitely my aim.
"Obviously if Joe does leave there is a chance there for me.
"But you never know what lies ahead in football.
"I just have to keep working hard and hopefully it will come for me.
"It was great getting the longer term contract but it is down to me to show people I should be playing regularly.
"So I am treating it as if I have just six months left to make my case."
Dundee's motivation on Saturday afternoon needs no explaining but Gordon insisted that there is plenty at stake for the home team as well.
"I know we missed out on the top six but there have been positives for the club," he said.
"Now we have to push on and make sure we finish seventh.
"Financially that is important for the boys personally and for the club.
"Money and pride are two big things for a professional footballer.
"So we want to win every game between now and the end of the season.
"It's good having a derby as the first fixture post-split fixture.
"Hopefully we can use it to set the tone for the run-in with a win.
"It's a good one for the fans, who might feel disappointed at missing out on the top six.
"There is the local rivalry there and you want to take it to them and win the game.
"We want to show the supporters we are still fighting for them.
"It would be great to complete a whitewash against Dundee but we won't be complacent because they are down there fighting for their lives.
"We know these are tough games because St Mirren came here recently and battled for everything.
"Guys' livelihoods are on the line."
Gordon was signed by Saints from Hearts but his senior football career actually began at Dens Park.
"I was at Dundee when I was 14, for four or five months," he recalled.
"Guys like Cammy Kerr and Craig Wighton were there, at different age levels.
"My coaches were let go because of the financial problems and went on to Raith Rovers.
"I went from being the captain of the under-15 side to being bombed out and not even playing for some strange reason.
"The training standard dropped as well so I decided I was getting out.
"I went to Raith and that turned out to be a good decision and a step in the right direction for me."