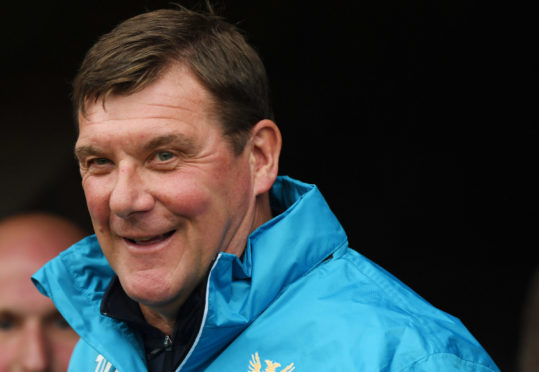 St Johnstone manager Tommy Wright is prepared to be patient in the transfer market.
With Tony Watt now a CSKA Sofia player, getting a striker is the number one priority.
But there is no rush as far as the Perth boss is concerned, with options traditionally opening up later in the transfer window.
"We don't need six or seven in the summer," said Wright. "It's tinkering rather than big changes.
"I've met with the chairman and we know we have a strong squad.
"We've been working since last August to prepare for this window. There is a lot of planning.
"Things don't happen right away. We know the positions we need to cover.
"We need another right-back. We've got young midfielders who deserve a chance and striker is the main one. But it will be the main one for every manager in the league.
"David McMillan is still available for transfer or loan but he'll come back and we can play Michael O'Halloran up there. But we will be looking to sign a striker.
"We might have to wait to see how the market pans out.
"You can get good deals from the Premier League or Championship in England. Just look at the difference McNulty made to Hibs.
"If something comes in that we have to act quickly on, we'll do it. But we're prepared to wait.
"We'll continue to work as we have done in the past because the bottom line is, it's working."
Meanwhile, Wright admitted that "with hindsight" the club might have been better off not doing any business in the January transfer window.
"We made signings in the window and one in particular didn't work out," he reflected.
"Maybe that's something we'll learn from next January.
"Things were going well and we made a conscious effort to try and push on even more.
"It didn't work out with Sean Goss but the type of player he was and the CV he had, we thought he could give us that extra bit of quality.
"In hindsight, maybe we could have stuck with what we had.
"We'd have been accused of not being ambitious, though.
"Like any manager, my signings have to be right. When I look back on my time here, I'm more than happy in that regard.
"I wouldn't be in a job otherwise."