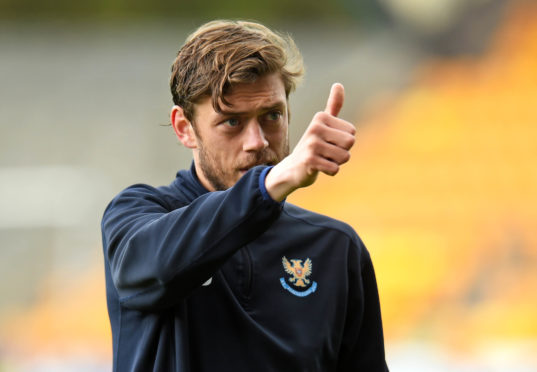 A defensive injury crisis is hanging over St Johnstone as they start their season at Montrose tonight.
Saints only have three senior centre-backs at the moment, and two of them (Liam Gordon and Steven Anderson) are sidelined for the Betfred Cup tie.
Midfielder Murray Davidson believes reinforcements are needed.
"I've never known a pre-season like it for injures," he said.
"Usually you get a couple of knocks and niggles along the way. It was all going so well in the first week but they've been piling up now.
"It has come at a bad time. We are looking very thin on the ground right now. We are down to the bare bones for the first competitive game of the season.
"We could do with a couple of bodies now, whether it is new faces coming in or players coming back from the treatment room.
"It doesn't take a rocket scientist to see that. We really only have four fit defenders at the moment, which obviously isn't ideal.
"At Inverness the gaffer didn't want to risk putting on Richard Foster when Steven Anderson had to come off in case we picked up another injury."
Davidson added: "You have to build every summer, no matter how you did the previous season.
"Look at Man City. They won loads of trophies last year but they still go out and bring in players and tinker with the squad.
"It doesn't matter how good or bad you have been, you have to strengthen and try to improve.
"So far we haven't been one of the most active clubs in the transfer market but I am sure bodies will come in."
Davidson is likely to come up against a former Saints team-mate this evening, Paddy Cregg.
"I played against Padge last year," he said. "I see him kicking about Perth now and then. It is always good to see old faces.
"We will be trying to get a positive result for our clubs."
Manager Tommy Wright is hopeful that Anderson, Zander Clark, Liam Craig and Chris Kane will be available for Sunday's game against Ross County, but all are expected to miss out tonight.
"To have only four fit defenders going into Tuesday night's game isn't ideal," he admitted.
"To try and hold onto players who are of real value and bring quality in, we deliberately wanted to go with a smaller squad.
"Overall, in terms of youth team and development players, we're probably down about 14 players.
"From my squad of senior players, at times you could argue that we had too many.
"But I always felt that's what kept us going. We might not have had the best 11, but sometimes you look at the bench and it's really strong.
"Last year we probably worked 28 senior pros, with one or two out on loan. We're down to 22 this year.
"I knew that was going to happen and I'm comfortable with that. Where you get the problems is when you get an injury list like we have now.
"It's not an ideal situation going into four games in just under two weeks. But it's a situation that we'll cope with and be prepared for.
"We're still looking to bring players in but to do that we probably need one or two to go out.
"When the injuries get better and we can trim the squad a little, there will be people added. Where we're light is quite obvious."
On Montrose, Wright said: "I'm expecting a tough one and I was up at their game on Saturday.
"On their own pitch I'm expecting an even tougher game than what they gave Ross County."