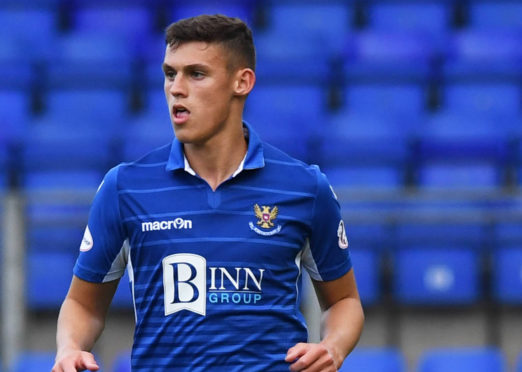 Wallace Duffy left Parkhead as a Celtic fringe player and he is now hoping to make a quick return as a St Johnstone first team starter.
The 20-year-old defender has featured in two of Saints' three Betfred Cup games so far after his summer move to McDiarmid Park.
He has his sights set on another match at Forfar on Saturday afternoon, with the Premiership curtain raiser against his old club looming large after that.
"I am looking forward to going back to Celtic Park," said the Fifer.
"It is flag day so it will be a sell-out. I want to be in the team.
"I played there in a Glasgow Cup final and that was my last ever game for the club but I have never played a competitive game there. There will be pressure on this game and I can't wait."
Duffy came to Saints to play football that mattered and he hasn't had to wait long to get top team minutes under his belt.
The starter against Montrose and Brechin said: "It is nice to get another 90 minutes in the tank and I have played in two of our first three games.
"I wanted first team football and I couldn't turn that down. It is nice to actually get a game and not be on the bench.
"I am learning when to go tighter and when to drop off but I am still learning from every game.
"I have loved it so far although it is different playing first team football.
"At development level you can get away with things where in first team football you get punished."
The Celtic first team proved to be beyond Duffy's reach but the football education he got is money in the bank.
"When you are a club like Celtic you watch guys who have played at the top levels, like Champions League and they are international players," he said.
"You try and learn from them and copy the guys in your position.
"I learned a lot from Cristian Gamboa.
"He was excellent with the younger players.
"I played right-back at Celtic and he was always trying to teach us things and work on a one to one basis with you. He helped me a lot.
"Brendan Rodgers used to come and watch the youths training and he would help you.
"He would always try and work on your game with you."
Saints were comprehensive winners against Brechin on Wednesday night and gave manager Tommy Wright the response he was looking for after back-to-back Betfred defeats.
"We kept things simple against Brechin and we knew they would be hard to beat," said Duffy.
"We had to be patient and go back to basics and we did that.
"We put down a marker in this game and we want to follow it up against Forfar.
"It sets the tone for the season. We have to score some goals, stop them at the other end and get our fitness up."