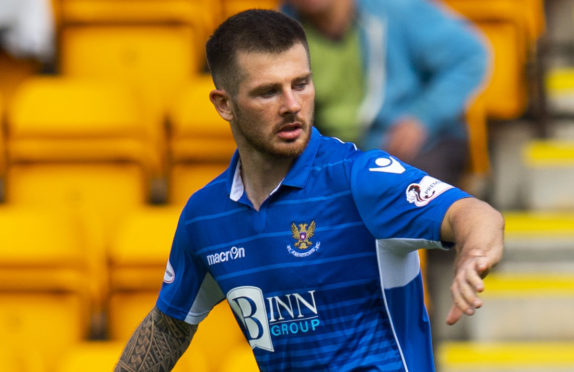 Matty Kennedy is eyeing up a central role with St Johnstone as winger Drey Wright closes in on a first team return.
Perth boss Tommy Wright has been pleasantly surprised by how quickly the Englishman has progressed in training following a lengthy injury lay-off.
The imminent Wright comeback coincides with Kennedy and Michael O'Halloran hitting top form for Saints.
And the former Kilmarnock and Everton man would be happy to move in-field if his manager decides to go with O'Halloran and Wright on the flanks.
"I'm sure the gaffer will want all three of us in the team," he said.
"We're all wide players but he can only play two in those positions.
"It will be interesting to see where he plays us. I can play through the middle and so can Mikey. Drey's more of an out-and-out wide man.
"I'd love to get the shout to play up front.
"I enjoyed it last season and scored a few goals.
"I'd like another chance – on my own or with a partner."
Kennedy added: "Drey is looking good. When he first came back into training his speed was there straightaway but it takes a bit longer for your timing and things like that to click.
"In the last week he's be on fire, scoring goals and setting others up. We all know how good a player he is.
"If we get new signings as well that would be great because a couple of new faces are always good for the dressing room and we don't have a massive squad."
The service for Kennedy and O'Halloran was good at Easter Road on Saturday and long may that continue.
"We've started passing the ball better," he said. "We controlled the game on Saturday and that gets the likes of me and Mikey on the ball to try and create things.
"I still feel like a need a couple more games to get up to full match fitness.
"Mikey's looking back to his best. It's all looking good moving forward.
"The more the midfielders can get on the ball, the more damage we can do out wide."
Kennedy believes the signs of progress at McDiarmid Park are there for all to see.
He explained: "We've not been known for comebacks so it has to be a good sign that we have done it in two games in a row now.
"We obviously don't want to be going behind in games but it does show that there is character in the side.
"You see teams fade away when they go behind but we don't.
"If we can now start to get the first goal we should be confident that we can win a lot of games."
Saints couldn't beat Kennedy's old club Kilmarnock in three attempts last season, which is something he is determined to put right at the first opportunity on Saturday.
"Last year Killie were one of the best teams in the league," he said.
"We didn't do very well against them overall (two defeats away and a home draw).
"This could be a good opportunity for us to get a victory.
"They could still turn up, though, because they've got some very good players. That hasn't changed.
"We'll be expecting a hard game."