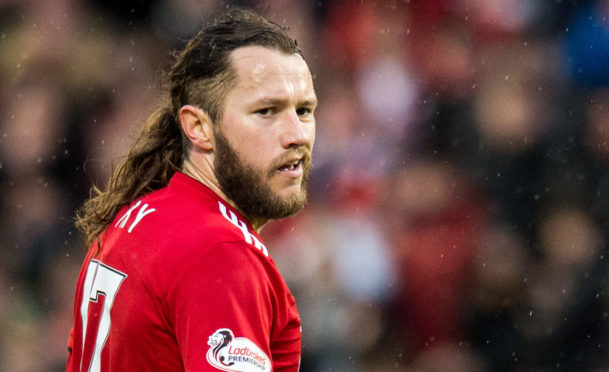 Stevie May refused to give back his St Johnstone tracksuit after his dream return to Perth collapsed because the Scottish Cup hero didn't want to give up hope that the deal could be resurrected.
A few weeks ago the transfer was so close to being signed off that May had completed his medical and had left McDiarmid Park with new training gear in his car.
However, instead of making his second debut in the Betfred Cup, the 26-year-old had to go back to Aberdeen where he still had two years left on his contract even though his heart was very much still in going "home" to Saints.
"I came in before the Brechin game, did the medical and the plan was to be playing the following day," May recalled.
"I went away with my tracksuit because I was supposed to be signed and back in for the game.
"The tracksuit hasn't left the back of my car.
"I didn't bother sending it back to the club because I always expected I'd be coming back eventually.
"It has been lying in the back of the car for a month or so. A few people spotted it and asked me about it. So now I'm here, I'll finally be able to use it."
He added: "Obviously it was frustrating having to wait until now to get it done, but these things are never easy.
"It was clear in my mind that this is the club I wanted to come back to even though there were other offers.
"Coming back here it doesn't feel like joining a new club. A lot of players have left and come back. I think that says everything about the club, the manager and the coaching staff.
"Sometimes clubs just suit a player and I think that will be the case for me here.
"There will be pressure on me to score goals but I put pressure on myself to do that."
The Saints fans have endured the same rollercoaster of emotions as May over the last few weeks, sometimes losing track of whether the deal was on or off. The frontman has been left in doubt how highly he is valued by the Perth supporters.
"I have a great connection with the fans and even when I was down south when I came home to Perth I would always meet people when I was out and about," he said.
"I know the fans were frustrated when it didn't happen the first time.
"I was out in Perth after that and a lot of people were asking me what was happening – but I didn't know myself at that time.
"Folk thought I just wasn't giving them an answer, but that was the case.
"I'm just glad it's done now and hopefully the fans are happy."
On the type of striker he is going to be in his second spell, May said: "I know myself what I need to do to get back to where I was during my time here.
"Over the last year or so I have maybe went away from shooting as much as I used to.
"That wasn't down to anyone telling me to do that but sometimes if you're playing a bit deeper you are more focused on the team and keeping the ball.
"The manager here has just said he wants me back to what I used to be like – shoot on sight and take the chance.
"I think I'm a better all-round player, I'm better on the ball and I have more confidence in my ability to keep possession. But it's about getting goals."
May was a star turn when he left and he's a star turn now that he's returned but the dressing room dynamic has changed.
"This is a really young squad," he said.
"When I left I was probably the youngest player and now coming back I'm one of the older ones – and I'm only 26!
"This is a really young group but it's an exciting one, I think there is a lot of potential there if players develop the way the manager thinks they will."
Meanwhile, manager Tommy Wright doesn't want May to be his last signing before Monday's deadline.
"We have to replace Richard (Foster) now and get someone in before the window shuts," he said.
"It's no secret we also need a back-up for Scott Tanser.
"And you never know, we could get another player in as well.
"Historically the chairman has always liked to have a wee bit flutter towards the end of a transfer window, so we'll see where we are by Monday night."
On Foster's departure, Wright added: "After the incident I felt it was best for everyone that Richard left and I think he is probably in agreement with me.
"We shook hands on his way out, there's no ill feeling and I will always be grateful for what he did for me over the last three seasons."
May is in the squad for today's game against Kilmarnock.