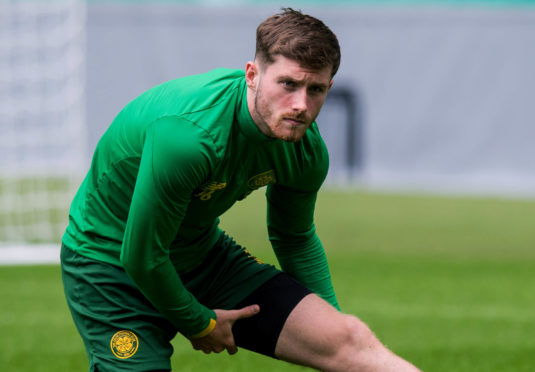 Anthony Ralston hasn't given up on his Celtic dream.
And a successful season with St Johnstone is part of the young full-back's plan to become a Parkhead regular.
The 20-year-old has signed for Saints on a season-long loan deal to replace Richard Foster.
And he is looking forward to a long run of Premiership action for the first time in his career.
"My ultimate aim is to be playing for Celtic," said Ralston. "I would never give up on that.
"I want to be able to go back there and show what I can do.
"But I am here for a year and I want to help St Johnstone to do as well as we can.
"It's just as important to me to help the club which has given me this opportunity.
"There is a lot of quality in the dressing room, with a good mix of younger and more experienced players.
"I'm looking forward to the first game after the international break."
Ralston, who famously came up against Neymar in the Champions League two years ago, has found his path blocked to Neil Lennon's starting XI by big money recruits.
"I loved being in at Celtic day to day," he said. "It is my boyhood club, the team I have supported since I was a kid and the people in there are great.
"I treated every game I played like it might be my last for the club.
"I went in for pre-season and just did what I do every day in training. I worked hard, kept my head down and hoped for the best.
"The way it has worked out, I have been given this opportunity to help with my development.
"At my age it is important to be playing games week in week out.
"He (Lennon) wished me all the best and we both agreed it was best for my development that I kept getting game time.
"I'm looking forward to a new chapter in my career and doing everything I can for St Johnstone.
"The manager here and everyone at Celtic have handled it really well.
"I want to get started and help the team."
Ralston impressed in the Dundee United team that lost in the play-offs to Livingston under Csaba Laszlo two season ago.
Now he is hoping this second loan will continue his career rise.
"I enjoyed my time at Dundee United," he reflected. "They really helped me.
"I definitely learned a lot in that environment and adapting to a different ways of playing.
"The few months I had there and the games I played really helped me kick on.
"I'm hoping this move will help take my career forward and show my qualities.
"Loans have helped other players, like Ryan Christie and Lewis Morgan."
Wallace Duffy made a permanent move from Celtic to Saints in the summer and the two men will be in direct competition for the right-back spot.
"I had a good chat with Wallace when I came in," said Ralston.
"I knew him from being at Celtic. It was good to catch-up with him.
"He is a hard working boy."
Manager Tommy Wright was delighted with his deadline day right-back recruitment.
"Anthony has a bit more experience than Wallace in that position and he is a natural right-back," he said.
"I am pleased to get him. He is someone we wanted in when Richard left.
"He is a good defender and good going forward.
"He got experience with Dundee United and did well there.
"He has played in big games with Celtic.
"He is dead keen to play and at a big club like Celtic it can be hard to get into the team because of the quality of players they have."