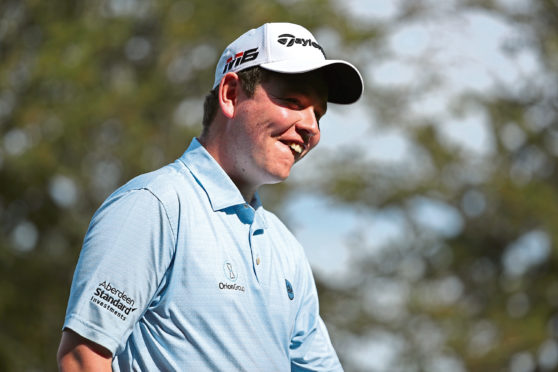 Scotland's 2018 European Tour season, as we detailed a year ago at this time, was pretty much a disaster narrowly avoided.
Thankfully, 2019's regular season, which ended at Portugal on Sunday, was far better, after most of our tour pros saved their playing rights at the 11th hour last year.
A potential new star's exploits make T2G's annual Scottish Euro Tour report card look a lot better than it might. He's the only one in the top 50, so there's still plenty of room for an overall improvement.
Robert MacIntyre A (R2D 7th, best 2nd British Masters, Made In Denmark, European Open).
In addition, Bob had the best debut by a Scot in the Open since Andrew Kirkaldy in 1879, no less. The unanimous Rookie of the Year on the Tour, the only thing that keeps him from an A+ is that he didn't convert one of his five top ten finishes into a win, but one suspects that won't be long in coming…and he'll get a full top-order schedule of all the big Rolex Series events in 2020, and even more if he can continue to do himself proud in the three money-spinning events yet to come in 2019.
Richie Ramsay B (R2D 58th, best 5 British Masters)
Ramsay, a three-time Tour winner, only escaped Tour School by the skin of his teeth last year. This time a strong start including a good run at Hillside set him up and he finished well with three top tens in his last four events to get into the season-ending DP World Championship. A great comeback from last year's struggles.
Scott Jamieson B- (R2D 74th, best 3rd Alfred Dunhill Champs)
Jamieson had a solid season after being close to losing his card in three of the previous four years. Had his season's high finish before 2018 had even ended and then got his biggest cheque at Abu Dhabi in his first event of 2019. 15 cuts made in his first 21 events meant a slowish end to the season, marred by illness, wasn't going to hurt him.
David Drysdale C (R2D 84th, best 2nd, Alfred Dunhill Champs)
The arch-survivor qualified for his 16th consecutive year on Tour with big finishes early on in December, in Hong Kong and South Africa. Didn't have a top 20 after February, so we'll mark him down a little for that, but he remains the most durable – and admirable – of Scottish Tour players.
Stephen Gallacher C (R2D 87th, best 1st, Indian Open)
Gallacher's fourth tour title came out of the blue, in a spell where he made just four cuts in 20 events. But a win is a win and they've been rare indeed for Scots in recent times. A couple of solid performances in Italy and France latterly suggest some consistent form is returning.
David Law C+ (R2D 89th, best 1st, Vic Open)
A maiden win in a rookie season is all you can ask, and February's victory in Australia settled any card issues for the popular Aberdonian. After a decent run of six events from April to June he didn't make much further impact. Still, he'll have a much stronger schedule with a few Rolex Series events to play in 2020.
Grant Forrest C (R2D 91st, best 6th, Trophee Hassan)
The North Berwick player had his card secure after the Scottish Open, the week after his biggest cheque in Ireland, but it was slightly disappointing that he didn't kick on, failing to have a top 50 finish thereafter. Card retained means mission accomplished, but we think Forrest has the talent to do a good bit better than that.
Russell Knox C- (R2D 131st, best 15th, Dunhill Links)
Knox has a crack at the big money events still to come in China, Turkey, South Africa and Dubai, but it's been a quiet season on both sides of the Atlantic for him. He'll continue to spent most of his time in the US, no doubt.
Liam Johnson D (R2D 148th, best 5th, Czech Masters)
The only one of the four Scots rookies coming off the Challenge Tour not to regain his card, the Dumfries player is by his own admission a streaky player and didn't ever have the big week he needed. If he doesn't save his card at Tour School, he's good enough to get back after a regrouping back in the second tier.
Calum Hill (R2D 174th, best 17th, Spanish Open), Ewen Ferguson (R2D 173rd, best 3rd, Belgian Knockout) and Connor Syme (R2D 217th, best 15th, ISPS Super Six)

Unmarked, because they all had just a handful of starts while being primarily based on the Challenge Tour. Hill will definitely play on the main tour in 2020 as he's top of the Challenge Tour rankings with just the Grand Final event to play, while Syme is 12th and probably safe to regain the tour card he had in 2018. Ferguson has a wee bit more to do at 23rd on the rankings with the top 15 getting promotion,but all three have shown in short bursts that they could compete at the top level.
Marc Warren F (R2D 215th, best 24th, SA Open)
His best finish was in his first event, and it was a desperate season for a player who was in the world's Top 50 just four years ago. Didn't make a cut from May to September and the acute frustration manifested itself in a couple of disqualifications. Hard to see where the three-time tour winner goes from here.