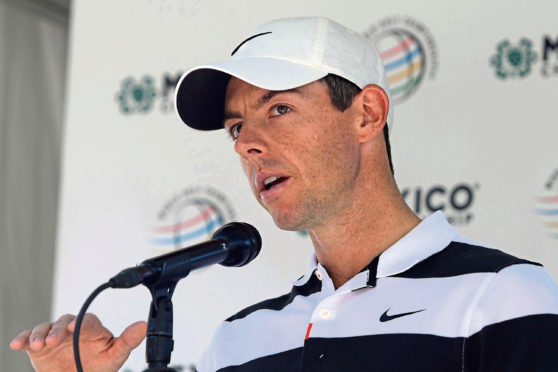 Rory McIlroy's vocal and highly principled "I'm out" stand against the interloping Premier Golf League last week has been taken by some as the death knell for the entire project.
It certainly sounded like it. Rory focused on the exact point T2G made when the PGL was first mooted – why would elite golfers, with a significant degree of autonomy on tours they administer by proxy, give all their independence up to become employees, not matter how richly rewarded?
It seems that Rory gave the same assessment to a meeting of the PGA Tour's Policy Board – the vehicle by which the players control the tour – and felt it necessary to expand the debate into the public arena.
Jay Monahan, the PGA Tour commissioner, must have been ecstatic – one of the many issues that plague him at the moment was being eviscerated by one of prominent players. That would leave him just dealing with equipment, slow play, Patrick Reed and all the other issues weighing on him.
PGL came out defiantly saying that their project was still afloat, and that their proposals – 18 compulsory 54-hole events, each with a shotgun start and a team element sort of akin to Formula One – was a viable alternative to golf's "broken model".
Andrew Gardiner, the English lawyer who is CEO of the PGL project – well, as much as it exists other than on paper – also confirmed that mountains of Saudi money were behind it all.
PGL even established a voice on twitter, and their first contribution was "Golf is owned by everyone who enjoys it, watches it, and thinks about it – in other words, you."
Well, at least until we buy it all up on behalf of a murderous regime, that is.
But that's by the by. There's no question that Rory's intervention has made things difficult for PGL. As Charley Hoffman, chair of the Policy Board said to Global Golf News, if the best player in the world is going to pass on it, it makes it easier for everyone else to do the same.
Does Rory have that cachet? Well, he has some authority and respect with his peers. Many have compared his intervention to Arnold Palmer walking out of a players' meeting about Greg Norman's World Golf Tour in the 1990s, an action many believe effectively killed off those proposals.
Arnie had the unquestioned respect of his colleagues, that was for sure, but he wasn't a competitive golfer at that time. Rory doesn't yet have the same respect, but his relevance to the situation is far greater than Arnie's was 30 years ago.
McIlroy did concede – perhaps with a degree of modesty – that he might have no choice but to go with the flow if not enough of his colleagues were agin the project.
There will also be a fair few of his peers who are annoyed with Rory for coming out so stridently – even those who have no intention of signing up.
They'll have seen an opportunity to place extra pressure on the Monahan and the Policy Board to up their game. Rory even alluded to this himself in his initial comments about PGL at the outset, talking about seeing the players "better rewarded" for their due.
Playing along with the PGL – who are ready to play Tiger Woods $200m or more for his participation, if the rumours are to be believed – might have worked for everyone in the long run.
Nobody is pretending that the present tour model is perfect. The relentless week-to-week 72-hole tournament schedule does not engage the uncommitted, non-golfing public.
The Tour does very well in the restricted market where it presently sits – mostly ageing, male and rich. With that demographic, getting the TV companies to pay millions to cover the game is reasonably simple.
Yet even in the era of the greatest athlete golf has ever produced, we've struggled to take the sport on, widen its appeal and exploit markets beyond existing territory. Golf's hugely lucrative already, of course, but what could it be like if it moved beyond the middle-classes and the country clubs?
The European Tour's Keith Pelley has been at the forefront of trying to shake up golf's model with new forms and features. They've not hit the definitive target on the nose yet, but he keeps trying.
And the point is, could the PGL model, modified to suit, not break up the endless round of 72-hole events with something a little more vibrant and appealing to those outside the closeted world of golf as it exists?
As we've noted in T2G recently, Norman's World Golf Tour eventually mutated into the WGC events. Decent ideas tend to get incorporated even if they come from unpopular sources.
That's what might happen with PGL. Golf can certainly accommodate a variance to the current 72-hole schedule, involving less play for more money and breaking up the season with an entertaining alternative, under the umbrella of the existing tours.
It wouldn't be 18 events, but 10 or 12 would still work quite well. I'd rather they didn't accept any more money from the Saudis, but am not naive enough to think that everybody thinks that way.
PGL – their model at least – might not be DOA just yet.