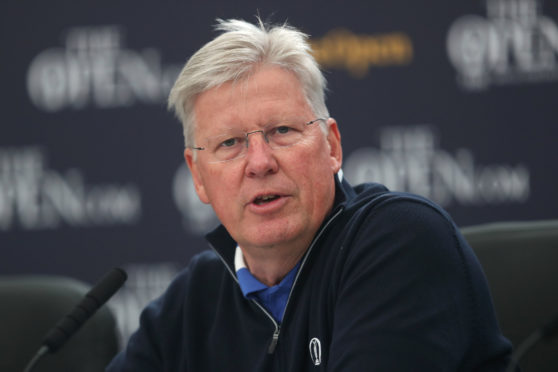 The R&A will seek a consensus on distance control in golf through dialogue, even if opposite sides of the debate seem entrenched, says chief executive Martin Slumbers.
The governing body had intentionally "kept quiet" since the release of their Distance Insights Report three weeks ago which found that the golf ball was going too far under modern equipment and calling for measures aimed at combating it.
The process is currently halfway through a 45-day period allowed by the R&A and USGA to determine "areas of research" where distance could be addressed, and there will follow a nine to 12 month period of comment on the way forward.
Slumbers stressed this was to seek a common ground for progress, not simply kicking the issue into the long grass.
"I'm not going to go beyond that because I want to see how that progresses," he said. "There has been a lot of very positive comment, that this is a dialogue the game needs to have, and I'm greatly encouraged by that.
"We've been allowing the dialogue to evolve, and I think there's been a lot of very thoughtful pieces on it. This is a complex issue, not everyone has got on the same side of it, and that's fine.
"We're going to have people who disagree and some who agree.  But what we will have is collaborative conversation for the future of the game.
"I am not going to jump to any preconceived outcomes because I think that would be not good for the dialogue. Some people think they'd like us to go faster and they know the answer.
"Well, that's fine, but I can't do that. I have to and will follow process, and at the moment we're keeping all the solutions on the table and working through them."
Equipment manufacturers like major ball manufacturer Titleist and even the PGA Tour have made sceptical comments on the wisdom of controlling distance, but Slumbers is certain that there can be consensus without recourse to legal action.
"The common ground, we'll find that as we're going forward," he said. "This is a serious issue and there are serious people who need to resolve it, and we're committed to being part of that.
"Where this goes, I don't know.  But we're out there, and we will have that dialogue, and the more that people are expressing their views, the more we'll work out together where the game is going to go in the coming years."
Slumbers was encouraged by the progress of another of the concerning issues during his five-year tenure as CEO to date, on slow play.
"The European Tour has got a new (stricter) policy, and they've been pretty positive about how that's come into play. The PGA Tour are now starting their new policy.
"Amateur golf, we absolutely are seeing at the elite end an improvement on pace of play.  The men's game has certainly reversed and is coming down.
"I'm a great believer in you bring everyone together, and things will ‑‑ you've got to have an opinion, and you bring everyone together, and I think pace of play we're moving in the right direction."