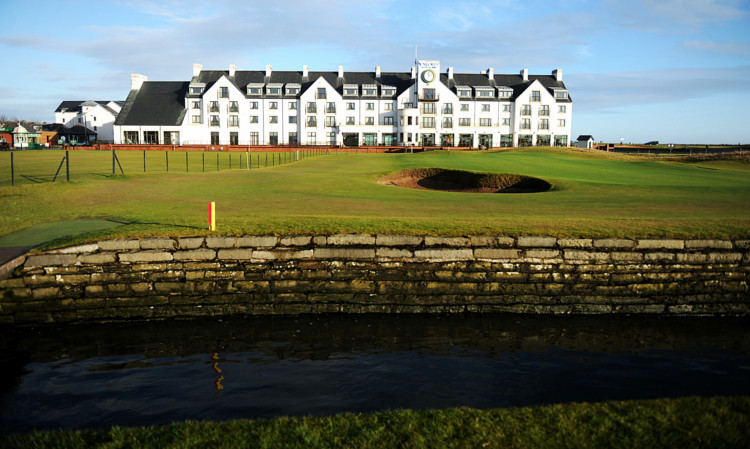 The man who suffered the most epochal collapse in major championship history believes Jordan Spieth is an "extraordinary player" who will recover from his Masters disaster.
Jean van de Velde is admirably comfortable with his place in history as the man who took seven on the final hole of the 1999 Open Championship when six would have won him the game's greatest prize. He'll be back at Carnoustie this summer as he turns 50 next month and is eligible for the Senior Open which returns to the great Angus links in July.
He claims to have never had a sleepless night about his infamous paddle in the Barry Burn 17 years ago – "I've woken up in a cold sweat many times, but none of them were about golf" – and thinks Spieth will get over his adventures in the water at the 12th at Augusta.
"He is an extraordinary player who has an extraordinary head on his shoulders," said the Frenchman, speaking from Hong Kong where he now lives.
"I really am convinced he will get over it extremely quickly and when he does he will become stronger and stronger.
"When you're watching him at that 12th hole you felt he was there forever – trust me, you can't believe how fast everything is happening when that guy is you.
"And he talked about what he did wrong, he didn't try to hide behind anything or dwell on whether he should have done this or that. He will have other chances and he will win again because he has a great personality and mental strength, especially for such a young man.
"That's what I love about golf, it slaps you on the finger five minutes after the biggest high you could ever think of. To me it is a reflection of what life is about."
No-one knows that more than van de Velde, but other than a few days of lost sleep in the immediate aftermath, he's never dwelled on it.
"I met Doug Sanders and he mentioned he thinks about his miss (at the 18th green at the Open) in 1970 every day," he said. "I only think about 1999 when people ask me about it.
"I don't get tired of taking about it. It is part of Open history and my life as a golfer. I believe there were 250 to 300 million watching on TV that day so it will take me some time to answer all the questions about that day, but I have nothing but great memories of it."
He's played Carnoustie since 1999 many times – he missed the 2007 Open due to a health scare – but after a gap out of competitive golf and concentrating on off-course activities promoting the French Open and their Ryder Cup in 2018, he's found his clubs again.
"I have the 100th French Open, which is a very big deal and we are also getting closer to the Ryder Cup in France, so I have a lot more on my plate than I anticipated," he said.
"I think I am going to have to be extremely dedicated to playing, I will try and be as ready as I can for Carnoustie.
"I'll then give myself time to look over a five year plan and accept it will take a while to be comfortable with a scorecard and pencil in my back pocket once more."
Carnoustie remains the ultimate challenge for him.
"I would rank Carnoustie all the way to the top among the toughest courses in the world, especially with the closing stretch of 16,17 and 18 which is second to none," he said.
"You need to save a lot of energy stored within your body and your brain for that challenge because it is so demanding and it really takes a lot out of you.
"If I was two or three ahead in July I will probably just takes my shoes off at the tee box straightaway. After that I would just play the hole the way I can."
The Senior Open presented by Rolex, which will also see the debuts of former Open champions John Daly and Todd Hamilton, is at Carnoustie from July 21 to 24.