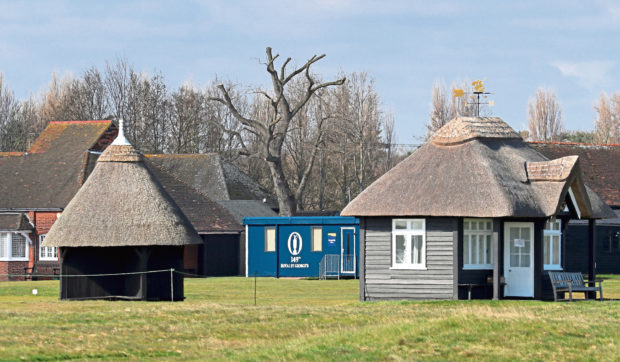 An apology: I might have become a little over-emotional for a time last week.
Put it down to cabin-fever, locked in the house for four weeks with only a red setter demanding my daily state-sanctioned exercise time for company. Or maybe exasperation with the tsunami of pointless "challenges" by idle sports stars on social media.
Also, put it down to the fact that Sandwich in July would have been my 32nd Open in succession, but that run will end with last week's cancellation of the championship at Royal St George's.
Eight months of my life at a golf tournament – that also seems roughly how long we'll be in lockdown from this current standpoint.
But it won't be that long, will it? The PGA Tour are talking about restarting without fans at Jack Nicklaus' Memorial Tournament, which will move into the week now vacated by the Open in July.
The PGA is rescheduled for August, the US Open for September, and the Masters is set for November.
So initially I was furious that the R&A hadn't at least tentatively rescheduled The Open for some time in the autumn. It seemed feasible – Sandwich, unlike every northerly venue, might be reasonably hospitable for play into October.
There was also the insurance question – unlike the other majors, The Open has a cancellation policy for pandemics – which seemed to fit with the R&A's recent money drive. Was it easier for them to take the insurance payout than maintaining an unbroken run of history of the world's oldest championship?
But the more you look at it, the more you examine what health experts and epidemiologists are trying to tell us amid the noise of the many (understandably, I'm one) desperate for sport to resume, you realise that the cancellation decision was right and the authorities in America are indulging in pointless wishful thinking.
The R&A briefed widely after announcing their decision. They didn't deny the insurance question, but they also pointed out the many strands of organisation that goes into holding an Open Championship, from the thousands of support staff to cater for the world's best players and 40,000 spectators, as well as the medical and emergency service cover for those people.
Many of these services are already under untenable pressure because of the pandemic. Building a small town for a week on the outskirts of Sandwich was a step too far.
But are we actually going to be able to allow mass-spectator sport by mid-September? It seems entirely unlikely: there will be no vaccine by then, and until a reliable and safe one exists we are going to be in relaxed restrictions compared to now, but almost certainly under the same requirements of social distancing.
It's now believed that a Champions League game between Atalanta and Valencia in Milan on February 19 was at least partly responsible for the alarming spread of the virus in Northern Italy. 35,000 Atalanta fans from nearby Bergamo were at the game, and the town was one of the epicentres of outbreak during their recent nightmare.
That's an example of what happens when you cram people into an enclosed arena and somebody is infected. Until we have a vaccine, we simply can't join together to become a crowd.
Okay then, play behind closed doors, right? In the case of golf, it's a non-contact sport played outside with adequate distances between participants. When restrictions relax, golf's will be one of the first sport safe to play, surely?
Yes, if it's just your daily two-ball, not touching the flags, absolutely, and many of us can't wait for that.
But even a closed door golf tournament requires four days' worth of ancillary workers, an enlarged greenkeeping staff, plus an army of TV technicians because we all want to see something.
That's a couple of thousand people or more at a major. In addition, players, caddies and referees will have to be tested and isolated from their families and friends for days going into each event. Golf has a number of advantages over other sports here but the issues still look insurmountable.
Which is why the R&A are right and the PGA Tour's schedule, even the Masters in November at Augusta (the state of Georgia only went into a partially enforced lockdown last week) is almost their version of a child's rainbow drawing – it raises a smile and the spirits, but really that's all it does.
The truth is, in all likelihood, mass-spectator sport is out until 2021. The R&A, Wimbledon and the Olympics get it. The rest are pretending.
Doug's grace in defeat
Doug Sanders, who died at the weekend, often acknowledged he'd only be remembered for that putt at St Andrews in 1970, golf's most infamous near-miss.
His best line on it was "Of course I can forget about it. I often go three or four minutes without thinking about it".
It was a joke tinged with regret, of course. But it said something about this colourful man as well; always in the best of humour, always accommodating with his time, in my experience.
He had four other major runner-ups, and 20 Tour victories. And in his peacock lilacs and oranges, he made golf look like fun. RIP.