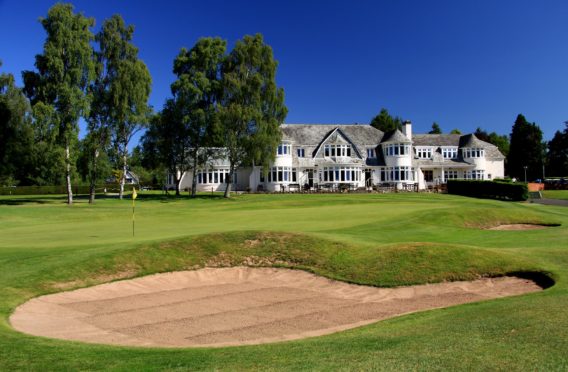 Refunds to compensate for the lack of golf during the coronavirus lockdown could lead to the closure of a prestigious Perthshire club, it has been warned.
Peter Inglis, club captain of The Blairgowrie Golf Club, has given an update to members on the current Covid-19 situation.
Mr Inglis revealed that some members have put in writing a request for money back on their 2020 subscriptions as a result of being starved of golf for several weeks at what should have been the start of their season.
However, the committee has come to the unanimous conclusion that to do so would jeopardise the very existence of the club.
"Quite simply, refunding this year's fees could lead to the closure of Blairgowrie Golf Club," he pointed out.
Blairgowrie, founded in 1889, has three heathland golf courses – Rosemount, Lansdowne and the Wee Course – all of which regularly feature in Top 100 lists for Scotland and the UK.
Rosemount was designed by James Braid with influence from Dr Alistair MacKenzie, the renowned architect of the Augusta National course. It was the venue for Greg Norman's first European Tour victory and the 2014 Junior Ryder Cup.
Designed by Peter Alliss and Dave Thomas, the tree-lined Lansdowne has hosted a number of Scottish and international championships.
The Wee Course is a popular nine-hole course, again with the eye of MacKenzie in its design.
That member refunds at such a well-run, historic club as Blairgowrie would have such dire consequences, spells out the critical financial situation for golf in Scotland.
In his letter to members, Mr Inglis wrote: "Following the announcement from the UK and Scottish governments, it is clear that golf courses in Scotland must remain closed at this time.  We will continue to review updates from Scottish Golf, the R&A as well as local authorities.
"With England getting the go ahead for golf as of Wednesday, clearly we are not far away from a return.
"Work continues on our Covid-19 operating plan and we will be sharing this with members very shortly. This document will provide detailed guidance of how the club will operate from making your booking, to arriving at the club, playing the course and heading home.
"In advance of publishing this document, we are confident that members will adhere to these guidelines, knowing they are designed to enable us to provide a safe environment for all of our members to enjoy their golf.
"We have had a small number of members write to us and request refunds of their 2020 subscriptions, or inquiring about fees for this year.
"We are looking into ways to add value to your membership subscriptions but your committee is united in the belief that no refunds can be given.
"This decision has not been taken lightly, however, subscriptions and visitor income are the bedrock of the club's finances. Quite simply, refunding this year's fees could lead to the closure of Blairgowrie Golf Club.
"Given these unprecedented circumstances, we would, therefore, call on all members to embrace their responsibility as the owners, shareholders and custodians of their club – and support the measures being taken to ensure Blairgowrie Golf Club remains financially secure for the enjoyment of current and future generations of golfers."
Mr Inglis noted that all 45 holes at Blairgowrie are "in good shape" and that the greens team will be increased as soon as a return date for golf is confirmed.
He added: "Lastly, we would like to take this opportunity to thank those members who have taken the time to contact us to show their support for your committee and staff in these most testing of times. There is extensive work going on behind the scenes and for this to be recognised is very much appreciated.
"We are all in this together and together we will get through this. Our priority remains to ensure members can get back to enjoying their golf at Blairgowrie Golf Club in a safe and healthy environment."
TEE TO GREEN, STEVE SCOTT: A clumsy Covid-19 muddle…decision south of the border has put considerable pressure on Scottish Golf and bodies in other devolved nations