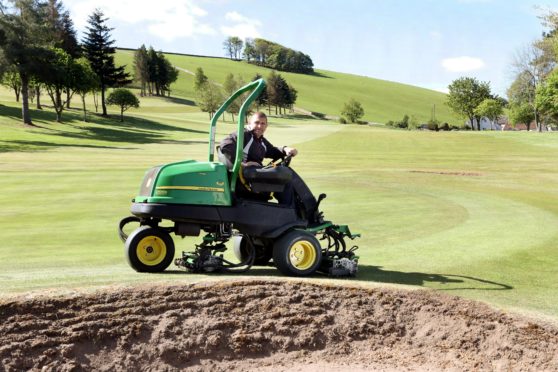 Golf clubs in Scotland can begin to prepare for a return to play from the soronavirus lockdown on May 29, subject to approval by the Scottish Government at next week's review of lockdown procedures next Thursday.
Scottish Golf released a document of guidance for member clubs after it was confirmed by the First Minister that golf would be one of the sports allowed to restart in Phase One of the easing of lockdown restrictions.
It was not clear from Nicola Sturgeon's comments the exact date of the re-start under strict social distancing requirements, but the document of guidance from Scottish Golf indicated that this would be after May 29, when clubs can start to prepare for a return to play. The likely start date would be that weekend or the following Monday.
Once play resumes, as in England and Wales, two balls will be permitted involving players not from the same household whilst maintaining the physical distancing requirements of 2 metres.
Groups of up to four players will be permitted at the discretion of the golf club, if no more than two households are represented in the group, and those playing solo will also be permitted.
Competitions will not be permitted, while players will be expected to adhere to travel distance restrictions – no more than 5 miles from their home. All tee times will be managed and booked in advance, but two-tee start times will be allowed.
As in the R&A guidance released some weeks ago, it will be prohibited to touch all course fixtures and equipment, including benches, ball washers, flags and bunker rakes, which should be taken out of use if possible.
"The golf community has been extended the opportunity to be an early sporting recipient that benefits from the relaxed restrictions," states Scottish Golf's guidance document.
"We urge everyone to be respectful of the preliminary guidelines and to apply good individual judgement, to ensure that in time we can move to a fully phased reintroduction of the game as we all know and love it.
"It should be noted that the Scottish Government continues to monitor the situation closely and has not ruled out the reintroduction of restrictions, which could see golf suspended once again if public health measures dictate, or if the guidelines are not followed.
"It is therefore imperative that golf clubs take the necessary steps outlined in this document prior to opening their courses for play and adhere to the guidelines, which could be subject to update or change at any time."
Members will be able to make appointments in advance to access clubhouses to retrieve equipment but they will otherwise remain closed. Some facilities like pro shops will be open in limited fashion but require to have safe hygiene procedures for hand cleaning.
Persons in the highest risk (shielding) group identified by the Scottish Government will not be permitted to play. Clubs will require to retain booking data in case it requires to be used in contact tracing of the virus.