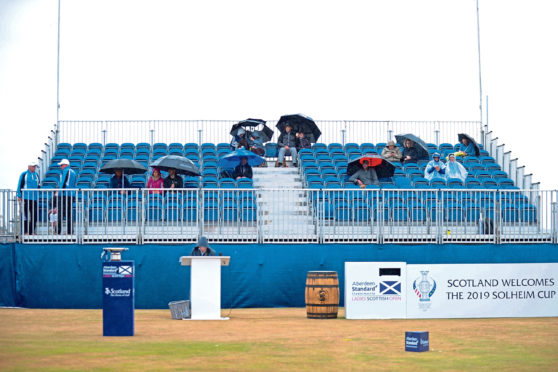 Barely a month ago, I waxed – well, ranted, really – in these columns decrying the prospect of the Ryder Cup and indeed all golf without spectators.
This column is not a complete about-face on that – that would be quick even for me – but the discussion is a great deal more nuanced than simply no fans=bad.
Last week the first dribbles of what will be the return of the European Tour trickled out from Wentworth. The plan, should the virus continue to be contained, is for five events in four weeks from late July, at various contained resort courses in England and Wales.
In order to create a safe bubble – I still have a big problem with this sports people being forceably held for our entertainment, but it seems I'm a lone voice there – there will be no fans at any of these five events.
There is obviously a large expediency element involved here. Fans coming in from all parts are a major complication in this new reality of sports during an ongoing pandemic. Take away that particular complication, it's all still complicated, but it becomes doable.
Add in that the Tour is desperate to get play going on TV by any means necessary, and that broadcast partner Sky Sports are equally desperate to show it, then the five event "festival" becomes an actual necessity for the Tour's survival.
The no fans thing, then, is simply temporary. Or is it?
A couple of years ago Martin Gilbert, then chief executive of Aberdeen Standard Investments, the sponsor of the Scottish Open, was holding his usual breakfast for the press during the tournament that year at Dundonald Links.
It was Saturday morning, and despite the unexpected presence of Rory McIlroy in the event, crowds had been modest the first two days. We all suspected Gilbert might be a bit disappointed with this.
But no, he was quite sanguine about it. The TV pictures were what mattered to him, with NBC taking live network coverage to the US. That was the market where ASI's logo needed to be, and it didn't necessarily have to be framed by spectators.
On retiring last week, Martin brought this up again. The Ryder Cup, he agreed, probably needed to have fans because they were such an integral part of the competition. Majors, yes, the noise of the crowd echoing down the avenues of Augusta and rolling over the dunes at The Open are a crucial part of the experience, live and on TV.
But at other events? It wasn't especially important. Low crowds at the Ladies Scottish Open, also sponsored by ASI, were largely irrelevant – it'd be nice, obviously, but the really important thing was those pictures bearing the ASI logo being beamed to Asia, where women's golf is hugely popular.
"I'm not privy to this particularly, but I imagine what the Tour want most is to get tournaments on TV," he said.
"That's where the bulk of their money comes from. I don't know that for certain, but that's my instinct."
Certainly at the sharp end of this particular crisis, the Tour needs these events for survival. One expects the modest €1 million prizefunds at the four that follow the British Masters – hardly a big spender itself at €2.5 million – is coming out of the Tour's dwindled reserves.
But that outlay means that they don't have to rebate Sky Sports for no product. Merely getting play visible has become the thing.
Beyond that, however, if the new normality is that we have no spectators for a decent amount of time – the time it takes to develop and circulate a reliable vaccine for COVID-19, one would assume – then it could easily become the custom.
I reckon that the Tour, like Martin Gilbert, wouldn't really be all that fussed about that.
A new and different strand
Perhaps we're getting an idea of the way golf might be headed in the post COVID-19 world with the staged "matches" of the last two weeks.
There was the somewhat sterile Seminole game, followed by the "Re-Match" featuring Tiger Woods and Phil Mickelson, with NFL quarterbacks Tom Brady and Peyton Manning as partners.
Lessons had clearly been learned from the first, unimpressive "Match" in 2019. Firstly, all of the cash ($20 million!) was going to charity rather than into Tiger and Phil's pockets.
Secondly, the QBs added an extra element. Manning's homespun charm and story-telling, and Brady's struggles with his game (he reportedly had played 18 holes that morning trying and failing to get something going) filled in for the continuing lack of rapport between the golfers.
And thirdly, Phil was obviously trying REALLY hard – succeeding in large part – to make to work as entertainment. One gets the impression that this is all his idea, and with his playing career verging on floundering, it makes sense as a new stream to maintain his star billing.
Tiger, meanwhile, will obviously take the bucks involved, but is far too busy being uber-competitive – yes even in a bounce game at his home course – to care much about the one-liners.
They'll keep tweaking the format, no doubt, but it worked this time. It could be a new and different strand for golf.