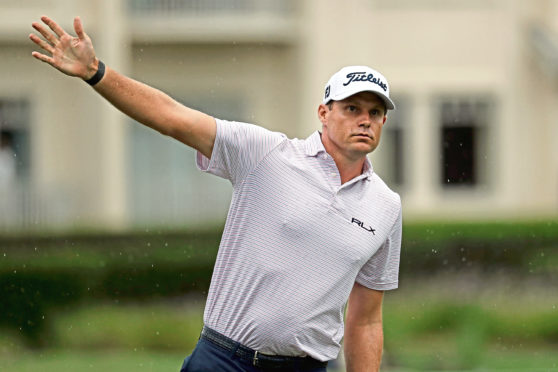 Let's resist the temptation to be smug at last week's T2G being proved right with events at Hilton Head on the PGA Tour this week.
Seriously. It was really quite obvious that there would be a Covid-19 infection on the tour, only a matter of time. In fact the time was just two days after the PGA Tour had trumpeted a clean sheet on tests for a second week in a row.
Nick Watney had tested negative like everyone else on Tuesday. Then he felt a little off after his round on Thursday, woke up feeling worse, noticed his fitness watch alerting him something was not quite right, and was duly re-tested and found to be positive.
No blame can be levelled at Watney, who probably was infected before he even got to South Carolina, informed the tour as quickly as he could, and followed their protocols.
Only their protocols were – and presumably remain – ludicrously lax. With Watney a potential spreader of the virus, they allowed him on Friday to mingle with his peers on the putting green and practice area while he was awaiting his re-test result.
Then they allowed his playing partners from Thursday, Luke List and Vaughn Taylor, to play without any knowledge of Watney's plight – they were told at the tenth tee – and only re-tested them and the others Watney had come into contact with once they were finished playing.
I saw one regular US Tour writer give the Tour a B+ for the way they handled it. Seriously? I wish I'd had a marker like him when I was flunking university 40 years ago.
But that writer's not alone. The widespread willingness to look at this dog's breakfast of a safety and containment policy like it's worthy of three Michelin stars is beyond belief.
I get that the Tour themselves and the players talk it up – they would, wouldn't they? But the rest of the US golf media have been like lap dogs, so grateful, one supposes, to have something to write about after three months.
One writer – a chap I actually like, so I'll not name him – quoted the manufacturer of the fitness watch Watney was wearing, which only appeared to be an opportunity for the watch-maker to promote the efficacy of his product.
Glad to see there's not an element of American life, even medical crises, where you can't squeeze out a few extra dollars.
But I digress. The startling issue is that the PGA Tour's tests – to be fair, any test, really – can't be wholly trusted. A negative on Tuesday turning to positive on Friday is not a great help when, as we remarked last week, the testing regime is the tour's only real defence against the virus as they hop across the country from hotspot to hotpost basically hoping for the best.
After Watney's positive test, Justin Thomas remarked that Hilton Head was "a zoo" with beaches, bars and restaurants packed out, despite the fact that South Carolina is one of several US states where Covid-19 cases are spiking alarmingly.
JT spoke in appalled tones, and I certainly believe that he and most of the other tour players have their heads screwed firmly enough on to know that going out in public is not worth the risk. Watney certainly hadn't.
The Tour only gives "strong recommendations" to members to stick to safe hotels and not to go out to bars and restaurants.
It's good advice, but to prevent risk of the virus spread it really has to be an order. We know that there's a number of players on Tour who are of the constuency who believe basic public health control is a threat to America's precious "freedoms".
Prior to the Tour re-start, Alan Shipnuck of Golf.com spoke to a Tour veteran – a major winner, he said – who had sympathy with the crackpot view that the virus was a conspiracy and a hoax, and that he intended to wine and dine wherever he liked.
I've no idea how many of the 150-odd tour regulars share this madness, but there will be some. And they're doing what the hell they like as the Tour leapfrogs around the country.
The virus won't be a real threat to the fit young men of the PGA Tour. But it could be to ageing caddies, to officials or the remaining volunteers at venues. These people matter too.
One positive test is not enough to call a halt to one tournament, or the schedule. There is a business element to maintain, which you balance with the obviously risk of playing now.
But the PGA Tour should admit this and tighten up their safety act.
More than a gesture
I'm sure the Tour and its players are making charitable donations during their restart to various deserving causes as befits a world in crisis.
But I'm also sure where most of the $14.4 million played for in the first two events is going. Contrast this with Ryu So-Yeon, who won the Korean Women's Open on Sunday and donated her whole winners' cheque of $200,000 to Covid-19 care charities.
She did the same thing in Australia during the wildfires there. There are gestures, and there's real action.