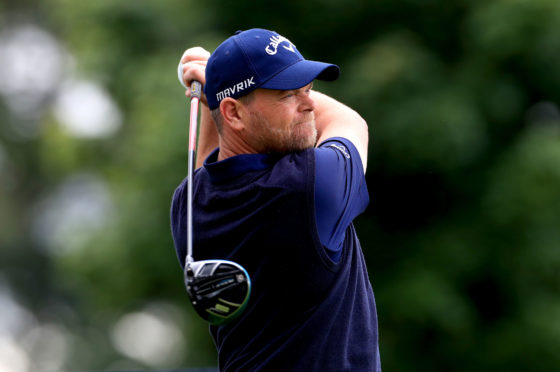 David Drysdale hates the limelight at the best of times, so he's relieved that his big anniversary at the Hero Open at Forest of Arden is being somewhat overshadowed by someone else's.
The Scot reaches the milestone of 500 European Tour events this week, only for in the same week the ageless Miguel Angel Jimenez passing Sam Torrance's all-time tour record of 706 tournaments.
It looks like it would take the 45-year-old from Cocksburnpath in Berwickshire at least another six seasons to get up close to the 56-year-old Jimenez's total, but Drysdale is slightly amazed that he's been out here so long.
"Obviously I've been aware it's been coming for a while, but it really isn't that much of a big deal to me," he said. "I thought it was going to happen in India in March. Maybe now at Forest of Arden I can kind of sneak under the radar, you know me.
"As far as I'm concerned all it means is I'm old and I've been out here a really long time!"
That doesn't tell half the story, however. Drysdale first got on tour in 2002, was in and out for six years in which he went through all sorts of tribulations – not retaining his card by under £500 in winnings one year, missing a putt at the final hole of Tour School to miss out, among others – but you could never accuse him of not giving everything he had.
In 2008 he finally stuck and he's been on tour ever since, 12 consecutive seasons, which is a record that few can match and one to be proud of, he grudgingly admits.
However the knock on Drysdale is that he's never won a European Tour event, and has taken over the record for most tournaments played without winning. There have been plenty of close things, the latest being the closest of all, losing a multi-hole play-off to Jorge Campillo in the Qatar Masters, the last event before lockdown, earlier this year.
"I wasn't quite sure what to think about that afterwards," he said. "Obviously a win or two would really set the seal on my career, and I certainly won't be personally fully satisfied if I don't get one.
"But with lockdown I had a lot of time to reflect on Qatar, and I realised there wasn't anything more I could have done. Jorge holed everything in the play-off and he deserved to win, but yes, it was a great week and the best opportunity to win I've had, I think.
"My only real regret now is not knowing where that performance and a run of form would have taken me. I would have played Kenya and India immediately afterwards, but instead we had a three month break, and I struggled to get my head into it at the British Masters on the first day.
"Second day was much better, and we'll try to take it forward at Forest of Arden."
Drysdale played as callow rookie in 2002 at the last event at Forest of Arden, the English Open, and did well. He was in the final group on the Saturday with eventual winner Darren Clarke, but admitted the experienced Northern Irishman "left me in the dust" and he eventually finished 10th.
"I often wonder what would have happened if I'd won then," he said. "You see the kids like Renato Paratore and Rasmus Hojgaard win early and they never know the struggle it is to win.
"They're probably better players than me, which is something, but sometimes you just have to have luck go your way as well."
Winning would be nice, but sticking 18 seasons and all of the last 14 on tour certainly counts for something, and there is certainly no better and more united team on the entire tour than "Double D" and his wife, manager and caddie Vicky.
Childhood sweethearts, they married in 2004 and since Vicky started carrying the bag in 2016, they've been basically inseparable.
"She's my wife, my caddie, my manager, my inspiration and mentor and everything else," he said in the European Tour's blog this week.
"Vicky has travelled with me for most weeks for the majority of my time on Tour so we have always been a pretty good team, but our relationship has grown even closer since she started caddying.
"She first did it for one week in South Africa in 2016 when my regular caddie couldn't make it, and I tried anther couple of guys on the bag after that but it didn't work.
"We decided to give it a go as full-time husband and wife, as well as player and caddie. It has been a lot of fun (most of the time!) and has worked out perfectly.
"Put it this way: if you are a Tour professional for over ten years and you find one person that you can share everything with and not want to kill each other at the end of the week, then you have found the perfect match, and I certainly have that with Vicks."