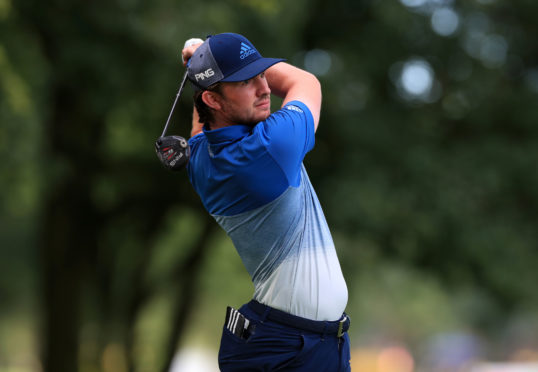 Connor Syme's routine for the lockdown nature of the UK Swing is simple – practice, play, XBox and Netflix.
The 25-year-old from Drumoig got off to a flying start in the second of the European Tour's home closed-door events, the Hero Open at Forest of Arden, racing to six-under after 10 holes and although his form cooled as the temperatures rose soared in Warwickshire on the back nine, he still came in with a fine five-under 67.
Being inside the bubble of the European Tour's health safety regime takes some getting used to, but into his second week Connor's getting to grips with it.
"You've got to have a good mind-set to be a pro golfer anyway," he said. "The way you travel it can be lonely, but this takes it to a new level with how strict it is.
"But you've just got to do it. I certainly feel like there's pretty much no chance of me getting coronavirus here, which is great and  what we need.
"I have my XBox with me and I'll be travelling with that for the foreseeable as that helps pass a bit of time. Netflix and the X Box are the key."
One the course, he found an early groove in the third group out on the course in near perfect conditions.
"Out in five-under, made a good putt on nine, which was playing tough, and then a birdie from the rough on the tenth, I was happy with that," he said.
"I stalled a little bit after that, not a great shot into 11 and missed a good birdie chance of 12, then didn't get up and down on 13, and I never really hit it too close from there, unfortunately.
"I'm still happy with the score, hopefully keep going with the form I had on the front nine."
Connor won two of the Tour's "virtual" events on Trackman during lockdown but was underwhelmed himself with his form in the for-real opener last week at the British Masters.
"I missed the cut on Thursday morning and it felt like a week off," he said. "Back to basics this week and just trying to knuckle down in these weeks. I'm feeling good, it's a great opportunity, a beautiful golf course and I'm happy to be out here."
He also played well in the first post-lockdown event in Austria, but knows that the fortunes can fluctuate quickly in this game.
"Overall I still felt my game was OK, I probably should have made the cut," he said. "Certainly on the Thursday I played well but didn't get anything going, but that's just golf, isn't it?
"You can't put your finger on it. You wish you had your best stuff every week, unfortunately that's not the way it goes. This week at least it's a good start."
Nearly all the leading scores were recorded in the morning as the tour returned to what was once a regular stopping point in the 1990s and 2000s.
Sebastian Garcia Rodriguez of Spain, in the second threeball out, set the pace with a blistering ten-under 62, although his compatriot Miguel Angel Jimenez, celebrating his 707th tournament on tour to break Sam Torrance's all-time record, outright refused to be second billing.
The 56-year-old didn't seem weighed down by expectation or the fuss being made of his milestone, playing superbly and seemingly set to match his younger countryman at least coming down the stretch.
The veteran birdied 15 and 16 with the long 17th and short 18th to come, but he managed just pars at both to lie two shots behind, tied with another Spaniard, Pablo Larrazabal.
The final hole was a special one, however, with fellow competitors coming out in a guard of honour to applaud their elder statesman as he walked to the green.
"It's a beautiful summer day, and I played amazing – a perfect round," he said.
"It's made me feel a little bit emotional inside. I appreciated (the ovation) very much. Some of them are new players, some I've known for many years. It was really nice, very emotive."
The old record holder was in contact via facetime with the new one.
"I was always very proud of that record, but it couldn't go to a better man," said Sam.
There was an encouraging start for Syme's former Scotland amateur team-mate Ewen Ferguson, who went round in a four-under 68, while david Drysdale, celebrating his 500th tour start, shot a one-over 73.
"I had a poor ninth hole (where he double-bogeyed) but other than that steady for 17 holes," he said. "I've enjoyed the day and I'm determined to enjoy the week.
"500 events is hard to get your head around. I don't think I'll catch Miguel, he's got the record today and it'll stuck for while, I think. I'll keep playing as long as I stay fit, a few more years I hope."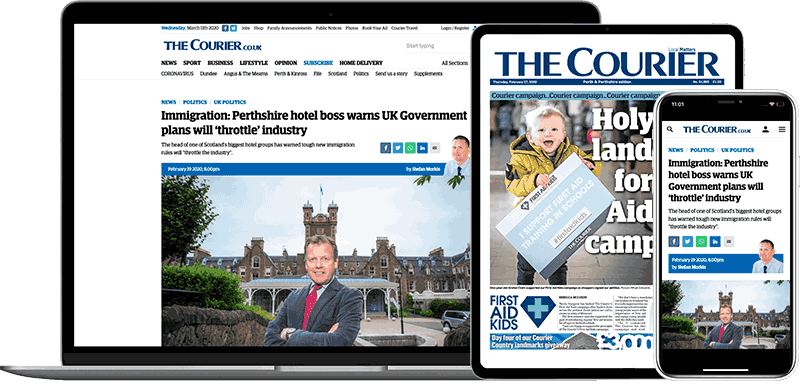 Help support quality local journalism … become a digital subscriber to The Courier
For as little as £5.99 a month you can access all of our content, including Premium articles.
Subscribe