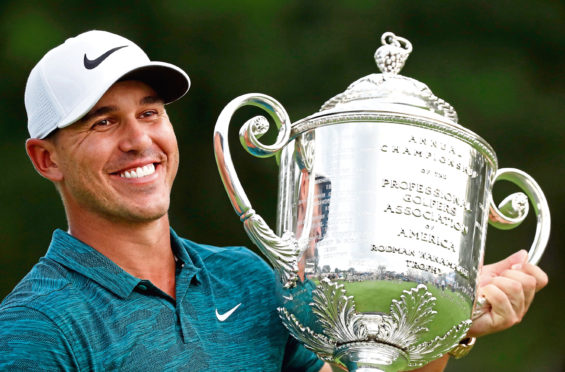 It's been 54 weeks since Shane Lowry hoisted and kissed the Claret Jug in a Portrush downpour, with Irish eyes smiling and weeping simultaneously. A year without men's major golf.
How much has changed in that year and a fortnight? A hell of a lot, and some of it maybe forever. We finally return this week to the majors with the rescheduled PGA Championship, at the original site of Harding Park in San Francisco, with a field of massive quality, so that much is the same.
But that's about all. There will be no fans at all in Harding Park, a rare example of a municipal golf course – although owned by the PGA Tour – in play for an American major. Across Lake Merced lies San Francisco's other, more regular major stop, the Olympic Club, which is the more regular super-exclusive set-up.
It's kind of ironic now to consider that at one point the PGA of America was considering moving the championship to Florida, when Northern California was one of the US COVID-19 hotspots. Things move fast in the new normal.
The form book is basically irrelevant, it would appear, we've so little to go on. There's been no-one battle-tested in a real contest with the pressure of a major championship on their shoulders in over a year, and nothing compares.
But you have to think the lack of bustle and crowd noise is going to help some of those who are looking to make that next step to their first major title – a trend that the PGA, in recent years, has fulfilled even when the gallery ropes have been straining.
In the last ten editions, seven of the winners of the PGA Championship were securing their first major. Of those seven, so far just one – Martin Kaymer – has gone on to win a second one.
So there was a 70% chance that we'll have a debut winner anyway, and clearly those eligible this time are not going to be examined quite as rigorously as they might have been.
Good news for those major title rookies who have been better than decent since the PGA Tour restarted, like Collin Morikawa, Daniel Berger, Brendon Todd, Bryson DeChambeau – yes, despite the world domination promised, Bryson's yet to even contend in a major – and Jon Rahm.
Rahm would be my pick from that group, not just because we all wait with baited breath to discover what rules issue Bryson can get handcuffed by this week. What crawling insect is native to the San Francisco Bay Area?
Rahm won the Memorial, which had basically a major-quality field, and a brutal set-up. I didn't detect any change to the Basque by the odd circumstances at Muirfield Village; well, maybe he was a little calmer, which is only going to help this week.
As for the other rookies, keep a weather eye on Tommy Fleetwood. I get the feeling that the amiable and talented Lancastrian is going to contend at least one major every year for the foreseeable future – last year was Portrush, the previous year was Shinnecock.
But naturally despite the trends, at all majors we tend to drift towards the tried, tested and bloodied veterans, the big dogs.
The Big Cat himself, Tiger Woods, looked fragile and unready in his one post-lockdown appearance, at the Memorial.
The damaged back is going to be a recurring issue for what remains of his competitive career, and it was in three of the four majors last year. Of course he won the other one, and that came after a prolonged period of rest…but I just don't see it on a brawny, parkland course in cool weather right now.
The Masters, yes, because he knows every blade, and the Open, maybe, because sometimes with a favourable wind and decent weather, even the old and infirm can prosper. But not here.
Rory McIlroy is well fancied having won the WGC Matchplay at Harding Park far more recently, in 2015. At that time we were thinking how many more majors Rory would win before the end of the decade – the eventual number was, of course, zero.
It's surely unthinkable that there won't be at least one more. It might be here as much as anywhere, although if I were Rory I'd be thinking big time about Augusta and finishing off the pesky career Grand Slam. Anyway he's hardly shot any lights out post-lockdown.
But maybe that's just a matter of timing. The best form guides we have since golf re-emerged was surely Memorial and last week's WGC in Memphis, and Justin Thomas and Brooks Koepka were at the forefront.
Thomas, with his favourite pink pants on – not quite the same as Tiger's red shirt, but whatever floats yer boat – closed it out as Brooks faltered.
Thomas is one of those seven PGA champions yet to get a second major. But for a couple of odd ones, he struck the ball magnificently on Sunday in Memphis.
But timing is all. Is it really any coincidence that Koepka's first real show of form in ages came the week before he goes for a third successive PGA title?
He focuses on the majors, nothing else. His recent record in the last three years is 1-T6-T13-1-T39-1-T2-1-2-T4.
Forget the knee. The smart money is on Brooks, and right now, even at a year's distance, he's still the biggest dog in the major pound.