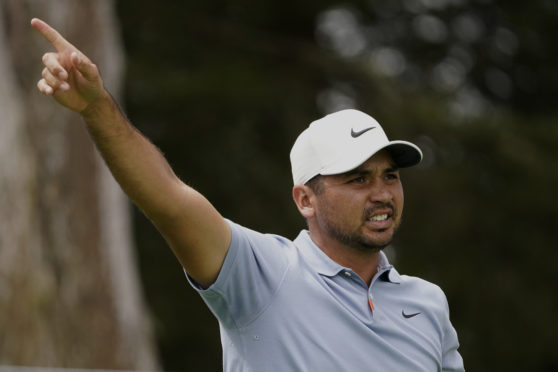 If the lack of spectators and absence of any kind of atmosphere made it strange, you could tell it was still a major at the PGA Championship just by looking at the leaderboard.
It must be a major because Brooks Koepka is there, one off the lead, as is Justin Rose, and Tiger Woods isn't that far away. The leaders are the 2015 PGA champion Jason Day from Australia, and this season's most consistent contender in America, Brendan Todd.
There's the usual smattering of unfamiliar names but a whole lot of the early contenders are battle-hardened in these things, like former champion Martin Kaymer and Rose at -4, if not in the uncommonly different atmosphere or major golf amidst a pandemic, with no spectators and their noise to galvanise the players.
Day birdied the ninth – his final hole – with a perfect approach from 210 yards to a few feet behind the pin to get to five-under. The Australian has had a series of top 10s since emerging from lockdown, suggesting the form he had around the middle of the decade before various ailments hit him is returning.
"The momentum that I've had over the last few starts has kind of seeped into this week," he said. "I'm excited every day to go back to the golf course and play, whereas before I was struggling to get up and going, oh, do I want to kind of put myself through this again.
"I'm excited to get out and play every week now."
He did, however, agree that this was no ordinary major championship, and felt the lack of atmosphere.
"You can definitely feel the difference in intensity," continued Day. "I know the intensity. Usually it's buzzing from Monday all the way to Sunday.
"I know we're playing the PGA, it's a major championship and it's the first one of the year. But it just doesn't feel the same."
Koepka, going for three successive PGA titles after victories at Bellerive and Bethpage, opened strongly, largely confirming the perception his lull in form had ended just as he girded himself for major golf again.
"The majors almost seem like an easier week for me," he said. "Just nine holes (of practice) pretty much every day, try to stay off my feet and not do too much. I think sometimes guys just practice a little too much. If you're going to be here until Sunday it's pretty mentally draining.
"It's only 18 holes right now. I feel good, I feel confident, I'm excited for the next three days. I think I can definitely play a lot better, and just need to tidy a few things up, and we'll be right there on Sunday."
Tiger Woods was the low number in the morning's marquee three-ball with Rory McIlroy and new World No 1 Justin Thomas, and the Masters champion had his best opening round in a major since 2014 with a two under 68.
Looking a little uncomfortable wearing a snood in the chilly morning air, it had to be the first time Woods had been announced on the first tee at a major to stony silence. He had a new putter in play, switching for the first time going into a major from his standard Scotty Cameron model since the 2010 Open.
In that championship at St Andrews, he was back wielding the old faithful Scotty Cameron by Sunday, but despite a couple of misjudgements, on this occasion it worked pretty well.
"We were always going to have the best of conditions this morning and we had to make the most of it," he said. "The wind is already starting to get up, the course will dry a little bit and it'll only get more difficult.
He was three-under with two to play, but bunkered his approach to the 7th, his penultimate hole, and missed a five footer for par.
"I felt good," he said. "When I played at (his only other post-lockdown start) Memorial I got into the flow quickly; that was a positive, and I tried to use the same mentality. For the better part of the day I hit it consistently and left myself good angles to get into the greens."
McIlroy got his hoped-for fast start with an opening birdie but he had to recover from three successive bogeys from his third hole, then was becalmed on the back nine and finished at level par.
Thomas was going along decently until double bogeys at the short third and the 340-yard par fourth – on his back nine – meant he had to birdie the last to rescue a one-over 71.
Of the afternoon starters Bryson DeChambeau got to four-under twice despite snapping his driver head off the shaft on the 7th – he got a replacement as it was inadvertent – but visits to the thick rough in the strengthening wind cost him back-to-back bogeys on the back nine.
The best of the afternoon was Brendan Todd, who won twice before lockdown but has led but not finished out a couple of tournaments since the restart. He reached five under with two to play and negotiated the eighth and ninth – the two toughest holes on the course – finish out his 65.
Scotland's Robert MacIntyre, playing in his first major in the USA, had a three-over 73.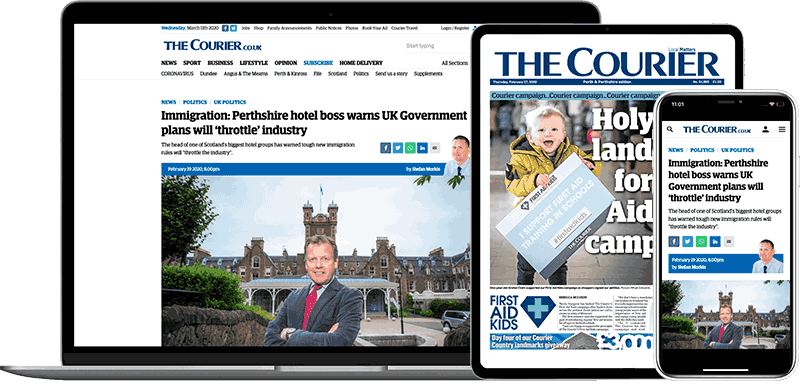 Help support quality local journalism … become a digital subscriber to The Courier
For as little as £5.99 a month you can access all of our content, including Premium articles.
Subscribe