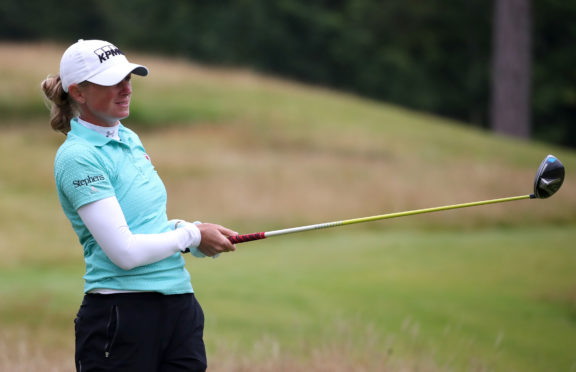 For a good time it seemed that Stacy Lewis might be American golf's answer to the Korean women's invasion, but she had other plans.
In 2013 Lewis won the Women's Open at St Andrews, just five years after she'd gone five-for-five in the Curtis Cup at the Old Course. She was LPGA player of the year in 2012 and 2014, with 11 wins by the end of that year, the same kind of impending dominance that Rory McIlroy was enjoying in the men's game at that time.
The surprise is that neither has won a major since. Lewis, now 35, has won just once in the six years on the LPGA Tour – and she gave all her winnings away from that to hurricane relief – had a baby daughter and changed all her priorities.
Not that she can't get it round pretty well, especially on links courses. Yesterday in the Aberdeen Standard Investments Ladies Scottish Open she returned a brilliant five-under 66 on the Renaissance Club course to claim a share of the lead going into the weekend with Spain's Azahara Munoz.
Lewis has played pretty well since motherhood, winning a place in last year's US Solheim Cup team at Gleneagles only to have to withdraw at the 11th hour with a back problem.
Yesterday's travails – finishing off her first round due to the weather delays in the first round, and then playing the second – put some strain on everyone's back, she joked.
"With COVID stuff, we are not allowed to take buggies, so it was probably a good mile walk through the grass, we came in from there at 9 pm last night and walked back out there early this morning.
"Everybody's feet are hurting. We were all kind of rubbing our backs at the end. It's definitely an adventure the last two days."
She finished off the marathon day with a birdie at 18, however, to set the early mark, and she correctly spots the difference between the new style links like this and the Old Course, her preferred kind.
"It's not like old ones, St. Andrews, Troon," she said. "You have some goofier greens, more mounds, more things going on, so you get some weird bounces. It reminds me of Kingsbarns with the elevation changes."
Lewis was schooled in links golf – and specifically the Old Course – by one of the best, current St Andrews caddie manager Fraser Riddler.
"It was the Curtis Cup at St. Andrews, and Fraser was my caddie that week," she recalled. "He truly taught me links golf, where to land a pitching wedge and let it bounce out.
"He picked out all these shots for me and helped me visualise things. I really think it was the experience with him and playing the Old Course as many times as we did that week is what made me fall in love with it."
The lockdown meant Lewis could spend more time with her daughter Chesnee, but it was also good for her.
"The COVID break has done wonders for my golf swing and my body," she said. "Even before I was pregnant I had to pull out of tournaments. And then I go into having Chesnee and you know, just never really get my body back in shape where it needs to be.
"But during this break, I met some ladies at home, they have helped me a lot just understanding how my body works and getting inflammation out of my joints, and helping me manage the day-to-day and not be hurt so much, and be a little bit more free. And it's helped me understand what's going on there."
Munoz did play in the Solheim Cup and made a formidable partnership with Georgia Hall, and the Spaniard is motoring along well after a two-under 69 brought her level with Lewis.
"I'm not getting in any trouble, and I kind of think that's the key here," she said. "And I'm pleased at how calm I've been out there. I've been just playing golf and enjoy being out there, not getting too upset if a ball just goes a bit too far or a bit too short.
"I love playing in Scotland. The only reason I've never come to this tournament is it's always the week before the British and it's my only chance to go home to Spain, so I always take the week off and go home and see my family.
"I grew up playing the British Girls' and British Women's Amateur, and we used to love coming over here then. It's where golf started, and it's such a good challenge because you have to be so precise and I really like that."
It was not the greatest day for home hopes, with leading Scott Gemma Dryburgh's birdie at 18 salvaging only a four-over 75, sending her to two-over for the championship.
Kylie Henry looked like doing better at two-under for the day early ion her round, but a poor run of five shots lost in five holes on the back nine pushed her out to four-over.
Best Scottish performance of the day was from Michele Thomson, who was four-under after 10 and eventually came in with a 69, enough to just ease inside the cut mark at five-over.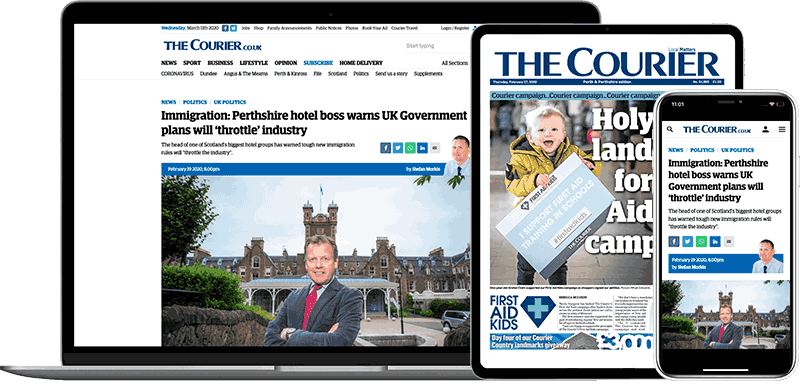 Help support quality local journalism … become a digital subscriber to The Courier
For as little as £5.99 a month you can access all of our content, including Premium articles.
Subscribe