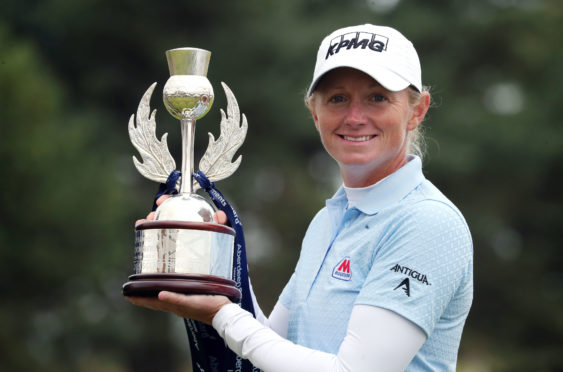 Stacy Lewis continued her affinity with Scottish golf with the first play-off win of her illustrious career in the Aberdeen Standard Investments Ladies Scottish Open at the Renaissance – with a little help from Taylor Swift.
On a gruelling Sunday in East Lothian, the 35-year-old former World No 1 who won the Women's British Open in 2013 on the Old Course at St Andrews, holed a 20-foot birdie putt on the first extra hole to edge a four-way play-off with Emily Pedersen, Azahara Munoz and Cheyenne Knight.
It's only her second win since her dominant days of 2013 and 2014, and her first since becoming a mother, which is what means most to her, and she was able to facetime her two year old daughter Chesnee at the end of play.
"It feels like the second part of my career just because everything is so different since her, the way I play golf, the way I go about things, the way I think about things," she said.
"So to just get that off my shoulders and to take a trophy home to her is so cool, and to do it like that – you always think when practising about making a putt like that to win a tournament. It's pretty sweet."
It had been a rollercoaster of a day and a long one, with the final three ball of Lewis, Munoz and the USA's Jennifer Song taking a shade less than five hours and 20 minutes to play their final 18 holes.
Lewis had been vocal about the slowness of her playing partners in the third round – they reconvened for the final 18 holes – but she vowed to keep her own counsel yesterday and seemed to be the safe bet as the trio went through the turn.
"I just handled it better than Saturday," she said. "I said to my caddie on the second hole, I'm not allowed to say anything about pace of play today, I'm just going to play my game.
"I got my mind off it by just singing songs to myself. Chesnee loves Taylor Swift's "Shake It Off" so much I have it on my phone to play for her, and I was just singing that to myself."
However the belated arrival of an official to time the final group – then a full hole out of position just through the turn – ironically seemed to affect Lewis, who had complained to a referee about the funereal pace of play on Saturday but received no action.
She double-bogeyed the 11th via heavy rough and a bunker which brought the field right back into the contest.
"I may have rushed that shot out of the rough, so maybe it did affect me," she said, but she remains convinced that something has to be done on the LPGA Tour to speed up play.
"I've been an advocate for changing our pace of play, getting people to play faster for a long time, and we're still going the other way unfortunately," she said.
"I think The European Tour has a more aggressive policy that any time you go over a minute to take a shot, you can get a penalty.
"And I would like to see penalties instead of fines. I think it needs to be aggressive, it needs to change."
At one point with holes running out one shot covered seven players but Song – the most egregious of the slow-play culprits – seemed to be affected by being on the clock more than anyone as she tumbled out of the lead with a penalty drop in the rough at the 15th and then a three-putt for bogey on 17.
Munoz was not a great deal quicker than the younger American but showed greater tenacity after she went out in a clumsy 40 to go from one in front to four behind.
The Spaniard came back in two-under 33 with a series of up and downs and gutsy hole-outs, including a tricky eight footer to make the play-off at the last.
Pedersen and Knight both came from the pack in impressive fashion, although the Dane had several chances to do even better than her final round 68 with some short putts missed on the back nine.
The impressive Knight, playing her first golf in Scotland since she came on holiday with her father at 13, was steady on the leaderboard throughout after birdies at both short holes on the front nine and joined the throng on five-under with a birdie four at the 16th.
Knight and Lewis made the fairway in the play-off while the two Europeans were both in right rough and couldn't hold the putting surface with their second shots.
Both Americans hit to within 25 feet of the tough flag at the back left of the green, but Lewis holed with a flourish while the second year pro Knight missed to the right from just inside to give the veteran the title.