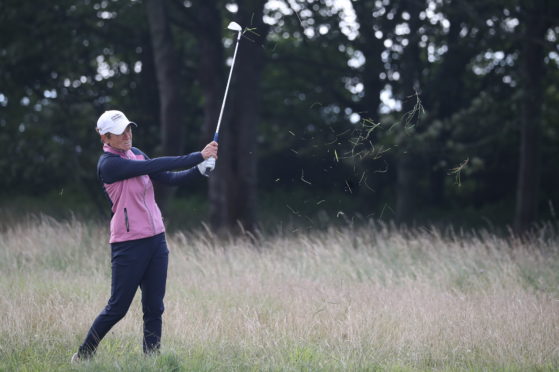 Even if it's five days from her 51st birthday, 11 years after her AIG Women's Open title and amazingly a quarter of a century since she last played Royal Troon competitively, the dates don't mean much for Catriona Matthew when the going gets tough.
The Solheim Cup captain logged a par 71 in the testing winds in Ayrshire to sit just a four shots off the lead after the first day of the championship. Despite gusts of 40mph and beyond, Matthew didn't miss a fairway in a masterful display of ball control in the wind.
Of course someone reared on links golf, strong winds and the quirks of North Berwick should have an advantage in these kind of weather conditions, but even she'd balk at it on a normal day, she admitted.
"I don't know that I'd actually go out and play on a day like this at home," she said. "I'd probably sit at my window and look at them and think what idiots they are to go out there and play.
"I think perhaps it's just the experience of having played in this event so often. Throughout the years we have had some pretty horrific days, and it's just to go out there, I think, with the mentality that you just need to hang in.
"You might get the odd bad break, you might get a few good ones. But I think just hang in and just try and give yourself putts for par. I drove the ball well and putted well from inside 10 feet, and that's a good combination of days like these."
It wasn't just the tried and tested skills that Matthew used, however, switching to a "saw" putting grip for the first time.
"Over the years I've tried various different grips, left-hand low, just changing how I hold it generally, but this is quite a radical one," she said. "I've obviously fiddled about with it perhaps in practice and things and never taken it to a tournament, but I thought there was nothing to lose this week.
"I had three days' more practice, and I missed so many putts last week I had to try something different."
The old cliché with Troon is make your score on the front half and hold on for dear life down the second nine, but it played back to front with the lusty sou'westerly yesterday. Matthew – who last played Troon in the Helen Holm Scottish Championship as an amateur in 1994 – started a birdie run from 15 to 17 came with the wind at her back, and a bogey at 18 was perhaps her only real missed chance.
The threat of delays never materialised because the greens were left long by major championship standards, but rightly so – this is links golf, and while it's difficult to play in strong winds, it's shouldn't be impossible.
There were scoring chances on the back nine – World No 2 Danielle Kang, nine-over with three to play, went eagle-birdie-birdie to finish and effectively stay in the championship – while there were a handful of under-par rounds out there.
German Sophia Popov and US Ryder Cup player Marina Alex both had one-under 70s, but the best score of the day was Amy Olson – who grew up on the windy plains of North Dakota –  who shot 67 with just one bogey, at the third hole.
"The best ball-striking day of my life, I think," said Olson. "It was so tough, every par four felt like a par five on the way out.
"On the way back you had to be aggressive, and I had a bunch more chances, but I'm really happy with my score. I love links golf, I love to be able to play with feel, and I grew up in a very windy place so I'm used to keeping the ball low."
Anna Nordqvist got to two-under with five to play but eventually finished at level-par, but for the majority of the field it was a question of simply staying in the hunt until the better weather comes, supposedly on Saturday,
Among those who did that effectively on the first day were Denmark's Emily Pedersen, who continued her strong form from tee to green from the Scottish Open last week with a par 71, Nelly Korda (72) – whose drive at the first went just 187 yards into the wind – Lydia Ko (72) and last year's runner-up Lisette Salas (73).
The 2018 champion Georgia Hall played well within herself using a careful gameplan that got her in with a two-over 73, but even given Olson's excellent late score nothing all the way back to six-over is out of it yet.
Hinako Shibuno was six-over after just five holes into the wind including an eight at the long fourth, but the ever-cheerful defending champion finished with a highly creditable 76 in the circumstances – one better than 2015 champion Inbee Park.
Gemma Dryburgh, presently the leading Scot, was out in early groups and came in with a strong 74. Kylie Henry had a 78 while Carly Booth struggled to a nine-over 80.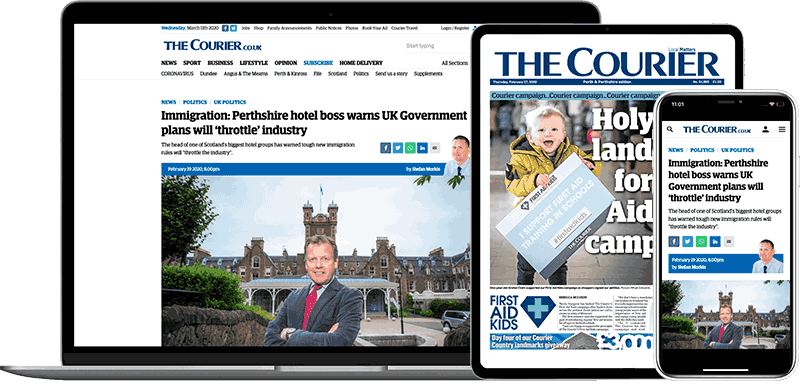 Help support quality local journalism … become a digital subscriber to The Courier
For as little as £5.99 a month you can access all of our content, including Premium articles.
Subscribe