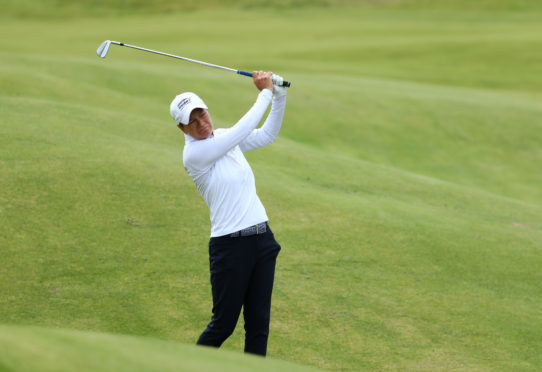 The rain to join the relentless wind at Royal Troon to torture the competitors at the AIG Women's Open even more in the second round, but those with fortitude emerged for what should be a compelling weekend on the Ayrshire coast.
Sweden's Dani Holmqvist is the only player under par after two rounds in this tempest, with the cut falling as far back as nine-over, equalling the record high at the 2009 championship at Royal Lytham and St Annes.
The 32-year-old was one of only eight rounds under-par yesterday, and there were just two in the 60s – one, ominously, by 2015 champion Inbee Park. The former World No 1 is five off the lead at the halfway point at four-over, and although the wind is expected to blow a little more for the third round, gentle breezes and sunshine are promised for Sunday and the finale.
Between Park and the lead is plenty of quality, and players who showed equal resolve not to let the conditions get the better of them. Among the most prominent is the resurgent Lydia Ko, who bogeyed the first, and parred every other hole except for a birdie at the 13th in the teeth of the worst part of the storm.
Australia's Minjee Lee, super-consistent week to week on the LPGA Tour but somehow never a real factor in the majors as yet, was the only other player to break 70 with a two-under 69 and is tied for third with Ko and four others on one-over. Only Holmqvist and the American Austin Ernst, on level par, are ahead of them.
Equally, tucked in behind is the impressive Nelly Korda, with a pair of one-over 72s in the worst of the weather both days.
Holmqvist hopes that the good Swedish vibes remaining from Henrik Stenson's 2016 Open victory at Troon hold with her over the weekend, but she knows there's a long way to go.
"One-under feels like a lot lower than what it actually is," she said. "Just every hole and every shot is kind of a challenge. So whenever you actually pull a good shot off, you're kind of happy.
"I think about 180, 185 on the last hole and I hit an 8-iron, and that's not nearly the norm for me. Definitely not. So the wind is definitely a big factor. Also putting, there are some lines where the wind is just taking it."
She still suffers from back pain from a bizarre accident in 2018, when she was being shuttled between two holes at a course in the Caribbean and the cart lost control and hit a wall.
"I have a disk problem, and also really inflamed facet joint," she said. "So I injected that many times, and then it's just been rehab and ice and rest, you know how it is with backs, it's a long process and very tedious. Just hopefully it's getting better and better."
Ko, who seemed likely to carry all before her in the women's game just a few short years ago, slumped almost out of sight and the New Zealander seemed like a spent force at just 22. A year on from that she's resurfacing under the tutelage of Sean Foley, coach of Tiger Woods for a time and Justin Rose more long-term, who oddly is encouraging her to play more freely and naturally.
She probably should have won her first event after lockdown in Toledo but for a 72nd hole meltdown, played decently at the Ladies Scottish Open, and looks every bit the class act she was in 2015-16 this week.
""To say I wasn't aware of people wondering what had happened to me would be a lie," she said. "But the main thing now is that I playing with belief in myself."
Unperturbed by the weather conditions yesterday – not even that well wrapped against the winds – she stayed impressively in control.
"I feel like every competitive round I get in, there's a bit more confidence that builds in," she said. "Even for an 18-handicapper, you know, that one shot brings me back up for tomorrow; and I really think it's the same for me, too; that one good shot that you feel, that that's the shot I want to emulate on the next hole or tomorrow."
Park's 69 showed again that the Koreans don't mind a little wind – most of them grew up playing golf camps on Jeju Island in the South China Sea, where strong winds are not unknown.
But for two visits to the burn on the 16th on Thursday – one when trying to lay up – Park might be even closer to the lead, but she's content were she is in these conditions.
"2015 I won in Turnberry and I was able to complete my Grand Slam (of women's majors), not far away from here. Scotland is one of my favorite place to play, and to come and compete. So yeah, I'm not going to say I'm enjoying this weather, but it is fun competing."
Catriona Matthew was one-under for the day and the championship after five holes, but a six into the teeth of the wind at the 6th set her back and she couldn't get up and down from the right-side bunker at the Postage Stamp, which showed all its teeth in the cross wind.
A double-bogey six at the 12th set her back to four-over, and she managed to shed just one more shot on the gruelling homeward trek to still be in the hunt, but needing something special over the weekend.
Georgia Hall is even further back on seven-over after a 75, but her compatriot and Solheim Cup colleague Bronte Law shot a 70 to make the cut. Aberdeen's Michele Thomson is also in for the weekend in her first major on eight-over but Carly Booth (73), Kylie Henry (75) and Gemma Dryburgh, after a dispiriting second round 82, didn't make the cut.