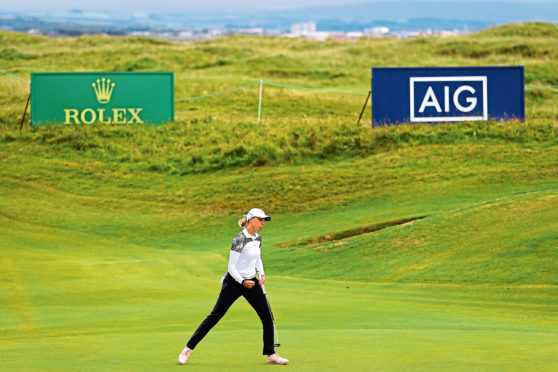 Golf is too often its own worst enemy. Just when we have a good news story in an altogether black period, the pendantic pointlessness inherent in the sport gets in the way.
Last week we gloried in the victory of Sophia Popov at the AIG Women's Open at Royal Troon, a rank outsider who had been a caddie as often as a player in the last month, taking the first women's major of the year.
Silly of us all to make the assumption that a major part of the Cinderella story of Sophia's victory was that doors would fly open to her across the game. Er, no.
The LPGA rather grandly stopped her en route from the presentation ceremony for their own media outlet to confer her instant membership of the tour.
Great, lifetime? No. Ten years maybe? No. Five years even? No. In Sophia's case just a year, it turns out.
The five-year exemption for being a major winner only counts if you were an LPGA member to start with and of course Sophia was not, although confusingly her eligibility to play at Troon was as the result of a top ten finish in an LPGA event. But rules is rules, okay?
And at least Sophia's into the other women's majors for this year, right? Wrong.
As it stands, Popov is not eligible for the ANA Inspiration nor the US Women's Open. She is in the KPMG Women's PGA Championship, as the PGA of America wisely decided there were extenuating circumstances this year (can't think what they might be) and left a space for 2020 major winners.
News of this last week provoked justifable outrage among golf's great, good and even the middling. Surely the sensible and upstanding Buzz Lightyear lookalike Mike Whan, commissioner of the LPGA, would cut through all this nonsense?
Whan however has stuck to his guns. The ANA Inspiration field was set pre-lockdown – it was less than a month away when everything ground to a halt – and isn't for changing, he said.
The limited exemption for a card had applied to other players, he added, not least Hinako Shibuno, last year's Women's Open winner, and previous non-member major champions In Gee Chun (2015 Women's US Open) and Hyo Joo Kim (2014 Evian). Chun and Kim went on to secure their cards in their year of exemption.
As for the Smiling Cinderella, having been to the ball and got the prince, she decided she'd stay at home on the JLPGA and didn't want an exemption anyway.
While Whan toed the company line, he's bound to: as commissioner he's not a dictator but a facilitator, he just runs the tour for the membership. He can't change the rules the tournament committees have put in place on a whim.
So that's where we stand, but happily there should be movement ahead. One would expect the USGA, usually quite enlightened about inclusivity and always generous with invites, will get Sophia into their US Women's Open.
The ANA Inspiration should find room too. My friend and colleague John Huggan even found the clause in their exemption rules – No 11, to be exact – which allows them to invite players within the current top 20 on the LPGA moneylist.
The LPGA committees will meet and deliberate, and maybe we'll see some movement there, too.
Long reward exemptions are part of the great story that these occasional Cinderella stories provide. By his or her deeds, the player goes from the backwaters to the big-time in one giant step.
Sophia gets to play in the Women's Open until she sees fit to stop. Her achievement was such that it deserves every bit of reward the game can give.
The UK swing worked
The European Tour's plan to get back on track during a pandemic, the six-event UK Swing is complete with just one positive Covid-19 test in that time, and one player was thrown out for breaking the bubble. For such a social tour, this was quite an achievement.
I rather hastily suggested prior to the six events that this might be an opportunity for us to discover the Tour's bright new star for the future. Rasmus Hojgaard, the 19-year-old Dane, duly saved me – he played four of the six events, and went 2-6-3-1, and after victory in the UK Championship joins Matteo Manassero, Rory McIlroy and Sergio Garcia as multiple-win teenagers on Tour.
Sam Horsfield won twice, confirming talk from many – notably Ian Poulter – that he was one to watch. Two of the other three winners, Renato Paratore and Romain Langasque, will surely train on while Andy Sullivan's win at Hanbury Manor hinted at a resurgence from the diminutive Englishman.
For the Scots contingent, Connor Syme got into the mix twice, Calum Hill showed he belonged and Sunday's superb 65 might be a springboard for Peebles' Craig Howie. And of course Marc Warren won pre-Swing in Austria.
Yes, the big names were mostly missing, and the Tour's long-term financial health remains in serious question.
But they're playing, safely, and The Belfry was much more fun to watch than the BMW in the US, even allowing for Jon Rahm's fantastic finish.