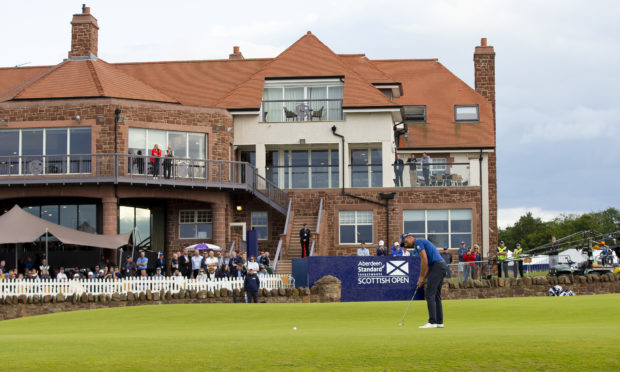 This was supposed to be the week that broke the coronavirus seal – when the shutdown ended and the punters finally came back.
At this week's Aberdeen Standard Investment's Scottish Open at The Renaissance Club there was to be a pilot to allow around 750 spectators in to see weekend play from a safe social distance. It was going to be existing ticket-holders from the local environs, and the money they paid to get in was all going to mental health charities.
The Scottish Government have a considerable stake in the Scottish Open through VisitScotland, so you know they really wanted this pilot and they wanted to make it work.
The European Tour's bio-bubble has been close to impregnable. They've had one on-site positive – from a player who had already isolated because of previous contacts – and one player was thrown out of a tournament for breaching the rules. That was John Catlin, who later returned and has since won two of the last three tournaments.
So, even allowing for the frenzied paranoia of those who think there's an agenda against the richest and most popular sport in the country, this was the perfect place to pilot sport's return to spectators and hopefully normality.
But it won't happen. The plans to let fans in have been shelved because of the second wave of the virus, and it now seems clear that we're not going to have any spectators at European Tour events for the rest of 2020.
As Martin Gilbert, the outgoing chief executive of sponsor Aberdeen Standard Investments has said before, this is less of a problem for golf than it is for other sports. The crucial thing for them as sponsors is the TV pictures going around the world, and spectators account for less than 5 per cent of revenue from the event.
But this is still a huge week for the European Tour – the first $7 million Rolex Series event since January, the first time they've had most of the marquee names back since lockdown. Spectators present at the course would have created an extra buzz.
Rory McIlroy, who is not playing this week, was clearly referring to the Renaissance when he complained long about European Tour courses being set up far too easy last year, comments he later partially retracted.
The play-off at last year's Scottish between Bernd Weisberger and Benjamin Hebert was at 22-under, Rory trailed in tied for 34th despite not shooting worse than 69. Only two players out of more than 70 shot over par on the Saturday's play.
Designer Tom Doak – never averse to a few barbed comments on rivals' tracks in his Confidential Guide to Golf Courses – and owner Jerry Sarvadi have responded to the criticism with some tree removals and a re-routing which worked pretty well at the Ladies Scottish Open last month.
The reduction in rough maintenance due to Covid staff levels and the certainty of tougher weather than last year's windless, rain softened greens and fairways in October should mean the course is a far greater test.
I've a had a wee problem in the past with the exclusivity of the Renaissance close to Dirleton – they always say it's North Berwick but that's much further away – but those big gates open more readily than the club over the wall these days and there's no restrictions on membership there other than monetary ones.
We had a two excellent weeks with the return of women's elite golf last month. Now it's the men's turn, and hopefully it's going to be a memorable one.
The changes at Augusta
The golf world's agog with Bryson DeChambeau's threat to demolish Augusta as part of his plan to exert a hegemony of all of golf, but I kind of think that November's delayed Masters might be his best chance to get a Green Jacket – at all.
Simply put, the Augusta National people have been so pre-occupied with getting the tournament actually played they've not had a chance to address the possibility of Bryson dismantling their prized property.
Pictures from Eureka Earth's Instagram account, from flyovers of the Augusta National property apparently (surprised the club haven't at least complained or even shot the plane down) show the course as basically grassless, 50 days out from Jack and Gary having the first hit.
The severe North Georgia summer kills the turf and and complete overseed is required to get play going again, which is why we had to wait for November to have the Masters rescheduled.
The ANGC will defend their course against Bryson and the big hitters in time, there is no doubt. They just won't have the time to do it before this Masters and maybe the next one in April.
If I was big Bryson, I'd strike while he has the chance.
Well done, everyone
Isn't it fantastic to see so many sporting stars across the spectrum so healthy and fit after lockdown? It seems that all that time off has helped so many.
Some have even changed their whole bodies in just a few short weeks. It's amazing what you can do when you're not distracted by, for example, unexpected visits from officials looking for samples…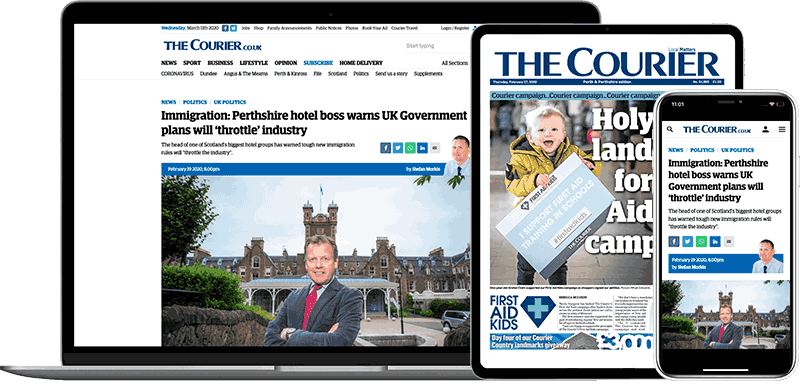 Help support quality local journalism … become a digital subscriber to The Courier
For as little as £5.99 a month you can access all of our content, including Premium articles.
Subscribe