 We've been waiting for Grant Forrest to make a real, defining impact on the European Tour, and it may be happening this week at Aberdeen Standard Investments Scottish Open at The Renaissance.
The 27-year-old from over the wall at Archerfield was maybe the most consistent talent to come out of Scotland amateur game in the last decade – yes, probably even more than Robert MacIntyre. He won the Scottish Boys, the Scottish Amateur, reached the final of the Amateur Championship at Carnoustie, played in the Walker Cup, and always looked like a potential winning professional.
He's in his second season on the European Tour, and while he's been solid, he's not really kicked on like many thought he would.
Forrest blazed to a 66 at The Renaissance yesterday with two eagles – the first with a 40 foot putt at the 10th, his first hole of the day – and no dropped shots, and lies just outside the top ten on five-under with the weekend to come.
He wants to see himself kicking on as much as anyone, and he admits that being too hard on himself has been an issue.
"The mental side is something I'm working really hard on," he said. "It's about trying to put the bad shots and bad rounds behind me quicker.
"I am working with Tom King of Winning Golf Mind for about a year and a half now and it is really helping. Really, there is no point telling someone like me not to get a bit angry at myself, it's more about how quickly you can get over a disappointment."
He loves playing the Rolex Series events, and despite not having his friends and family with him this year, it still feels like a Scottish Open.
"For any Scot, this is always a big event and it's probably even bigger this year," he said. "Hopefully I can be in the mix on Sunday."
Craig Lee stayed the course with a par 71 to be the leading Scot going into the weekend at six-under, and he's hoping for a significant investment in a new business venture he's planned with fellow Stirling pro and British WPGA champion Heather MacRae.
Lee quit the European Tour three years ago but is back as a result of his PGA qualification.
"It's really quite hard separate from all ever you have wanted to do," he said. "To me, it was more of a business decision as opposed to thinking, 'am I still good enough'. I didn't want to lose a fortune the next two or three years just hanging on to where I was."
So the new plan is to buy a camper van and take lessons to the people.
"I'm taking my studio mobile to try and service the little courses around Scotland that don't have pros," he said. "We're going to buy a van, turn it into a little pro shop and a camper van as well so that we can travel around Scotland to these wee courses.
"I hope there's a market and, speaking to people at some of the clubs, they all seem keen for us to do it. These kind of places are away from the cities and when you go to them, I think they appreciate it a bit more."
"It's going to be quite expensive to buy a van, kit it out and get all the toys I need in it, but you are never going to get a better opportunity to land some serious dosh than in a Rolex Series event."
Robert MacIntyre made a superb recovery from his disappointing opening round of 74, storming back with a four-under 67 to avoid missing the cut for the second year in succession.
Scott Jamieson (73 for -5) slipped back a little, but was comfortably in while Marc Warren, Connor Syme, Ewen Ferguson and Calum Hill also made it through to the final two rounds.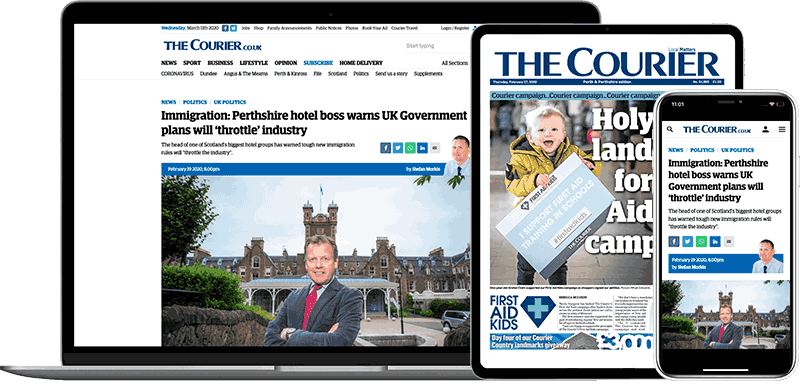 Help support quality local journalism … become a digital subscriber to The Courier
For as little as £5.99 a month you can access all of our content, including Premium articles.
Subscribe