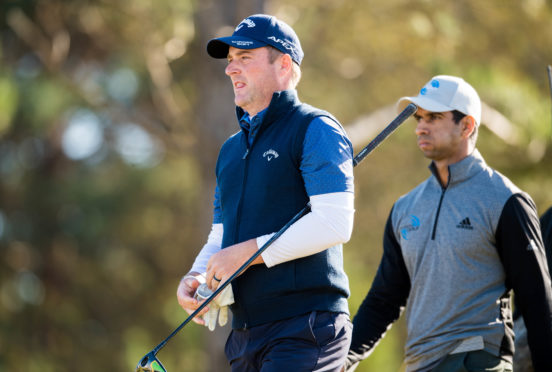 Marc Warren got desperately close to the Scottish Open he was denied in 2012, but this time just one loose shot cost him a chance to win the title at The Renaissance.
The Scot, who ended a long lean spell in which he contemplated walking away from golf with victory in the first post-lockdown event in Austria in July, perhaps should have won at Castle Stuart eight years ago but this time it was a fleeting flirtation with his dream of winning his national title.
One shot behind playing partner Aaron Rai playing the last, Warren had paced himself against the young Englishman and then leapt forward with birdies at 12, 13 and 15 and a superb eagle three at the 16th – a five-iron to 10 feet that was possibly the shot of the day but somehow escaped the notice of Sky Sports.
That forced Rai to make a fine up and down out of a greenside bunker to stay in the lead and continue the hunt for his place in the eventual play-off.
Warren then tried to draw a drive away from the trouble on the 18th he feared on the left but it came out of the heel and stayed wide right. His ball was stood on by a searcher as they went perilously close to the three-minute period, and after recreating the lie he had no choice but to gamble.
"The tee shot was a sore one," he said. "I was just glad to see it in the end – if it's Thursday, Friday, Saturday then I'm chipping out to the fairway but give the situation I had to give it a go."
He barely avoided being under the dyke across the fairway, squeezed it to bank at the front of the green and two-putted from there, meaning he finished two back of Rai, who manfully got up and down out of a bunker again for his par at stay at 11-under.
"Aaron played so well, and we were really just trying to keep up," said Warren. "He dragged us on a bit with him.
"It's not the end of the world, I'm just really pleased how good I felt out there, the commitment to my shots, and obviously the shots I was pulling off on the back nine to get up there were great."
Warren fulfilled his friend Scott Jamieson's view that the only time to talk about the draw is at the end of Sunday, as he definitely got the hard end of it.
"Grinding like mad Thursday morning for one-under and then when we came off the course the weather turns perfect," he said. "To be honest the way they were scoring on Thursday afternoon it felt my chances of being in contention were gone."
But once he got back into contention, the old feeling he knew so well when he was a top 50 player just five years ago came flooding back.
"Then to actually to be in contention after that, and have such a good back nine to give myself half a chance was just great," he said. "I loved every second of it, it's a great golf course down the stretch with so many birdie opportunities and it tests you as well.
"I think it's been a good tournament, seemed pretty exciting looking at the leaderboards."
Of the other Scots, Robert MacIntyre couldn't quite get a charge on during the final day and settled for a 69, but good enough for his best post-lockdown performance of tied for 15th.
Grant Forrest finished with a 70 to be one-shot behind, while Ewen Ferguson – still without a card – performed creditably for the second week in a row to finish in a tie for 30th and get a taste of some serious Rolex Series money.