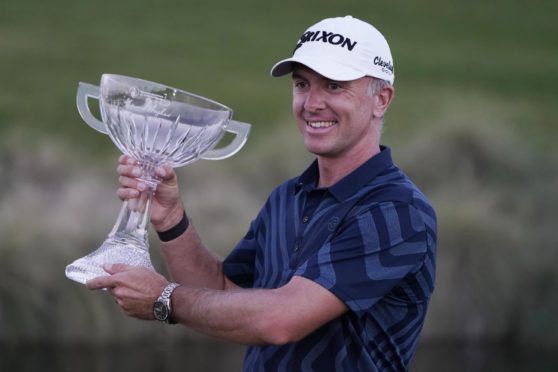 Martin Laird is one win away from being the most successful Scottish golfer on the PGA Tour – ever.
In some respects, you could say that the 37-year-old from Glasgow is there already. The victory in the Shriners (what is it with American golf and the absence of apostrophes?) in Las Vegas, 11 years after he won the tournament for his maiden win, was his fourth on the PGA Tour.
Sandy Lyle has five PGA Tour wins, under the strict definition. But two of them were the Masters and the Open, and while they count as PGA Tour wins, they're nothing to do with the actual tour.
It's hard to argue that the understated, modest Laird is much of a product of Scottish golf. He was a Youths champion and capped at amateur level, and he remains proud of his roots, but he changed his game almost totally when he went to the US for college golf in Colorado State University, becoming a high-ball, long hitter in the modern idiom.
Like Russell Knox, our other successful regular on the PGA Tour of recent times, Martin is really a product of the US college system and mini-tour world rather than Scottish Golf's programmes.
At one point around a decade ago we were touting Laird as a possible Ryder Cup pick. When he won the Texas Open in 2013, it was his third tour victory in five years and he looked like a consistent contender.
In the seven years between that and this weekend's win, there was not very much – a handful of top tens, but only once, in the Canadian Open of 2016, did he finish in the top three. He was never in real danger of losing his playing rights, but became a steady accumulator of FedEx points.
We always thought he was a better player than that. On Sunday at the long ninth hole at TPC Summerlin – he was seven-under for that hole alone during the week, incredibly – he holed out a ball almost 70% embedded in a greenside bunker face. Lucky? Maybe, but they'd be wetting themselves if it had been Phil Mickelson.
That put him three ahead, but eventually he had to go to a play-off with flavour-du-jour Matt Wolff and Austin Cook, where he was supposed to be making up the numbers against two young stars, especially having had his chance to coast home and lost it. Instead, he holed a 23-footer on the second play-off hole to win.
Now, he's in everything again; back in the World's Top 100 (he is leading Scot there ahead of Robert MacIntyre), tour exemption secured (he was on a sponsor's invite last week) and of course the Masters in 2021.
With a sizeable bit of self-belief restored, who's to say he can't kick on again from here?
The quiet life…
Part of Laird's issue in his long fallow spell was technical – perhaps having to switch from anchoring his putter, for example, never the strongest part of his game – but it was surely mental as well. He and his wife Megan had two children, and real life got in the way of his golf a little.
One of the premier amateur-psychology discussions we have in the long days in media tents is whether it's actually necessary to be a b*@#&*d to succeed in the mega-competitive world of elite golf.
Golf is such an individual game requiring – for most – so much dedication to practice and preparation that selfish single-mindedness and almost sociopathic competitive drive are pre-requisites.
This doesn't always preclude being a nice guy as well, and some of the greatest – Jack Nicklaus, Tom Watson, Lee Trevino, Ernie Els, Rory McIlroy off the top of my head – have been able to switch between decent human being and ruthless competitor almost seamlessly. But there are many examples, past and definitely present, of less well-rounded individuals at the top of the game.
Martin is one of the nicer lads you'll meet behind the scorers' hut, even when he's had a bad day. He wasn't inclined to be over-demonstrative in the first place, but I wouldn't be surprised if his drive diminished when domestic life became so pleasant.
It's one of the issues McIlroy's going to face in the next while, having become a new Dad – one might almost conclude the impending birth of his daughter was the reason he's had such a listless (for him) season since re-start.
Too much to hope for…?
Laird's win in Vegas takes care of the law of averages, so maybe we're hoping for a bit much for a home victory in the Scottish Championship presented by AXA, the hastily-arranged replacement for the Dunhill Links, played on Fairmont's Torrance Course just south of St Andrews.
There are 15 Scots in the field – Irish colleagues have been quite jealous at our numbers competing on the UK Swings recently – and just about all of them have done something decent since lockdown, but none have won yet.
Couldn't be a better week for that to happen. It's a blank canvas – ignored by competitive golf but for the Seniors and a couple of minor tour stops, few will have played the Torrance in the field, but one would assume most of the Scots present have.