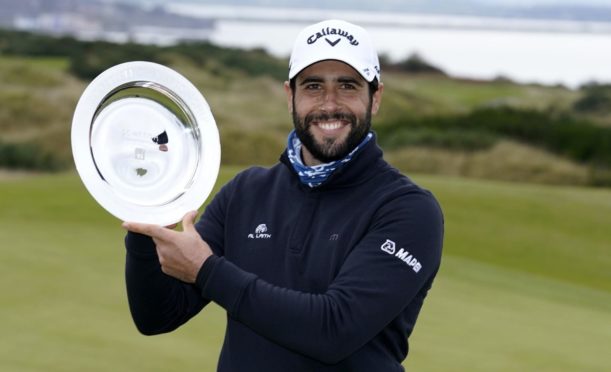 Spain's Adrian Otaegui book-ended his weekend at Fairmont St Andrews with the best two rounds of the entire tournament to claim the Scottish Championship presented by AXA by an impressive four-shot margin.
The 30-year-old from San Sebastian in the Basque Country overwhelmed 54-hole leader Matt Wallace with a brilliant finishing 63 yesterday, transforming a four-shot deficit into a four-shot win.
It's Otaegui's third victory on the European Tour, but oddly his first in a strokeplay event – his previous wins were at the Paul Lawrie Matchplay in 2017 and at the Belgian Knockout, another matchplay event, a year later.
Otageui had opened with a 10-under 62 on Thursday, and his final round 63 was second only to that from the whole field during the week on the Torrance Course.
Five birdies on the front nine set the tone and despite a solitary bogey at the 10th, the Spaniard pulled away from a static Wallace and his other pursuers. The title was clinched before he even finished off with an eight-foot birdie putt on the last.
"It feels really, really good," he said. "I'm very happy the way I played all week. I got off to a very great start in the first round and then just played very consistently.
"Everything went very well today. I started very good with a birdie putt on the first then a nice save on the fourth and then I just played very well.
"I think the seven iron I hit in on the 11th was brilliant. That birdie after the bogey was very important for me, then holed a very good six-footer on 13, which was also very important.
"I didn't really look at the leaderboards, I knew more or less how Matt and I were, but I just tried to do the best I could. If I played my best, I knew I was going to be up there."
Otaegui joins the immortal Severiano Ballesteros as the only Spaniard to have won by multiple shots in Scotland, which is "very good company to be in".
"It feels like a very special win for me. I was confident: I didn't know if it was going to happen this week, but I knew I was going to give it everything and I felt a win was coming. I feel very lucky and very proud to have won here in Scotland, the Home of Golf."
For Wallace, it was a frustrating day after three brilliant rounds in the mid-sixties and only one bogey in 54 holes had him in complete command with a round to play.
The second highest ranked player in the field and a Ryder Cup hopeful, it seemed certain Wallace would close out his first victory of 2020 but instead he couldn't get anything going at all yesterday.
After reaching the penultimate hole no better off than he was at the start and the Spaniard now four ahead, there was a faint hope of a big finish when he hit into six feet for birdie at the short 17th and Otaegui's tee shot went through the back.
But the Spaniard manfully got up and down for his par and once Wallace drove into light rough at 18, there was no hope of the eagle he needed up the par five last hole. Otaegui rendered any final charge meaningless anyway with a textbook birdie four.
Scottish Open champion Aaron Rai claimed third on his own with a final round 66, a shot ahead of another pair of Englishmen, former Amateur champion Garrick Porteous and Chris Paisley.
It seems likely this won't be the last time the main European Tour visits Fairmont St Andrews, which was the site of Open Championship final qualifying in 2019 and has been host to the Scottish Seniors Open and some minor tour events in the past.
The resort's owners, Hong Kong-based company Great Century, have been driving a more dynamic presence in tournament golf since acquiring the property late last year. Dr CYM Chan, the co-chairman of Great Century, is a golf fanatic and an R&A member.
The tour's schedule for 2021 is still in the planning stages but it's understood the strategy of "swings" of events within the same country, held in the health safety "bubble" is likely to be continued until well into next year.
A return to Fairmont St Andrews, perhaps in earlier and warmer conditions than mid-October, could well be part of that strategy.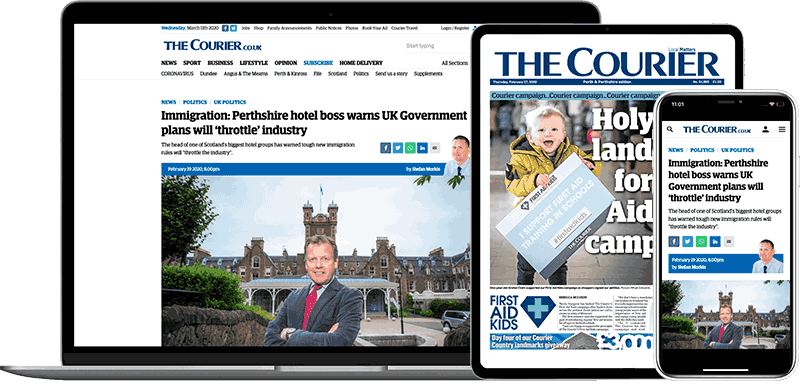 Help support quality local journalism … become a digital subscriber to The Courier
For as little as £5.99 a month you can access all of our content, including Premium articles.
Subscribe