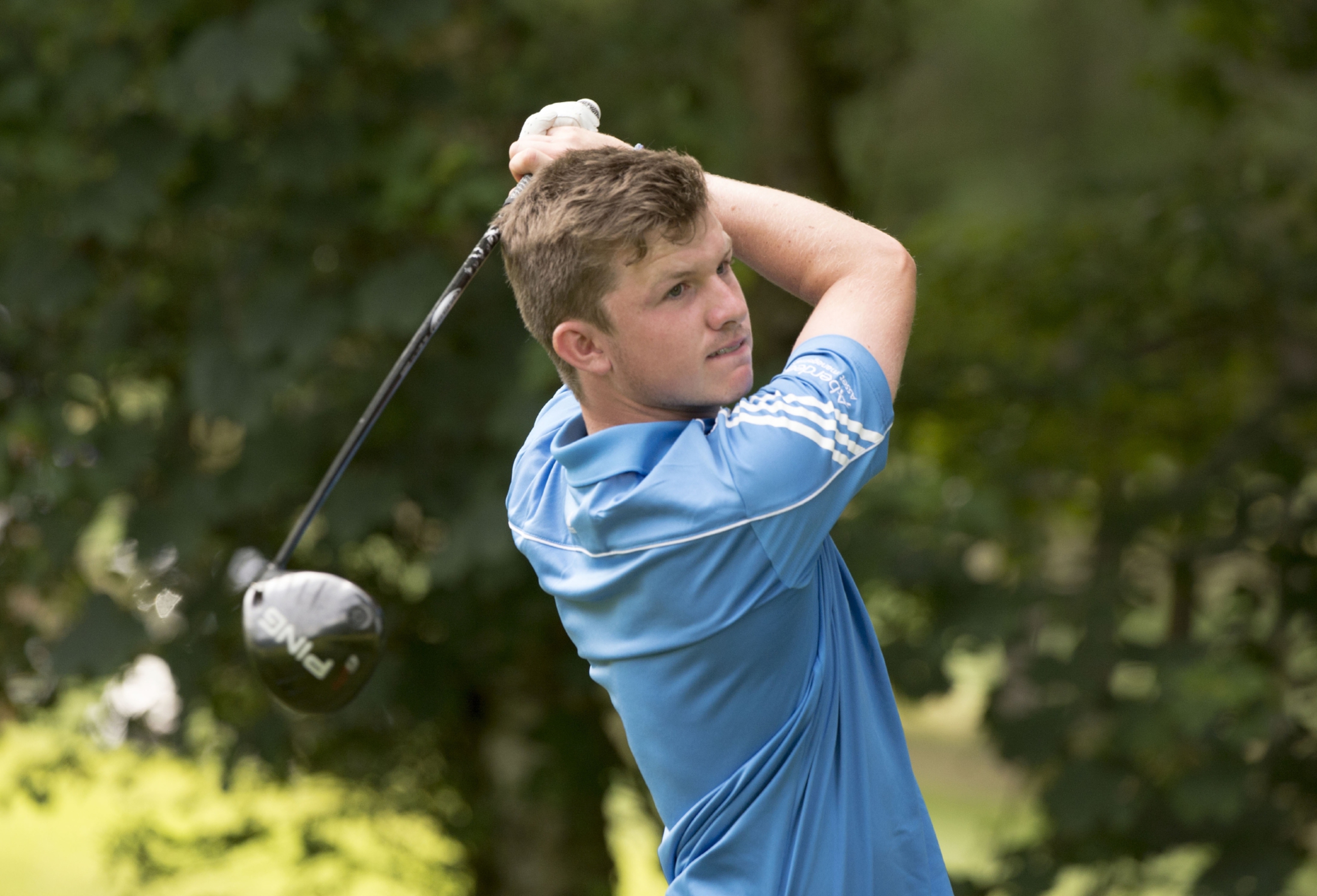 Connor Syme and Jamie Savage locks horns again in the Amateur Championship at Royal Porthcawl today two years after their last clash left them headed in opposite directions.
Syme comfortably shrugged off the "poisoned chalice" of being the leading qualifier – it's become almost traditional that the medal winner loses in his first round of matchplay – and made a date with his Scottish international team-mate for 7.30 am this morning.
Two years ago at Royal Portrush the pair met in the quarter-final where Syme, making his first big impact on the national amateur scene, won a tight contest on the first extra hole. The Drumoig youngster lost the semi-final to eventual winner Bradley Neil, but has continued to progress culminating in his Australian Amateur victory in January.
Savage, on the other hand, lost the best part of a year after a serious leg fracture and it's only now that he's regained his form and his place in Scotland's six-man international team for the European Championships next month.
Yesterday Syme didn't hit the heights of his qualifying form but what he had was plenty to see off Spain's Xabier Gorospe 4 and 2, while Savage had to withstand a late rally from English cap Gian-Marco Petrozzi.
Three up with four to play, the Cawder 22-year-old had to hole a testing five-footer on the last green for a half and extra holes, although once he got there, he hit his gap wedge approach to three feet for the birdie to win it.
"My thought when I was going down 18 was `what am I doing here?'," admitted Savage. "Thankfully I was able to get the half there and win it on the 19th."
Savage was told the compound leg fracture he suffered in November 2014 would take a year to properly heal, but determined to keep his international place and the precious spots on the training camps to the UAE and South Africa, he came back too quickly, rupturing knee ligaments, and ended up losing all of 2015.
"They said it would be a year and they were right," he said. "Now I'm back to where I should be, I was second at Lytham and top five at St Andrews last week, so I'm pleased with my form.
"It should be a great game with Connor, we haven't actually played against each other since Portrush."
Syme remembers that game well, and is keen to use his experience from that and from winning in Australia.
"The difference is that this is the special tournament we play every year, the one you really look forward to," he said. "The set-up, what's laid on for us, it really makes you want to play your best golf."
Syme and Savage got in just before the rains engulfed Porthcawl again. In the glaur that followed, Grant Forrest, looking to go one better than his silver medal at Carnoustie last year, had to battle to hold off the tenacious Irishman Sean Flanagan but eventually did on the 18th having been three-up with three to play.
The World No 14 now plays Switzerland's Jeremy Freiburghaus. There are only two players left in the field now ranked higher than the Scot, Spain's Ivan Cantero and Australian Cameron Davis.
Ewen Ferguson also went through with Robert MacIntyre, the reigning Scottish matchplay champion, an impressive 4 and 3 winner over Australia Blake Windred. Lawrence Allan, once Alva club champion at just 12, is another Scot into the last 32
Among those lost in the opening rounds were South African Amateur champion Craig Ross, veteran Barry Hume after an extra holes scrap with top-ranked Spaniard Javier Sainz, and Stirling University student Christopher MacLean.
First round: D Sutton (Walsall) bt M Herrman (Germany) at the 19th; H Ellis (Meon Valley) bt V Londot Lopes (Portugal) at the 19th; B Windred (Australia) bt T Harris (Castletown) 1 hole; I Cantero (Spain) bt M Jordan (Royal Liverpool) 4 and 3; Y Yuan (China) bt C Braeunig (Germany) 4 and 3; S Flanagan (Co Sligo) bt F Lacroix (France) 1 hole; J Freiburghaus (Switzerland) bt J Thomson (Rotherham) 5 and 4; A Chapman (Carus Green) bt J Hume (Naas) 2 and 1.
R Sciot Seigrist (France) bt O Farrell (Evesham)  2 and 1; M Zapletai (Czech Rep) bt R Foley (Switzerland) 4 and 2; P McBride (The Island) bt J Girao (Portugal); B Coletta (Australia) bt D McElroy (Ballymena) 4 and 3; M Iten (Switzerland) bt C Howie (Peebles) 2 and 1; A Herrman (Germany) bt I Saulo (Finland) 2 and 1; J Li (Bath) bt R Caron (Netherlands) 3 and 2.
Second round: C Syme (Drumoig) bt X Gorospe (Spain) 4 and 2; J Savage (Cawder) bt G-M Petrozzi (Trentham) at the 19th; W Enefer (The Wrekin) bt S Mazzioli (Italy) 5 and 3; N Maheut (France) bt V van Veen (Netheralnds) 3 and 1; C Davis (Australia) bt J Svensson (Sweden) 3 and 2; D Perry (Australia) bt T Smyth (Australia) 3 and 2; L Lipold (Poland) bt C Ross (Kirkhill) 3 and 2, A Meronk (Poland) bt U Coussad (France) 4 and 3.
H Hall (West Cornwall) bt L Cianchetti (Italy) 4 and 3; L Allan (Alva) bt T Rosenmuller (Germany) at the 19th; S Gregory (Corhampton) bt A Nel (South Africa) 2 holes; P Mazier (France) bt J Savoie (Canada) 1 hole; A Del Rey (Spain) bt A Wilson (Wynyard) 3 and 2; B McKenzie (Rowlands Castle) bt J Goth-Rasmussen (Denmark) 3 and 1; J Sainz (Spain) bt B Hume (Haggs Castle) at the 19th; A Matari (Germany) bt G Castagnara (Italy) 2 and 1.
J Yule (Middleton Hall) bt A Plant (SundridgePark) at the 19th; D Micheluzzi (Australia) bt Sutton 3 and 1; W Heffernan (Australia) bt Ellis 3 and 2;  R MacIntyre (Glencruitten) bt Windred 4 and 3; I Cantero (Spain) bt C MacLean (Balmore) 2 holes; Yuan bt Peter Melching (Netherlands) at the 20th; G Forrest (Craigielaw) bt Flanagan 1 hole; Freiburghaus bt A Rozner (France) 4 and 3.
Chapman bt F Donaggio (Italy) 3 and 2; Sciot-Seigrist bt T Gandy (Rowany) 1 hole; C Rafferty (Dundalk) bt Zapletal 2 holes; McBride bt A Beckley (South Africa) 4 and 3; Coletta bt J Bower (Meltham) 3 and 2; Iten bt D Brown (Masham) 2 and 1; E Ferguson (Bearsden) bt Herrman 2 holes; A MacDougall (Elderslie) bt Li at the 19th.