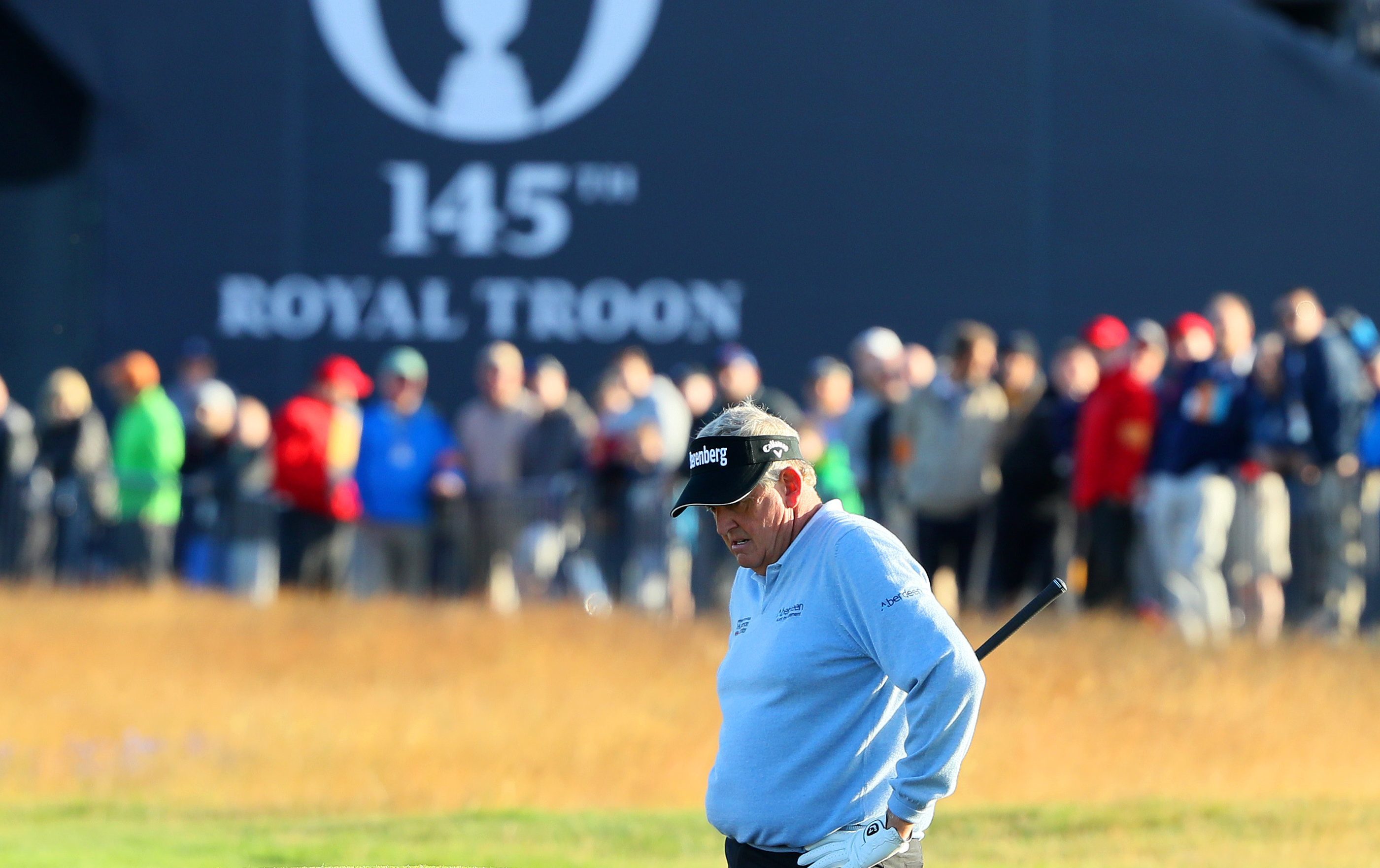 Remember that look on Boris Johnson's face?
The "Independence Day" what have I just gone and done one.
Well, stuck in a greenside bunker after a failed attempt to get out of it and facing up to goodness knows what sort of a score on Royal Troon's straightforward opening hole, Scottish golf's very own 50-something blonde could have been excused a few of the same thoughts.
Why on earth did I want to put myself through this? Any chance I can just call it a day and nip across to the shiny new Sky Sports studio and tell folk how it should be done please?
After battling through 36 holes of qualifying at Glasgow Gailes for one of a paltry three places, Colin Montgomerie had earned himself one more go at The Open. At the venue which he and his family hold closest to their hearts. At a championship which he was given the honour of striking the opening tee shot for.
But a pulled three-iron, an underhit approach into the front left bunker and a futile dig into the sand at a ball wedged beneath the face of the trap which settled in his own footprint (an imprint deeper than most golfers, he admitted) was the stuff of golf nightmares, not the stuff of a triumphant last hurrah.
And it wouldn't have been a Monty moment without a trademark glower. A worker choosing the worst possible time to take wrapping off some equipment in the back row of the adjacent 18th hole grandstand got that.
He was hearing and seeing everything he shouldn't have been, and struggling to find a way out of this first hole hell (and a bunker). Going out sideways did the job and what followed was a remarkable recovery. Never one prone to under-statement, the man himself described it as "probably one of the best shots of my life".
The up-and-down from semi-rough was impressive in the circumstances, even if a double-bogey had to go down on the card. There was a relatively incident-free par four at the second and then came a run of golf that the best players in the field would have been proud of.
A fine iron approach was rewarded on three with a dead-weight eight footer for birdie number one, and Montgomerie backed it up on the par five fourth with a putt of double the length.
The missed birdie attempt at the par three fifth could have been a momentum-stopper but the former Ryder Cup captain came up with an exquisite third shot to tap-in range on the sixth to go under par for the first time in the round.
After a par on seven, the famous Postage Stamp was next. Through luck and/or bravery the Scot's iron to the shortest but deadliest par three on the Open rota teetered on the ridge of the Coffin bunker and trickled down to within a few feet. A birdie putt there wasn't much longer than one on the ninth and the turn was reached in three under. If Monty was a leaderboard watcher (he is), he'd have seen that he was now tied at the top.
He was taking it all in this year, suspecting this could well be a final Open. The sights, the sounds and the smells. Especially the smells. The bacon being cooked at the far end of the course, to be more specific. For a man who was up at silly o'clock for a 6.35am tee off and hadn't had breakfast, resisting temptation was a challenge of its own.
"You smell it," he said. "There's one place on the left of seven that's annoying. You want to stop. I did stop in the practice rounds but I kept going this time. You know, it's disappointing! That smell is fantastic."
You don't need a local's knowledge of Royal Troon to realise that if you've built up a decent score on the front nine, the task on the back is all about holding on for dear life. Even when the wind is relatively calm as it was for Monty and co.
And sure enough, the shots started to be given back. The first of those was on the brutally tough 11th when his lack of length compared to the young bucks was exposed and he couldn't chip and putt for par.
He could have done with holing a short birdie putt on the 12th, but didn't. It looked for all the world that another shot was going to go at 13 when a blocked drive had to be hacked out and a decent enough long iron left Monty some 50 feet away from the hole. No doubt to the slight annoyance of Marc Leishman and Luke Donald, who both bogeyed after finding the middle of the fairway, their veteran playing partner's eventful 10 minutes culminated in that 50-footer being sunk.
There was another bogey at 14 followed by a struggle for par at 15. And bogey at 16 was as much as he could have hoped for given the fact he only managed to avoid the burn that cuts across the fairway by rolling over a slender foot-bridge.
Montgomerie's crisp ball-striking had deserted him, particularly off the tee, but it returned to set up a regulation par three at the 17th.
When he contrived to leave himself in a horrible position just short of a front bunker on 18 with no room to get up and over it and near to the hole, the gloom of the first looked as if it might be matched walking off the last.
Seasoned Monty watchers know that the success or otherwise of a 20-foot par-saving putt on the final hole would determine whether post-round reflections would be glass half-full or glass half-empty. Actually, make that glass drained-dry.
Down it went and after the most inauspicious and chaotic of starts, expectations had been met with his level par 71 and maybe even exceeded. A late breakfast was calling, and it was a bacon roll well-earned.