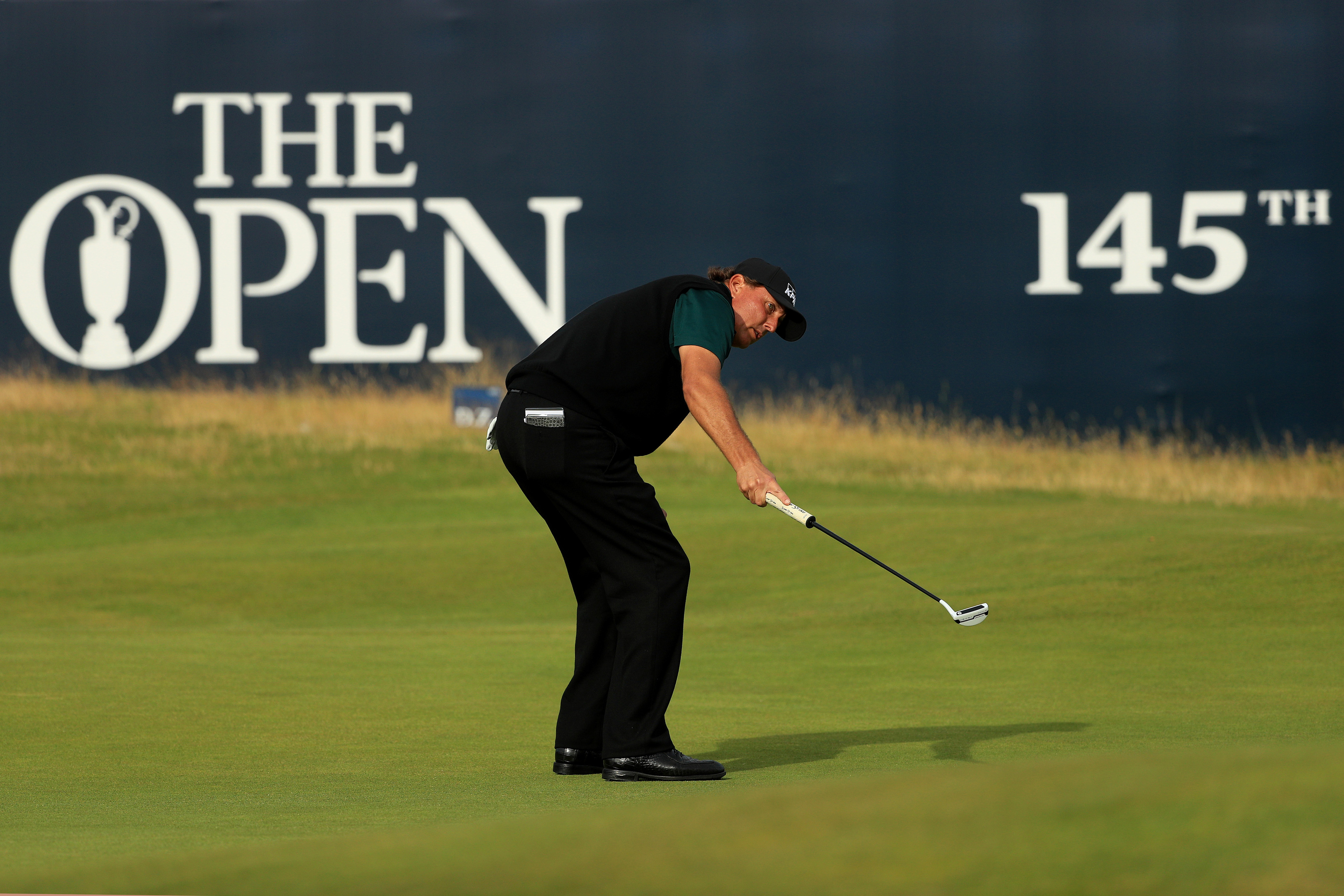 Phil Mickelson burned the edge of history at Royal Troon as he came within a hairsbreadth of the first 62 in major championships taking command of the 145th Open on the first day.
Mickelson's 18-foot putt on the last for a ninth birdie of the day turned straight right just as it reached the jaws, curling around the edge of the cup in excruciating fashion and leaving him with the 28th 63 in majors and the ninth in Open history.
"It's the curse," he joked after saying it was "heartbreaking to get so close to something so historic".
"I know that was a chance to do something, a 62 in major championships, that I'll likely never get the chance to do again. I didn't believe in the golfing gods before but I do now."
It was still a new course record for Royal Troon and leaves the 46-year-old – who hasn't won anywhere since his 2013 Open victory at Muirfield – three shots clear after the first day.
A battalion of fellow Americans – continuing their affinity with the Ayrshire links where the last six Open winners have been from the US – are chasing, led by Patrick Reed, who like Mickelson warmed up for this week at the Scottish Open at Castle Stuart.
Martin Kaymer is the sole non-American breaking up the top eight, sharing second with Reed. Zach Johnson, making a spirited start to the defence of the Claret Jug, got to within two of Mickelson at one point but bogeyed the last two and is among eight players on four-under including Justin Thomas, Tony Finau, Steve Stricker, Billy Horschel and Keegan Bradley.
But it was Mickelson, following on from his closing 66 at Castle Stuart and enjoying perfect conditions after winds diminished to take the teeth out of Troon's murderous back nine, who put his stamp all over the first round.
It wasn't entirely a surprise that he got to the turn in four-under 32 – that had been the template all day as a contrasting coloured scoreboard showed red for birdies across the front nine but blue for bogeys – often the darker hue to reflect doubles, triples, even quintuples – on the back.
But by the time Mickelson got to the tenth and the fearsome 11th, the wind had gone and tigerish homeward nine had turned into a pussycat.
Mickelson stormed home in 31, his only minor concern being a long two-putt for par at 15. He birdied the long 16th from a greenside bunker and the short 17th after a four-iron to the heart of the green – "the best shot of the day" – before he realised history was beckoning.
"It was one of the best rounds I've ever played and I was able to take advantage of these conditions, and yet I want to shed a tear right now," he said of the final putt.
"With a foot to go I thought I had done it. I saw that ball rolling right in the centre. I went to go get it, I had that surge of adrenaline that I had just shot 62, and then I had the heartbreak that I didn't and watched that ball lip out.
"Wow, that stings."
2004 at Troon, when he was a shot out of the Todd Hamilton-Ernie Els play-off, is where Mickelson believes he "got" links golf after so many years – even if it took him another nine years to win – and he feels the course shapes well for him.
"The golf course plays a lot different for me than right-handed players, because going out with that wind off the right I'm more cautious on the birdie holes, and I feel much more comfortable on the inward nine," he explained.
"So I actually feel like with the wind being soft today I could take advantage of the back nine, which is usually where you're just trying to hold on.
"The weather couldn't have been better. We've been here 11 days and haven't seen it like this; the wind was non-existent and the sun was out. That was weird."
Interestingly, of those 28 63s in majors so far only seven men have recorded one in the first round and just two of them – Jack Nicklaus at the 1980 US Open and Ray Floyd at the 1982 PGA – have gone on to win.
"One of the biggest challenges is when you shoot a round like this, you start expectations running through your head, and that's the one thing that I'll have to try to suppress," he continued.
"We'll have three more rounds. We'll have varying conditions tomorrow and it's going to be very difficult. Hopefully I've prepared myself well enough to tackle this golf course under those conditions and shoot a good number tomorrow, and  a good number might be over par."
But he wants that challenge.
"I love it," he said. "That's why I was here last week playing in Castle Stuart in that stuff, it's great. I've spent a lot of time learning how to play in those conditions and I actually really enjoy it, as long as we all get it.
"I enjoy that because it forces you to really play the ball low, have control of your ball flight and short game becomes a big factor because you're going to miss a lot of greens."
But having got so close, this one's going to sting for a bit.
"It's going to stay with me for a while because of the historical element of the major championships. There's a lot of guys that have shot 63, but nobody has shot that 62. That would have been really something special.
"It was outside a few inches, breaking left in the middle of the putt and then straight the last bit.
"Well, it was supposed to be straight, the last bit. The curse hit me hard."