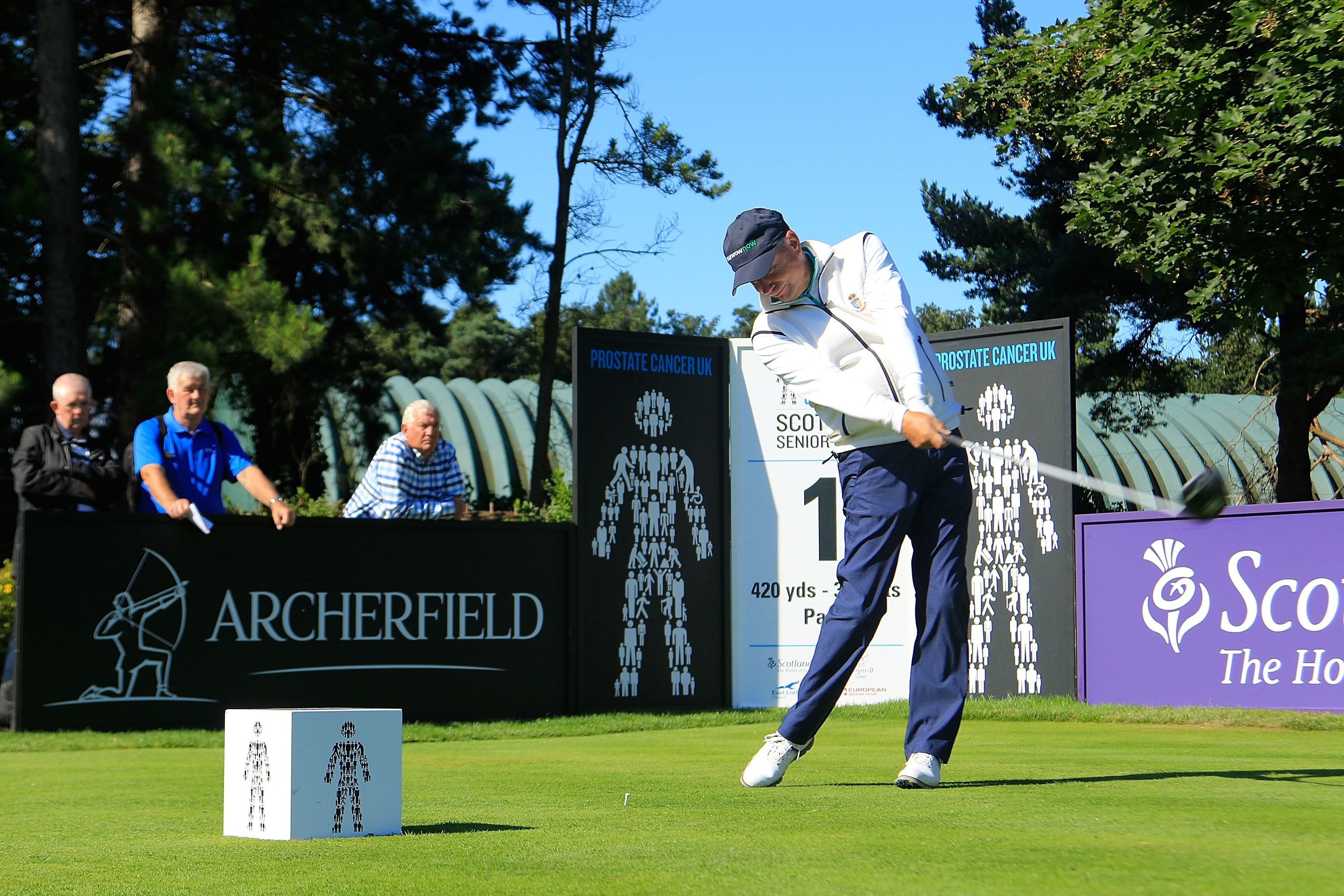 Paul Eales staged a remarkable eight-shot comeback at a blustery Archerfield to claim the set of European titles with victory in the Prostate Cancer Scottish Senior Open.
The 53-year-old from Southport, probably better known as an on-course analyst on radio these days, is now one of an exclusive club who can claim titles on the European Tour, the Challenge Tour and now the Senior Tour as he mastered the East Lothian winds as all around him collapsed in the final round.
Four birdies on the back nine and no bogeys came in a final round 68 as all his rivals were shedding shots like cones from the course' s pine-lined fairways with a collapse from 36-hole leader Ronan Rafferty the prime example.
The Northern Irishman had a two-shot lead on the field and seven shots on Eales going into the final round, stretched it by a shot with a birdie at the first, but then collapsed with eight bogeys on his way to a final round 78, eventually finishing in a tie for fifth.
Eales, meanwhile, snatched the lead on the final hole and claimed the £38,000 first prize with an 11-under aggregate of 205.
"Just magnificent, and to do it here of all places is fantastic," said Eales. "I'm a great friend of DJ Russell (the Archerfield course designer) and I used to do a lot of corporate days here so I know (chief executive) Tom Younger and the people here so well.
"Even at seven behind this morning it was a bit thin at the top of the leaderboard apart from Ronan out on his own, so I just thought if I grind it especially in these conditions I had a chance."
It was around the turn that Eales got momentum, with birdies at 10, 11 and 12 which catapulted him into contention as the others were falling back into the pack. He then produced a couple of cool par saves before his birdie at the last broke a tie with Mike Harwood and Santiago Luna.
Harwood had a shot advantage down the stretch but had three successive bogeys while Luna, the 2013 Scottish Senior champion, was the only man with a chance to match Eales' 11-under total at the last but couldn't hole a 25-footer for a birdie.
"By the 17th I'd seen the scoreboards, realised what had been happening and I knew I was in with a chance if I made birdie at 18," said Eales. "I hit a nice little sand wedge from 82 yards into six feet and made it."
Eales won a Challenge Tour event in 1991, the Extremadura Open on the main tour in 1994, and now the Scottish Seniors for the full set.
"You win early in your career, and you think it'll set you up but in fact I had very few chances to win again over the years," he admitted of a solid rather than spectacular main tour career that lasted a decade from 1993 to 2002.
"You keep your hand in as much as you can and I've really enjoyed doing the radio work, I was with the final group in The Open last month and what an experience that was.
"For me playing it's a lot of social golf now, but I'm a member at Royal Birkdale and at Hillside in Southport so I'm still pretty handy when the wind gets up."
Rafferty was in pole position after his opening birdie but lost his form on the greens although he felt he'd played as well as he did in the first two rounds.
"I'd love to see my score on any other day when I played like that," he said. "I flushed it all day but couldn't make a thing on the greens.
"It was totally different course with the wind today, what I've been used to when I've played this course many times before, but I'm not sure which way I prefer it now."
Australia's Peter Fowler was the only other player to negotiate the back nine in profit with two late birdies getting him into a tie for second with Luna.
Leading Scot was Andrew Oldcorn who shot a par 72 to finish in a tie for 14th place.