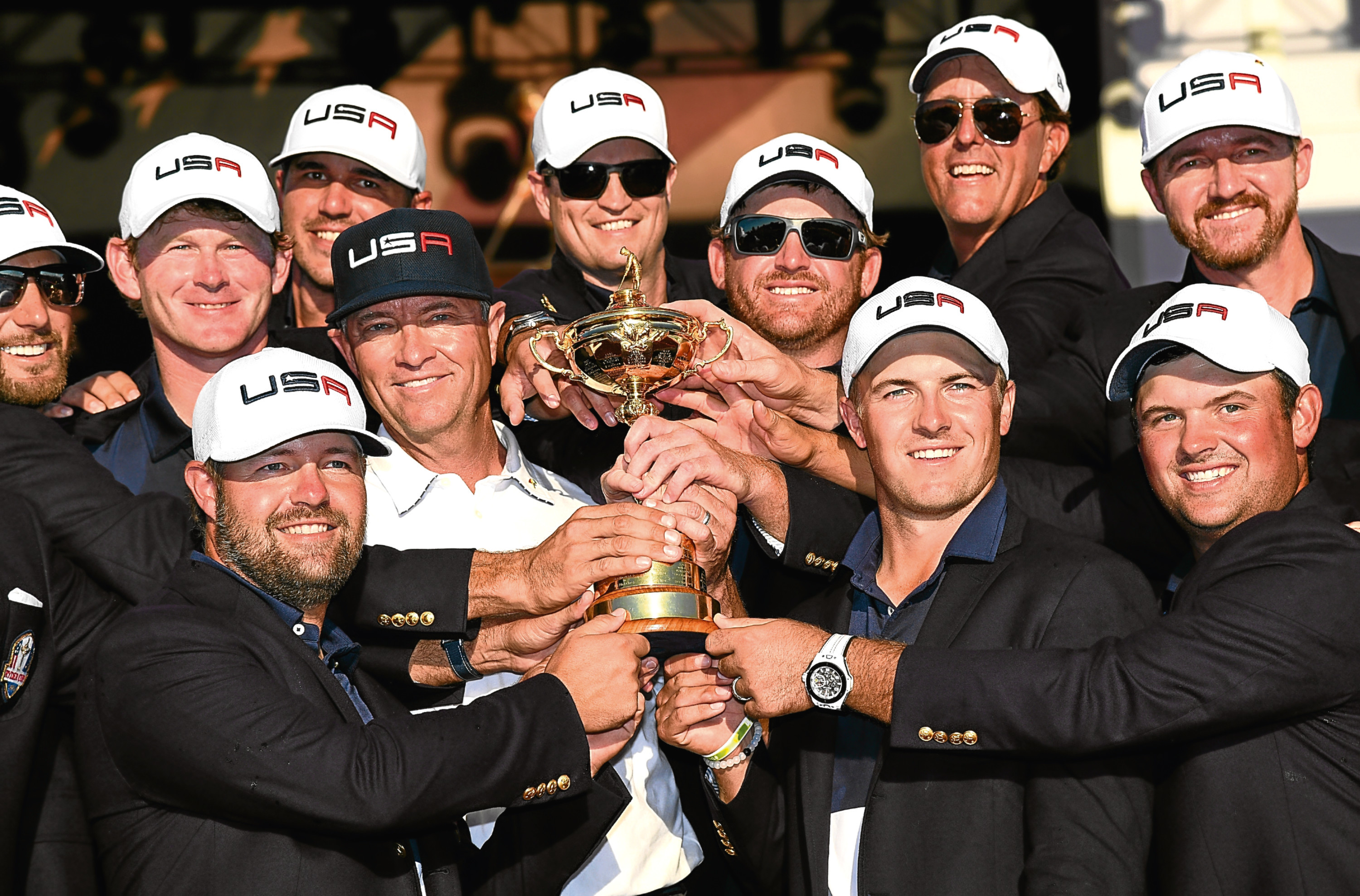 Nothing gets more analysis and second guessing in golf than the Ryder Cup, and for a change most of it for the 2016 version will focus on Europe and Darren Clarke.
The narrative in the wake of the USA's 17-11 win at Hazeltine – once we're finished with the red herring of the rowdiness of the fans, which was bad but had little if any influence on the result – will be that their Task Force has an immediate success.
Maybe, but might it have been simply that it was a strong US team's turn to win? Europe have defied various odds for so long, the most defiant of those coming at Medinah four years ago.
I don't know any observer in Chicago that week who expected Europe to win in Minnesota; it was a set of circumstances that was simply unrepeatable, and Europe had an undeniably weaker and less experienced team this time around.
Clarke's captaincy
The discussion over fan behaviour – something not encouraged by the European captain, to his credit – will save Clarke from scrutiny for a while, but not for long.
The second guessers are out in force already. In the aftermath he did admit to one regret in hindsight, wishing he had more time to put in his Saturday fourball draw – a clear indication he would have kept Sergio Garcia and Rafa Cabrera Bello together, as the 11.40 am deadline was slightly before the Spanish duo mounted their comeback in foursomes.
His wildcard picks will be scrutinised, although obviously not Thomas Pieters, who utterly justified his selection and Clarke's faith.
Few previously questioned Lee Westwood and Martin Kaymer's selection. It was unfortunate that Kaymer struggled and Westwood's outstanding Ryder Cup career hit the buffers just as his great friend was skipper.
But picking a double major winner apparently in form and the most experienced player available who was the glue in the team room at Medinah and Gleneagles – as well as a specialist in nurturing rookies into the event – was logical and reasonable.
Who else would they have picked, more rookies? Clarke struck gold with Cabrera Bello and Pieters but got one point from his four other debutants.
Another strategy which will be questioned was Clarke shuffling his pack to avoid playing two rookies together.
Again, though, he was warned by all and sundry of the risks of doing this, and it clearly was prevailing advice from his predecessors.
I'd have put out an all-rookie pairing the the Saturday fourballs – Chris Wood and Danny Willett maybe – but Clarke was trying to keep the momentum going and felt he couldn't gamble. Again, perfectly reasonable judgement even in hindsight.
Was there any real area where Clarke made a huge error? He said and did the right thing far more often than Nick Faldo in 2008, yet comes out with a worse result.
He had a weaker, less experienced team against a stronger, more organised opponent. Them's the breaks.
Rory's lesson
Davis Love said the month of Rory McIlroy he'd watched so closely was the best golf he'd ever seen from a player.
I think we could see Rory appreciated that perhaps the crowd, in the end, did get to him.
His emotional outbursts at the constant backdrop of inane heckling, eventually sucked his energy on the back nine on Sunday.
McIlroy is a thoughful sort, and in the aftermath you could almost see him putting this one down to experience. It's great for him to get fired up on occasion, but not to lose control of it.
Phil's vindication
Mickelson will surely be US captain at some point, but many will say he has been already. At times it seemed that far from being the "power behind the throne" to Davis Love, he was actually sitting on it.
The Task Force was his thing, Love's appointment was his thing, he staked his reputation on the "new way" and the pressure on him was enormous. Had the US lost, he would have been a laughing stock.
You could see what it meant to him in the final day singles against Sergio Garcia, when they shared 19 birdies. Phil badly wanted to do his bit and fervently wanted his point, and Sergio just as fervently wanted to stop him.
Both would have beaten any other player on the premises on Sunday; it was one of the greatest matches in Ryder Cup history, far better than the hyped McIlroy-Reed contest.
Phil's shot 64 and 63 on the two biggest stages of the season and got a 2nd and a half for his trouble. But it's been some year for him.
Task Force? This works better
After Medinah, some wise counsellors suggested what the US really needed to do was to find their own Ian Poulter.
Well, they've got one now and Patrick Reed was more influential than any Task Force could ever be.