Video: Huey Lewis, Matthew Goode and Ruud Gullit tee off at Alfred Dunhill Championship
Film, TV and sports stars flocked to The Home of Golf in an effort to squeeze in a practice game ahead of the Alfred Dunhill Links Championship this week.
English actor Matthew Goode – star of Downton Abbey and The Good Wife – took to the Old Course in St Andrews to tee off with Dutch footballing legend Ruud Gullit, fellow pundit Jamie Redknapp and Dragons' Den panellist Peter Jones.
"This is my third trip," Mr Goode said. "I've been very lucky. It's become the best week of my year."
A mixture of pros, celebrities and businessmen will stalk the three courses in St Andrews, Carnoustie and Kingsbarns from Thursday to Sunday in pursuit of the prize. Mr Goode insists that his coveted place on the card is never taken for granted.
"I rely on an invitation, so I'm on my best behaviour. It's great getting out on the course with guys like Ruud and out for a drink with film stars, media stars… it's a very humbling and gratifying experience.
Each team consists of one amateur and one professional, Mr Goode has done well from the draw in previous years. "I've been out with Danny Willett and Thomas Bjørn in previous years." he said. "That's pretty special."
Back to the Future rock icon Huey Lewis could also be found mastering his putt, chalking up his ninth appearance at the Dunhill.
"For a guy like me, the minute I start thinking of this as a sport, I'll be in trouble," he said.
He recounted how he first came to golf out of boredom while out on the road with his band, and never looked back.
"We were in Texas, staying in a Dallas hotel. We looked down and there was a golf course. We had eight hours to kill before show time, 'so let's go play golf,' we thought. The bug bit."
Mr Lewis also reflected on the American pro team's recent 17-11 Ryder Cup victory at Hazeltine, their first win against the European side in eight years.
"I thought it was great golf and great for US golf," he said. "The Americans needed that. We needed to win one. It was good to see a little bit of sportsmanship exhibited in America; we're in the midst of a presidential campaign that's anything but polite.
Linkin Park rock star David Farrell, former Westlife singer Brian McFadden and English Cricketing great Sir Ian Botham could also be found brushing up on their swing and putt before the main event tees off.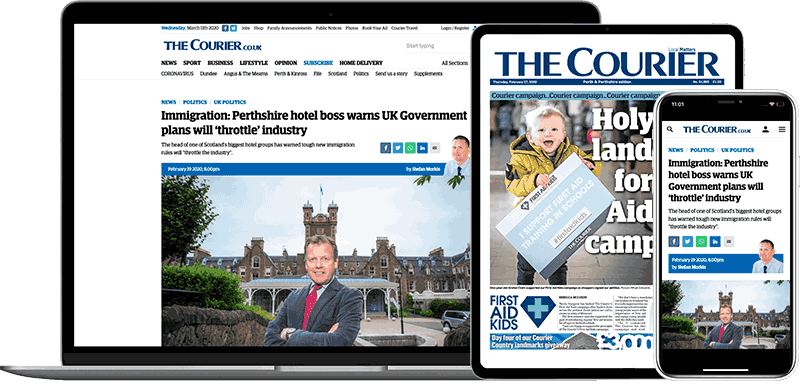 Help support quality local journalism … become a digital subscriber to The Courier
For as little as £5.99 a month you can access all of our content, including Premium articles.
Subscribe