Former world team champion and Walker Cup competitor Wallace Booth is refusing to give up on his dream of playing his way to a European Tour card.
A combination of injury and inconsistency has undermined the Perthshire player's ambitions since he joined Gavin Dear and Callum Macaulay in capturing the 2008 Eisenhower Trophy for Scotland at Royal Adelaide Golf Club.
Their American opponents Down Under included Ryder Cup star Rickie Fowler, 2014 FedEx Cup champion Billy Horschel and PGA Tour regular Jamie Lovemark.
While the vanquished US players have thrived, the Scots struggled after stepping up into the pro ranks.
But Booth (31) is now gearing-up for a season on the third tier Europro Tour, boosted by backing from Pitlochry Golf.
And he enjoyed a perfect warm-up at the weekend, banking the 2000 Euro first prize after an Algarve Pro Golf Tour play-off win in Portugal.
Booth, brother of fellow professional Carly, said: "I was delighted to get my first professional win in nearly five years at the Penina Golf Resort. It was even more satisfying to win in a play-off because I was 0-3 in previous ones. It's given me a nice platform to build from for the season."
While the Comrie-born player is preparing for the EuroPro Tour, one-time rivals Fowler and Herschel and Lovemark are competing on the lucrative PGA Tour in America.
Booth insisted: "Obviously the careers of Ricky, Billy and Jamie have gone in different directions. It hasn't materialised yet for me. But I don't look at their success with a sense of envy or jealousy.
"I feel this is the year I will play the golf I know I am capable of and start moving up the ladder. The minimum goal for the year ahead on the Europro Tour is getting my Challenge Tour card back for next season. I'll just see where the journey takes me."
Welcoming Booth's flying start, Steve Carruthers, Pitlochry Golf director, said: "Wallace is playing under the Pitlochry Golf banner and he can help us raise the profile of a wonderful golf course.
"I have known him for many years, we have had a long term friendship. I actually played with him in his first ever Perth and Kinross county match when Wallace was just 14.
"Wallace will come to Pitlochry for member days, help with the juniors and use our practice facilities, which are among the very best in the region."
Booth credits Broughty Ferry hypnotherapist Vicki Simpson-Price with his positive mind set and play-off success.
"I have been working with Vicki and she has worked wonders in terms of my self-confidence and self-esteem. It is starting to seep into my golf game out on the course. She deserves a lot of credit.
"I feel rejuvenated in terms of how I feel about my golf going forward. You can maybe get away with inconsistency as an amateur but not when the pressure is on to make a living as a pro."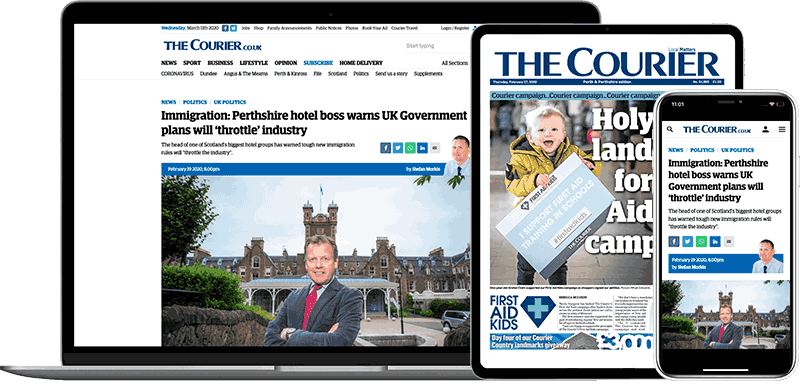 Help support quality local journalism … become a digital subscriber to The Courier
For as little as £5.99 a month you can access all of our content, including Premium articles.
Subscribe