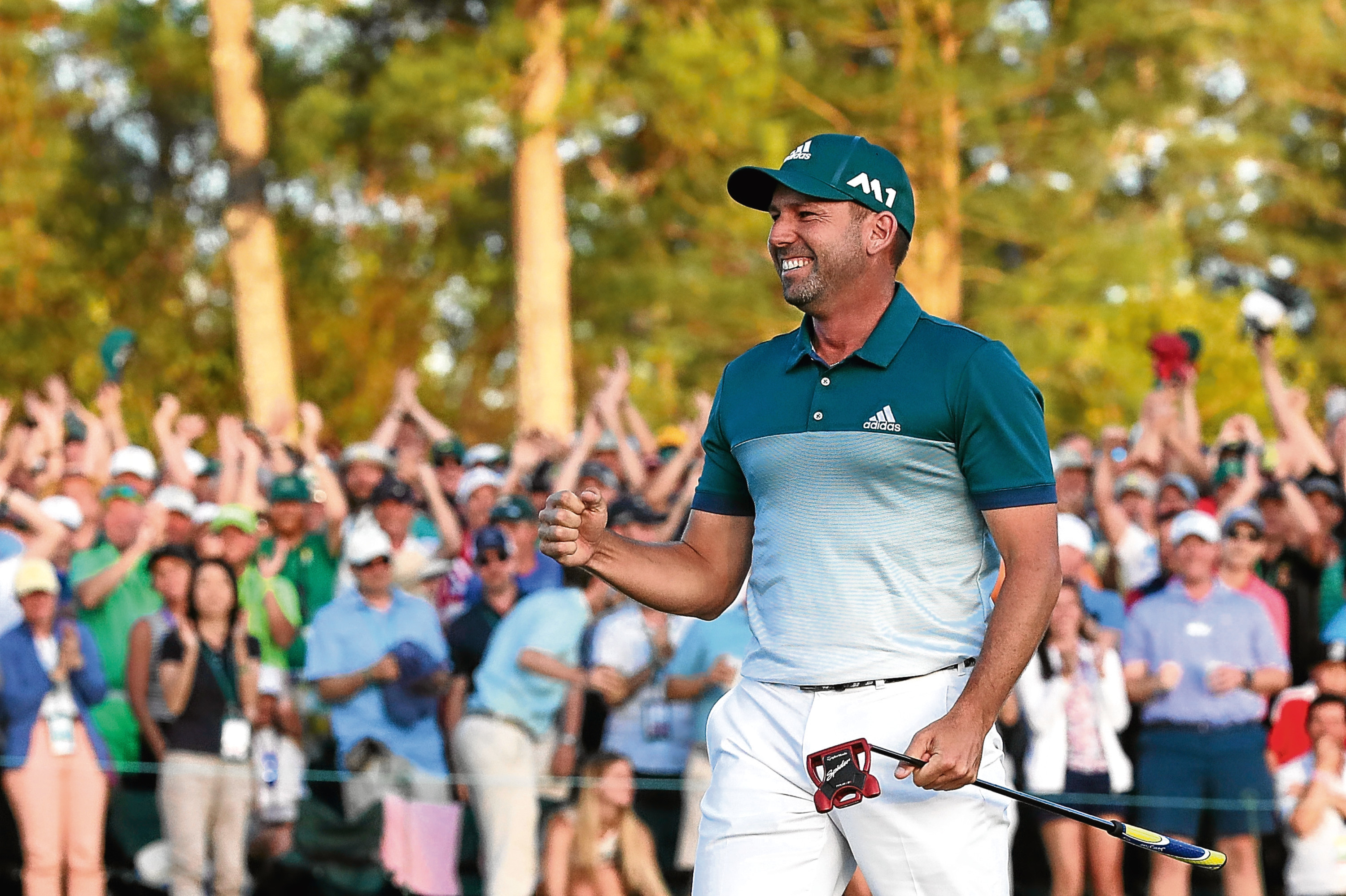 Sergio Garcia's epochal win at Augusta on Sunday was heartwarming enough to raise a smile from those with the coldest of hearts.
Perhaps there was even one from Sergio's nemesis Tiger Woods back in Jupiter. If the absent and wounded Tiger could have beared to watch.
Some of us always had faith that Sergio would win a big one some day.
Surely it would come at one of the ballstrikers' Open venues, like Carnoustie, Hoylake, or even this year at Birkdale.
But you didn't think it could be at Augusta, Because despite all the talk of Sergio being a few castanets short of a full flamenco – and he has done little to discourage that view in public utterances – his problems in winning majors were less mental than technical.
Basically, he couldn't putt worth a damn for the first 12 years of his career. And that tends to be a deciding issue at the Masters.
But the true mystery of Sergio remains just why he has remained so popular – loved even – by the majority of the golfing galleries despite this previous catalogue of frustrating failure.
The Spaniard has been the banner player for Taylor Made/Adidas, one of golf's most successful companies, for his entire career. They have plenty major winners and far more successful players on their roster, but they've always stuck with Sergio despite all his troubles.
Also, Sergio has been something of a brat on occasion. Tiger is not the only one with antipathy about him – Padraig Harrington in his otherwise excellent Sky analysis gave us a hint of that.
The eulogies to his forbears Seve and Jose Maria Olazabal are no doubt heartfelt, but both the legends fell out with Sergio more than once.
He's a complex figure, no doubt, and there's no question maturity now at 37 helped him find his way into the Green Jacket on Sunday. But that – nor his appeal to Tiger haters – doesn't explain Sergio's enduring popularity.
It's surely because unlike Tiger – who is popular for winning and admired for his incredible ability and mental resolve but not remotely loved by the galleries – Sergio is much more like us.
In a game where you're almost encouraged to be robotic these days, Sergio is emotional – witness his unabashed joy after winning – and visibly flawed.
We can admire the otherwordly talents of the modern professional golfer – and Sergio has many of them to be sure – but Garcia's enduring popularity is surely because he's the most human and relatable of them.
Rose the perfect adversary
Almost 20 year ago I covered the Amateur at Muirfield where the dream final was to be between the teenagers Sergio Garcia and Justin Rose.
In the end, Sergio won as Rose lost in the first round to St Andrews' James Bunch. Justin turned pro immediately after that, and then famously toiled.
No-one in golf knew better what it meant for Sergio to win at last. Justin's initial struggle has been the making of him, as genuine a guy on tour as there is.
That's why no-one who knew him was surprised at his classy reaction to his loss and his friend's win.
Few players have Justin's perspective. He's turned it into a brilliant career, one major title already and an Olympic gold medal. You hope further rewards are due to him down the line.
Jordan's missing gears
If there was a script for Sunday – not that it's ever really followed at Augusta – it was that Jordan Spieth would engage sixth gear and effortlessly pull away from the field.
Instead, three late birdies "rescued" a 75 for the 2015 champion. Playing partner Rickie Fowler, probably the favourite if someone had to break their major duck on Sunday, was worse, shooting 40 for the back nine.
But Spieth was the big surprise. He doesn't look as uncomfortable on the course as he did at times in 2016 and the way he hauled himself back into the tournament after Thursday's 9 at the 15th was hugely impressive.
But when he tried to engage higher gear on Sunday there was nothing there.
That will trouble Spieth, who already tends to overdo the self-analysis . It seems ridiculous, but the 23-year-old has to rediscover the carefree spirit of when he was just 21.
Masters miscellany…
Augusta is supposed to be made for Rory. So why has he not even challenged there properly since the 2011 collapse? He finished T7 without ever being remotely in the mix.
Rookies don't win at Augusta as we know. But Thomas Pieters and Jon Rahm have served their apprenticeships now. Contenders from next year on.
Loved Dustin Johnson's commercials still showing on the Sunday broadcast even without the obvious addition "Back to Back to Back…to Bad Back"
Peter Alliss has been the Voice of Golf for 40 years. But his time has gone. Andrew Cotter is much better now.
Sky won out as Colin Montgomerie reportedly priced himself out of their team. Harrington and Paul McGinley are vastly superior analysts.