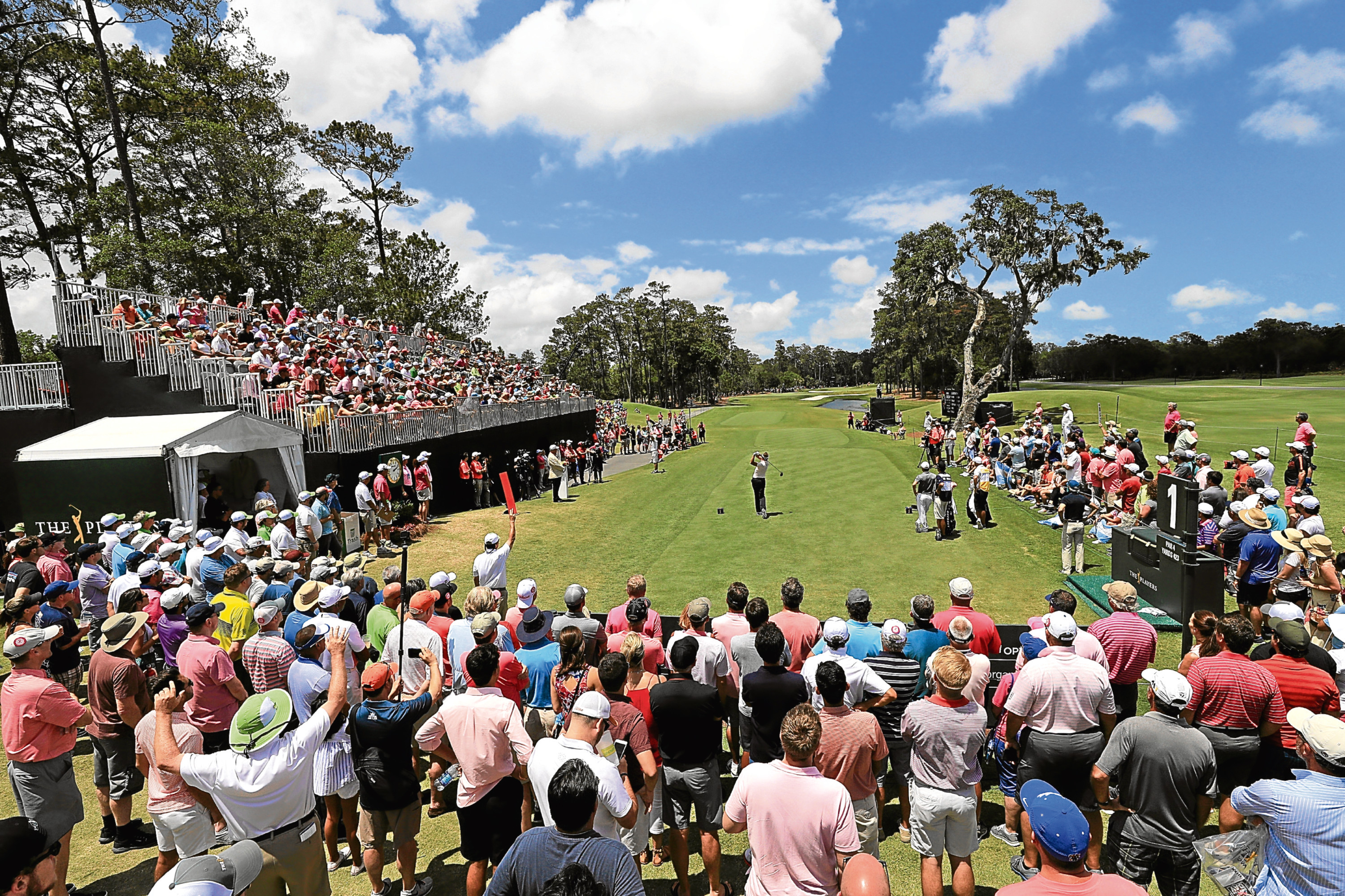 Reports from Sawgrass this year suggest that with Tim Finchem now gone from the PGA Tour Eagles' Nest, that the blue blazers were going to stop trying to suggest that the No-Apostrophe Championship is the fifth golfing major.
Rumours are abounding that the PGA Championship is about to move from August to May, and the Players' (let's be defiantly and daringly grammatically correct) is getting elbowed back to March where it probably belongs.
To me that actually enhances the Players' claims of extra importance, because it then again becomes the first tournament of every season where everybody who is anyone in the world of golf plays, an honour currently held by the WGC event that was latterly at Doral and now is based in Mexico.
The plan is clearly a "major-a-month" from March, first the Players', Masters in April, PGA in May, US Open in June and we finish up with the Open in July.
Yeah, but it's still not a major. If there is to a be a fifth (and I'm far from convinced there has to be) for my money it can't be restricted to the same venue every year. That's the Masters' thing.
If there's going to be a fifth major, also, it can't be in the USA. Three out of four in these days of relatively straightforward travel is not ideal, four out of five would be simply intolerable.
Anyway this year's Players was not vintage by any means. The toughened and tightened Sawgrass didn't seem to do anything much but slow play to a complete crawl.
Unsurprisingly, just a couple of weeks after their token clampdown on a couple of journeymen at the Zurich event in New Orleans, the Tour reverted to type not wanting to offend its members at their own flagship tournament. Even when that's actually EXACTLY the time when they should be cracking down.
US TV analyst Brandell Chamblee (of whom more later) wasn't actually correct when he asserted the new Sawgrass was "superstar" proof – the last four winners before Si Woo Kim have been Jason Day, Rickie Fowler, Martin Kaymer and Tiger Woods.
But he has a legitimate wider point in that it's definitely now a place where the bombers who prevail at the top of the game at the moment have to keep their fluffy toy driver covers firmly on.
Kim is definitely no bomber – he ranks in the two hundred and somethings on tour off the tee. It was his insane scrambling on Sunday – missing ten greens in regulation but not having a bogey – and keeping his ball dry that won him the title.
He's the second Korean to win the Players after KJ Choi, and joins Tiger, Sergio and Jordan Spieth as players who have won two tour titles before they were 22.
He's pretty good and pretty young. But he seems like a horse for this particular kind of course, and it's hard to see him making up the driving deficit at the monster tracks that seem essential for major championship golf these days.
Poults and priorities
The aforementioned Chamblee got in a spat with Ian Poulter suggesting that the Englishman should have taken on the pins on 16 and 17 in the final round to make up the gap on Kim.
"He didn't play to win," said the analyst, while conceding that he'd have done exactly the same in his modest playing career.
Poults gave him the usual pithy reply on Twitter and Chamblee, somehwat oversensitively, blocked him. Diddums.
Personally I think Chamblee was actually right, but Poulter was utterly justified in playing conservatively.
We know that Poults had lost his card on tour before the wife of Brian Gay, another player losing his rights after an injury exemption, spotted a discrepancy in points tallying, winning both men a reprieve and, among many things, a place at Sawgrass.
Finding the water at 16, 17 or 18 could have sent Poulter spiralling out of the top ten or worse. Given his recent experience, simply securing his playing rights for next year (now done) was the absolute bottom line.
Secondly, Poults had no shot for the green at 16. Attempting to do so would have been a stupid, futile gesture.
Thirdly, the evidence was clear that aiming for the centre of the green on 17 rather than attacking the flag was also a necessity. The next full out shot he attempted was a fully-fledged shank off the 18th tee – his swing was beginning to unravel and he was right to lock it down.
Finally, Poulter has been widely misrepresented his entire career by what he looks like rather than what he does.
He's always been regarded as a flair player, when in fact he's always been one of the premier grinders in the game. When conditions are testing and focus and sheer bloodymindness atre required, that's when he excels.
It's why his Ryder Cup record is so good. Poulter is never better than when his back is to the wall, witness his famous five birdie finish in the Saturday fourballs at Medinah. One miss, Europe probably lose that Ryder Cup.
Poulter holding the trophy would have made a great story for us. But he was just making sure he has chance of trophies down the line.