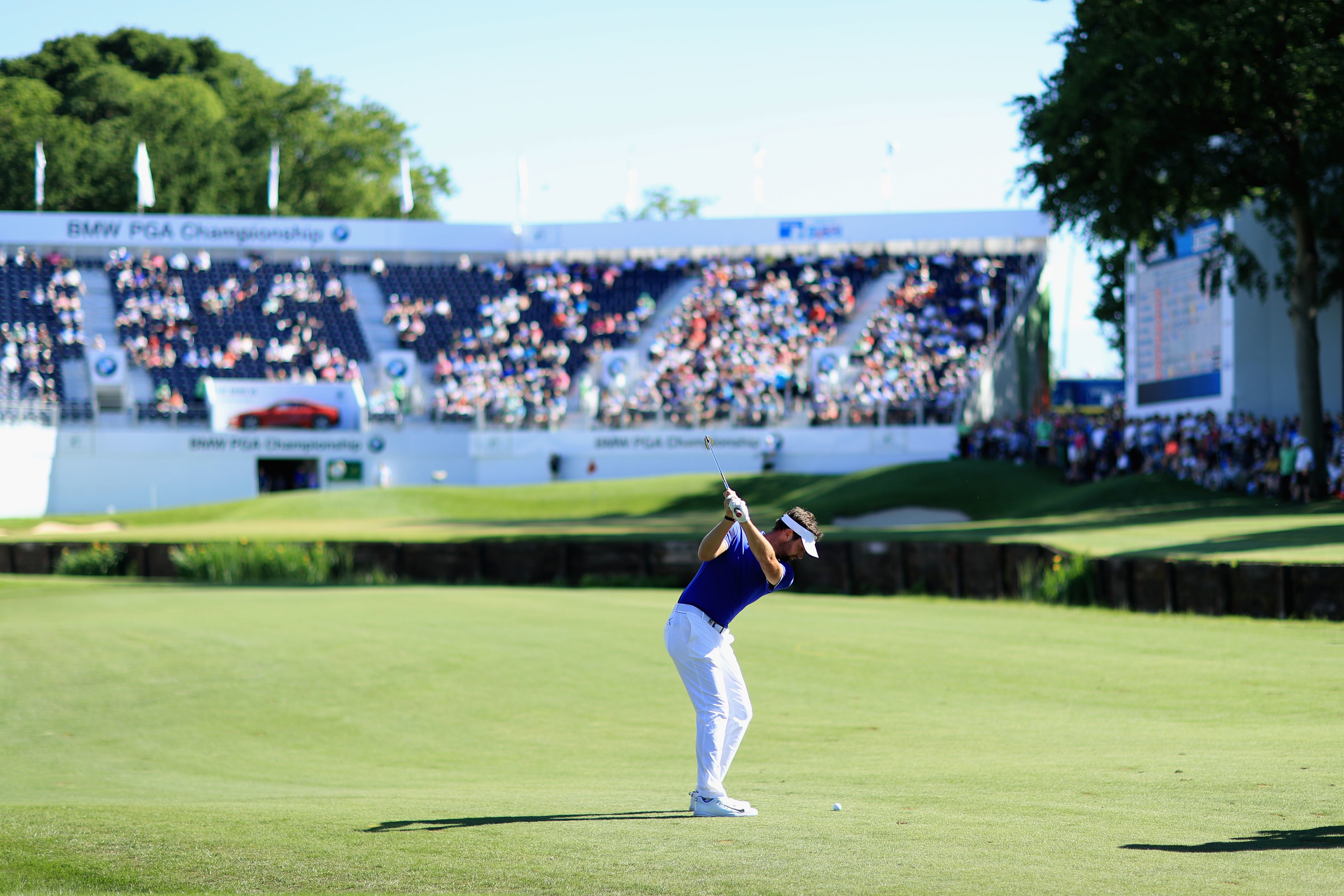 Scott Jamieson faced down his first crisis at Wentworth and came flying out the other side, but he know he's got more coming if he's to win the BMW PGA Championship.
The 33-year-old Scot survived an awful start and responded with a stunning streak of birdies that left him tied in first place at the halfway stage at Wentworth, with Belgium's new Ryder Cup star Thomas Pieters and the consistent Francesco Molinari sharing first place.
Three-over for the day after three holes and seeming as if the good work of his first day would be undone, Jamieson refused to panic and went on a run of seven birdies in nine holes to briefly hold a one-shot lead lead.
He dropped one via a greenside bunker at the tough 15th and couldn't pick up a birdie at the either of the closing holes, leaving him with two-under 70 to lie at seven-under.
Francesco Molinari and Germany's Maximilian Kieffer are a shot behind, and a further stroke back are a group containing Lee Westwood, Henrik Stenson and former champion Byeong-Hun An.
Winning the BMW PGA would be a gamechanger for Jamieson, currently 327th in the world, roughly the same as Andrew Oldcorn was when he produced a shock to win this title in 2001. But the Glasgwegian has always had potential far greater than that number, and it's been kind of ridiculous that he's been on the cusp of losing his card for the last two years.
After Thursday's faultless round, things went wrong pretty quickly with a bogey at the first and a double at the third, but there was no panic.
"After a start like I had today it's only natural that you start thinking 'if I drop a couple more I might be on the cut line'," he said. "You've just got to treat every shot on its own merit, they all count up the same eventually.
"I was able to get on a run and it's something that I've always thrived on. I love doing that, making a lot of birdies in a row, that's where I get the buzz.
Momentum, he agreed, can run both ways, and it was important to make up the losses early to stop anything snowballing.
"I have something inside me that seems to collect the momentum both ways, and I have to make sure I use it to my advantage when it's working for me," he added.
After his excellent start in the first group of the day on Thursday his phone buzzed constantly all afternoon and evening from well-wishers.
"You start off well with a 67 and everyone you know is sending you a text saying you're going to win the tournament," he said. "But you're only a quarter of the way through and this is only halfway.
"It's a huge event, our flagship and it would open up so many doors that have been closed to me. But there's still a long way to go yet."
Jamieson leads on is own in greens in regulation while Pieters has missed half the fairways so far, so he's delighted to find himself co-leader after rounds of 68 and 69.
"Finding fairways here is so important with these new greens," he said. "Even coming out of the first cut with a wedge in your hand is difficult.
"But today was much less stressful. I actually love this kind of golf where you have to think a lot more, not just throwing darts at the flag.
"It's obviously not links but you need to hit it in front of the flags sometimes and let it release, or play for a couple of bounces when you hit a wedge."
This is the sort of championship the tall Belgian should be competing for now, and he's ready for the chase.
"Fourth at Augusta was good, it proved to be that I can handle the pressure, which is nice," he continued.
"The Ryder Cup experience also gave me confidence, but we have still got a long way to go."
Molinari has been close before at Wentworth – he led at halfway in 2011 and was co-leader with Ben An going into the final round two years ago.
Even with the greens firming in the late afternoon, the Italian was able to pick up three birdies on the back nine and narrowly missed an eagle putt at the last which would have had him leading again.
Westwood, who has had a few close things here in the past, is well placed while Stenson, not usually this much at home at Wentworth, has quietly stayed within hailing distance.
The other man featured prominently in the 60-foot high banners at the back of the 18th stands – along with the absent Rory McIlroy – made the weekend, but it was a close run thing.
Justin Rose had an eight on the sixth hole featuring a shank from a fairway bunker, but he holed an eagle putt at the last to make the weekend by a stroke on two-over.