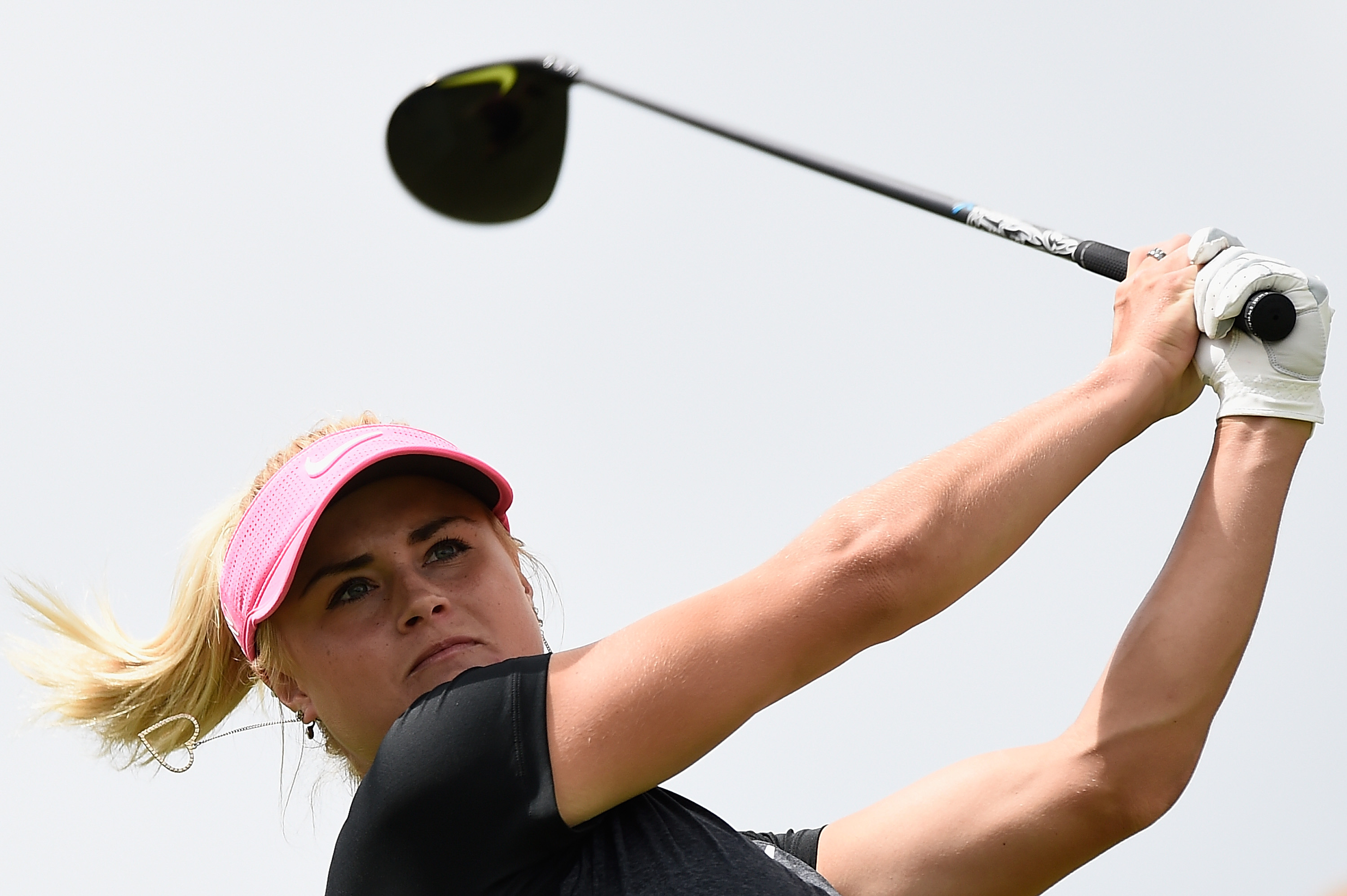 What you always forget about Carly Booth is how young she still is.
When someone eventually writes the Adventures of Carly, they're not exactly going to be short on material. The Comrie girl qualified for the US Women's Open this week, the second time she's done it through the European sectional event.
Perhaps a place in July at the Trump National club at Bedminster, New Jersey – the host course and place where the current President of the United States seems to spend most weekends –  is a sign that her career path may be on the upward again, although rollercoaster doesn't quite cover as a description of it so far.
https://www.facebook.com/CarlyBoothOfficial/photos/a.285457468221661.49822.285130804920994/1063463170421083/?type=3
And the amazing thing is that she's only going to be 25 in two weeks' time. If she has the same longevity as her countrywoman Catriona Matthew, she's got another 25 years or so still to go – and her biographer is going to be spoiled.
Already Carly's had almost 15 years in the golfing spotlight, which is why her tender age is so often forgotten. She's been in the public eye since she became the youngest ever girl to win a club championship at Dunblane New aged just 11, with a game honed playing against her brother Wallace – also now a professional – on the course their father built for them on the family farm.
Five years ago it seemed like all that had been promised for Carly was there for the taking. She won two Ladies European Tour events, a home victory at the Aberdeen Asset Management Scottish Ladies Open at Archerfield, followed by a second win at the Swiss Ladies Open just a month later.
Her professional career had been modest to that point, unsurprisingly because she had started out while still in her teens and the life of a touring professional is difficult enough for mature people.
She had turned pro at 17 after a stellar amateur career when she'd been the youngest-ever to play in the Curtis Cup and won several Scottish titles.
But if that spell of just over a month in 2012 appeared to be the breakthrough, it turned out to be just a brief peak. Over the last four seasons she managed just two top tens on the Ladies European Tour – a fourth place in defence of her Scottish title in 2013, and a 10th place in 2015 in Turkey.
Off course problems contributed – the break-up of a long-term relationship with Argentinian tour pro Tano Goya being among them – but Carly's on course issues resulted in a series of coaches and swing changes.
Despite struggles on the course Carly's profile has remained as high as ever, largely thanks to her strong presence on social media and the continuing demand for her from sponsors and at golf promotional events.
Only last month the popularity of her twitter feed ensured she was one of four players selected for a controversial online popularity poll on the social media site to gain a sponsor's exemption to the LPGA Shoprite Classic staged last weekend.
Despite the support of celebrity friends from the golf world and elsewhere, Carly lost out to the Indian Sarmila Nicollet for the place in the tournament, who went on to miss the cut at the weekend.
Instead by winning the European sectional qualifier this week Carly's made a top order world event by her own talents rather than an online beauty contest. And quietly she has been showing improvement in her game that suggests she could be on the way back.
She's made six of her last seven cuts and although it's early days on the LET schedule she's already in the top 20 of the Order of Merit with an eighth place finish last month in Morocco.
Winning the US Open qualifier in brutal conditions at The Buckinghamshire on Monday will be another confidence boost.
Two other Scots are in the field at Bedminister, Matthew having pre-qualified for the event while Nairn's Kelsey MacDonald also came through Monday's sectional qualifier, recording a hole in one along the way.