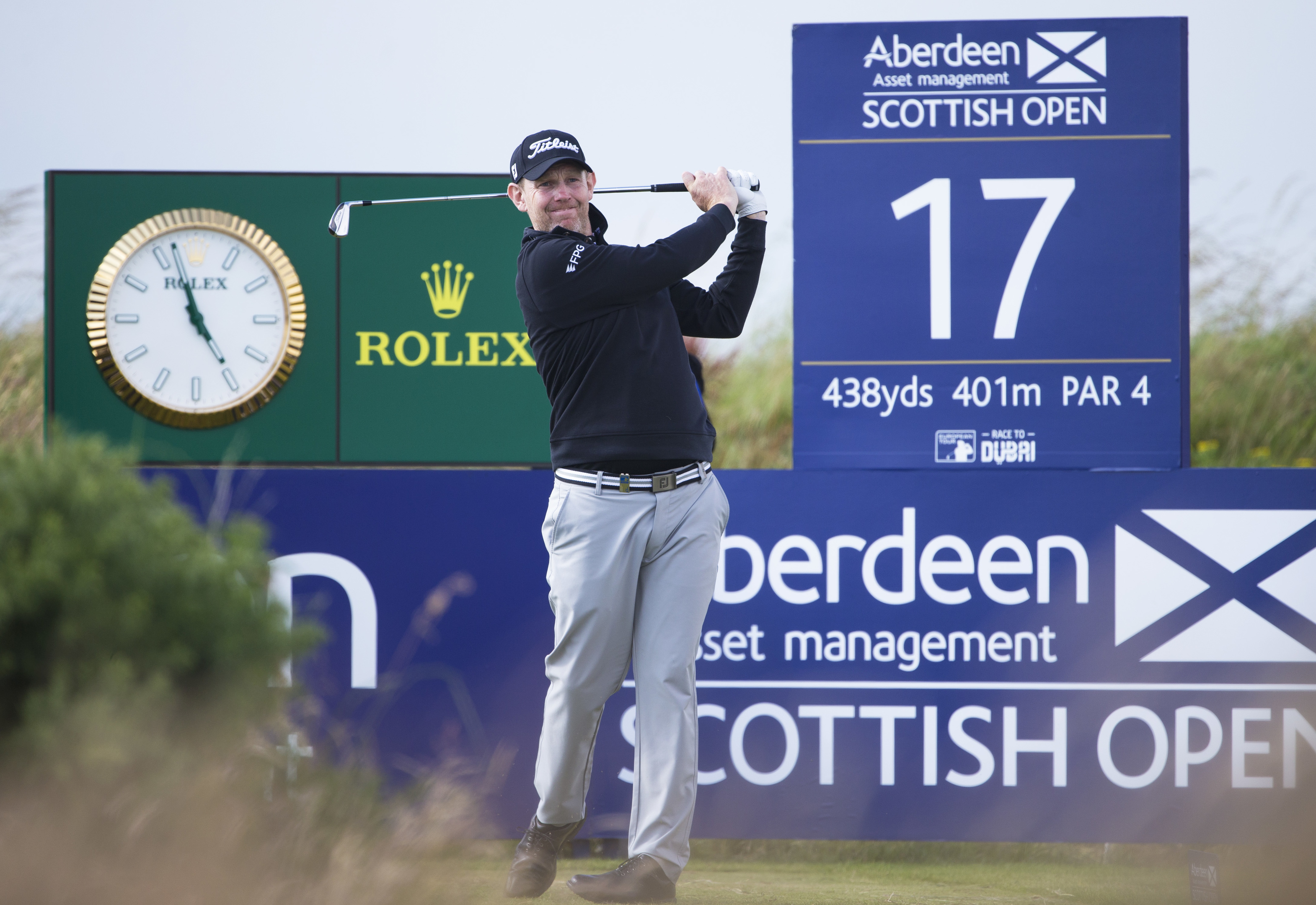 Stephen Gallacher has played in 21 Scottish Opens but has never had as strong a start as he did at Dundonald Links yesterday as the home contingent continued their excellent run on European Tour's links swing.
Gallacher's four-under 68 is three behind leader Mikko Ilonen of Finland on a day when even some tricky winds and rain in the final hour or two didn't stop the strong scoring all day. A cut below par looks likely unless conditions worsen today, which makes things exceedingly tough for a still off-colour Rory McIlroy.
Richie Ramsay also continued to ride his run of good form that saw him finish second in Ireland last week with a birdie out of the bunker at the last completing his 68.
Gallacher didn't feel he had his best day but scrambled effectively, holed putts for saves when he needed them and put together a strong run of three birdies on the bounce to finish without a bogey.
"It was basically hanging on for the five holes before that," he said. "I was struggling a bit, but I started to hit fairways and get it close. I didn't drive it welll today, but my short game was sharp and that kept me in it.
"It was tough to get it close because the greens were firming up. There was an unbelievable difference with how firm they were compared to earlier in the week."
Gallacher has finished strongly in his home Open before – 63s at Royal Aberdeen in 2014 and once at Loch Lomond when the tournament was there – and he knows Dundonald as much as anyone in the field.
"I've played here a lot," he added. "Any time you're familiar with a golf course it's easier. You know where to hit it and where to miss.
"You've got to get it on the fairways to start. You've got to leave it on certain sides of the holes. You've got to hit fairways and then get your irons close to get a good score. I holed a lot of nine, 10-footers today, which was nice."
Gallacher's mini-goal for the last three weeks was to play well enough to et a place in the Open championship next week, and it's a good opening to his final chance.
"I'd love to play in the Open so I know I need to play well, and we saw a couple of the guys do it last week, which was brilliant to get more Scots in it.
"I use that as motivation. This is my only chance and I'd love to play at Birkdale. I started to play well in Ireland and this just shows how close it is."
Ramsay of course booked his Open spot with his performance in Ireland and he was just happy to build on the momentum from Portstewart.
"Today it was just a case of like staying patient and letting the momentum come," he said. "I had a  nice wee run of three birdies on the back nine and that gave me the impetus that I had last week.
"That was a massive confidence boost. The ranking for me is an important thing, and that's pushed me way up in building a schedule, means I can look forward to some fantastic tournaments at the end of the year.
But in the meantime the Scottish Open is "a major as as I am concerned".
"I'm trying to get in contention and feel the same thing that I felt back nine on Sunday in Ireland, and hopefully maybe do a little bit better," he added.
"There's nothing better than practising really hard and coming down the stretch with the pressure. That's what I love to do."
If Ramsay was enthused, current Scottish No 1 Russell Knox and the returning Martin Laird had difficulty adjusting. Knox was greatly frustrated by his two-over 74, having gone nine days without touching a club in trying to break his slump, intense practice having not helped.
"It just feels like I am getting punched in the face over and over," said Knox. "I can't seem to get anything good to happen and it's very frustrating.
"I have got to clean it up, I am making too many stupid mistakes. "I bogeyed two par fives today and you just can't do that. It's killing my score."
Laird looked in great shape at three-under after his front half only to come undone with a triple at the 10th, starting a slide of four bogeys on the back nine that eventually left him finishing with a three-over 75.
Scott Jamieson (76) and Paul Lawrie (77) also struggled but there was a strong showing from Duncan Stewart, the Grantown-on-Spey player, who shot a one-under 71.