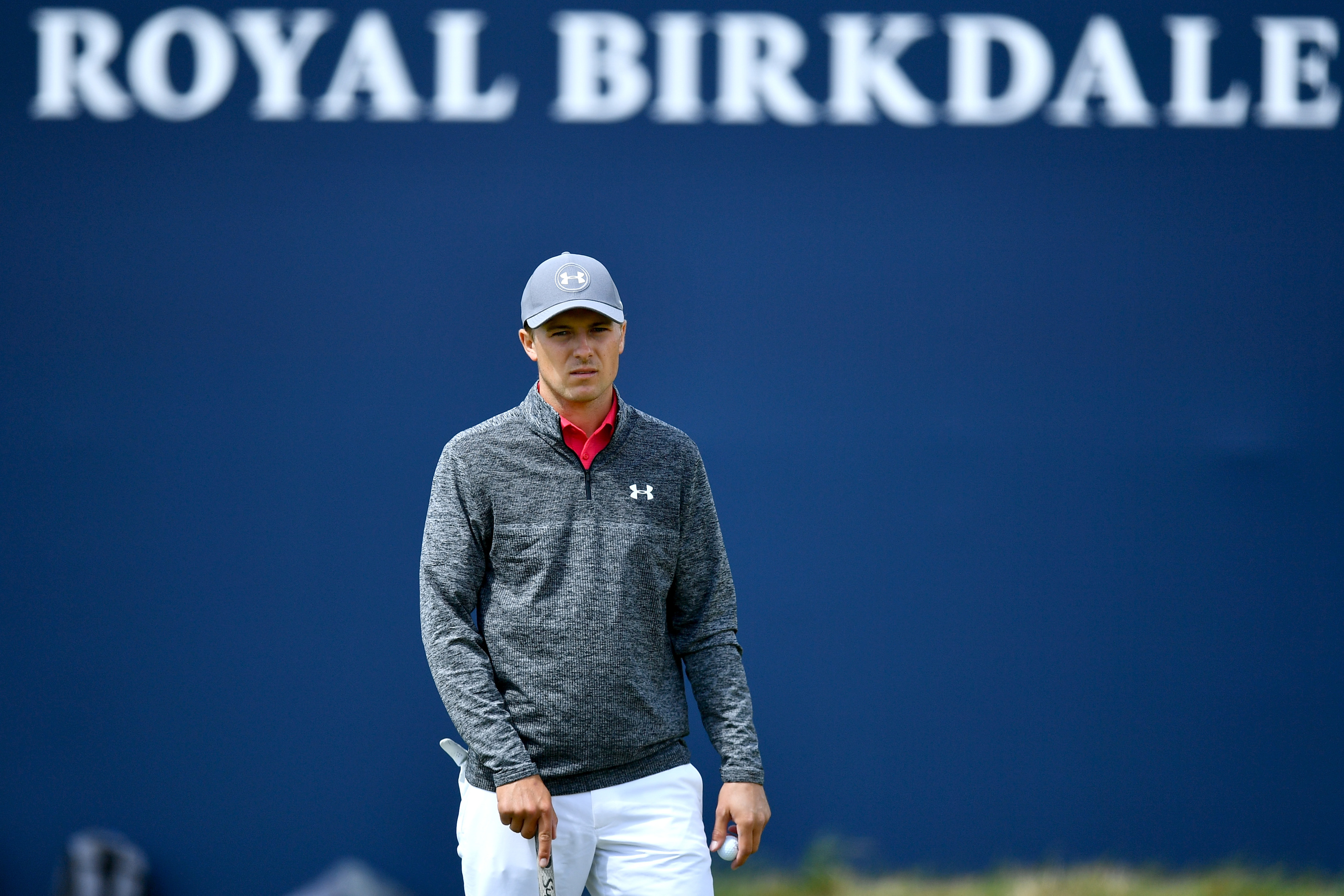 After a bogey-free 65, it wasn't quite what you might have expected Jordan Spieth to say; "I'm prepared for the worst".
But actually, he is. Playing in just the tail end of the worst part of the draw on the first day of the 146th Open Championship, a 65 at Royal Birkdale was almost insurance, or a sizeable deposit in the bank. Because if the forecast is right and the second round today is a complete crash, it's going to act as protection.
Yesterday morning's early starters caught a taste of what is expected throughout today, the end of an overnight storm still swirling around causing a fair degree of carnage on the opening hole in particular. But it dried and got almost pleasant later in the day, as Spieth's opening round came to a close.
What looked like a struggle from the outset finished with more than 50 players at par or better. Americans dominate the top positions, but the sprinkling of Englishmen looking to be the first winner on home soil since Tony Jacklin in 1969 is headed by two elder statesman, Paul Casey and Ian Poulter.
As usual with the open it's a global scene, however. There's Canadians, Japanese, Koreans, Swedes and even a couple of Scots within three shots of the lead.
Being analytical and thoughtful, Spieth probably knows his average in second rounds of Open Championships – all four of them so far, so it's a small sample – is startlingly much higher than his first rounds. But five-under and alongside Brooks Koepka and Matt Kuchar at the top of the first day leaderboard is right where he wants to be.
"I've only had four times here, but I've got experience," explained the young Texan. "I've had a chance to win. I've been on good and bad ends of the draw. So I kind of understand, especially going into a day like tomorrow.
"Last year's Friday round was sheets of rain, like a sideways faucet, and I'm expecting something like that tomorrow. It can't be much worse than what we had in the second round last year or it would be unplayable.
"So I'm kind of prepared for the worst and I understand that I can still make pars that way. You control the ball off the tee, keep your hands dry, and you grind from inside ten feet or you make a mid-ranger for par, something to keep the momentum going, that's important for tomorrow."
Spieth rode his luck a little. When he hit off-line, which was actually reasonably often, he found good spots, but he also hit good recovery shots, and occasionally great ones.
On the tenth he inexplicably chunked a routine fairway shot miles left up the bank by the green, one of the very few uncertain shots he hit all day. But he chipped down absolutely dead for is par.
A sand save at 16 from a difficult lie in a rake mark was his personal shot of the day, rather than any of the less defensive shots that brought his five birdies.
"Really good start, everything was strong," he summed up. "I give it a nine across the board for everything – tee balls, ball-striking, short game and putting. So things are in check, it's just about keeping it consistent.
"It could be a lot more significant in three days' time than I would consider it right now. I'd call it a top five probably, major round that I've played, maybe fifth or sixth, something like that.
"I couldn't have done much better today. I essentially missed two greens today in some 15-mile-an-hour winds. This course has a lot of crosswinds, so it's tough to judge how far the ball is going to fly depending on what shot you play. So that speaks a lot to the ball-striking today."
And has he felt better coming into a major recently?
"My last start was a win. Three weeks ago, then I had some rest. No I feel rested and confident, which is a tough feeling to have this late in the season."
Koepka is red-hot – well he kind of is, having touched clubs only twice since his US Open win at Erin Hills four weeks ago, and one of those was for a photoshoot.
The rest of his time was taken up with celebrations in Las Vegas and what goes there, stays there; "it was fun," he said. When pressed for more details, he paused and repeated "yeah, it was fun."
Just 21 putts – and a bunker shot holed for eagle at 17 – is going to make anyone think they've done the right thing by taking time off, but Brooks insisted this was his normal practice.
"If I'm mentally recharged, my swing, it shouldn't take too long to get back into it. I've done the same thing for years," he said.
But he hasn't just dropped straight back into how he was at Erin Hills, when he obliterated that course.
"I'm not trying to overpower this golf course," he said. "You kind of play the hole backwards. From 200 yards downwind, you shouldn't hit the ball off line very far, the pins aren't going to be tucked. There's bunkers in front of the greens, so you've got plenty of room to put the ball close to the pin.
"Then it's just judging the wind. And by the 8th hole you should have a feel for how much it's moving the ball or affecting it. That's playing the hole backwards, which to me is links golf."
He has no fear of tougher weather tomorrow either, from his experience when he won on the Challenge Tour in Scotland.
"When I won in Aviemore,  there was lot of rain, a lot of wind. We weren't sure if the fourth day was even going to happen.
"I don't mind bad weather. It doesn't faze me. I don't really care that much. Just go play golf and shoot the lowest you can."