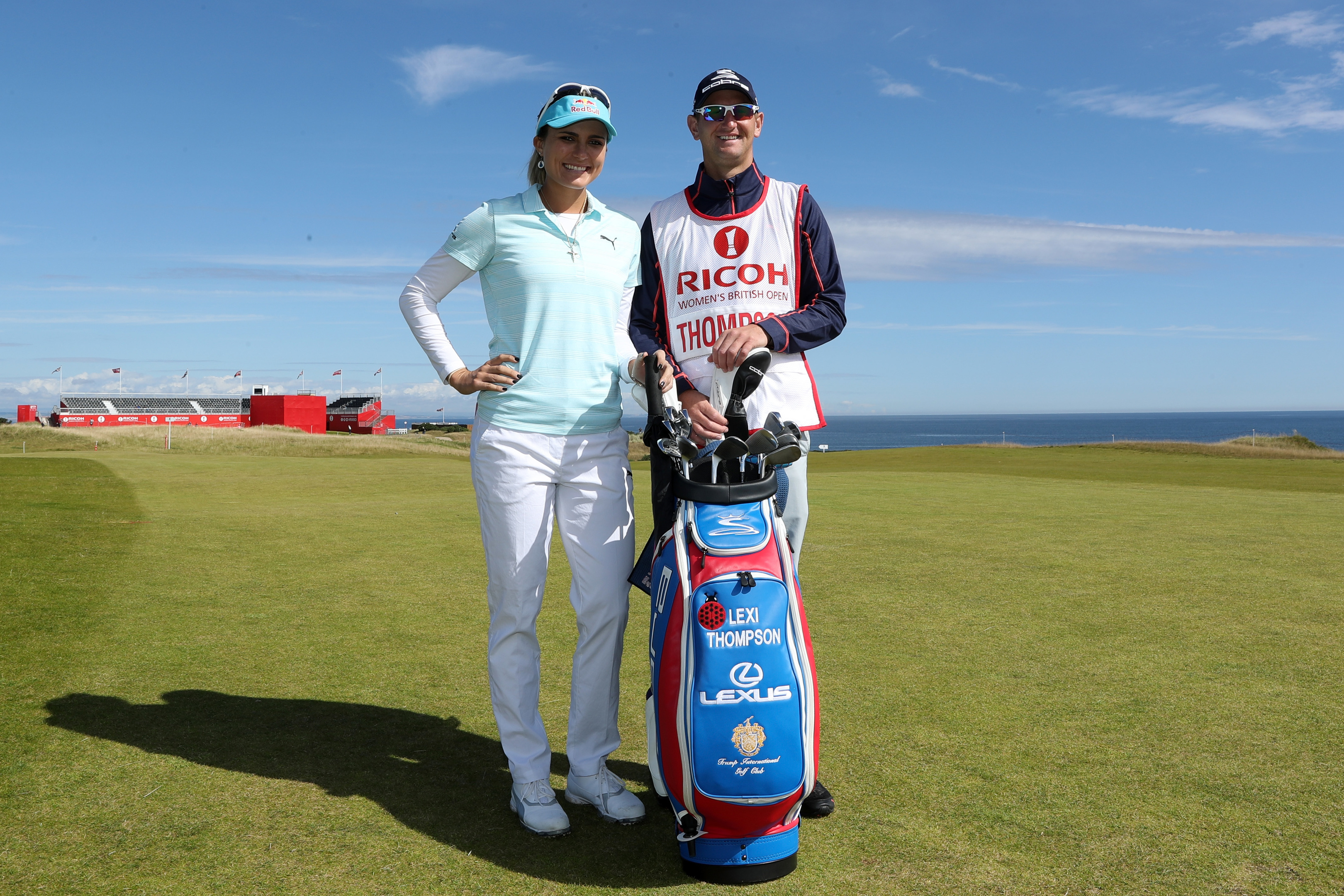 Lexi Thompson has a secret weapon as she attempts to win the RICOH Women's British Open – her "best friend" who knows Kingsbarns Links better than anyone in the field.
World No 2 Thompson's caddie is Kevin McAlpine, the former Scottish Amateur champion and son of Dundee United legend Hamish, who looped at the host course for four summers when trying to further his own professional career.
That is officially on the back burner now he's working with Thompson for the past five months, and the partnership has resulted in a win and five seconds so far – including the heartbreaking loss in the ANA Inspiration, the first major of the season, when Thompson was retrospectively penalised four strokes for marking her ball incorrectly when leading and went on to lose by a shot.
But whatever their successes so far, Kevin should come into his own this week, as Thompson readily acknowledged.
"What's he been advising me on? Basically everything," said the 22-year-old.
"Stepping out here the first time on Monday, I was like, I have no idea. So he was just telling me every line and what every green does hitting the shots into them, so it's been a huge help. He knows the greens very well."
McAlpine was still at Harris Academy when he started out caddying at Kingsbarns, then did it for extra money when he was on the amateur circuit and in his early years as a pro.
"I've seen a lot of this golf course, believe me!" he said. "It's fairly straightforward, to be honest, not like the Old Course where local knowledge is a massive thing.
"The greens are big and undulating. If you do miss it, it's about where is the best place to miss. But they're a lot slower this week to what I've seen here.
"But I was surprised seeing where some of the tees were. I think they will have to be careful if it's windy how they set it up as it could be a little unfair for some. It's definitely scoreable because the fairways are wide, though the slow greens might stop someone going really low."
Kevin, who shot the Old Course amateur record of 62 in 2004, initially juggled caddying with playing on the EuroPro Tour – the third tier of pro golf in Europe – but the link up with Lexi in March has changed his attitude, and the partnership has flourished.
"It's surreal to be back here carrying Lexi's bag, it's all come around so quick," he said. "One of the best things is that we go into any week with a chance of winning and that's a great feeling, whether you are player or caddie.
"Lexi hasn't really been a links fan, but I told her Kingsbarns isn't a true links course. It's an Americanised-links with wide fairways and big greens. She's spinning back her wedges and that is giving her a little more confidence for this week."
Thompson's near miss at the ANA Inspiration is now behind her, believes McAlpine.
"The media stuff about it has died down but she still gets people bringing it up and that's got to be hard," he added. "But she is over it and accepted it. Her results since then show that she has handled it pretty well.
And their successes so far mean that Kevin will inevitably find himself on the enemy side when it comes to the Solheim Cup in Iowa later this month.
"Yes, that's going to be interesting," he said. "I love match play golf and it is one of the biggest team events in the game.
"It will be strange (being in the enemy camp) but I have a job to do and that is getting Lexi around the course that week. It's like this week, I'm at home and seeing my Mum and Dad which is great, but it's work for me.
"We work pretty well as a team but Lexi is very independent, she knows how to play and she certainly doesn't need me telling her. But there's been a few times this week she's asked for advice and I've been able to give her it."
Thompson, despite a problem with temporomandibular joint disorder (jaw pain from teeth grinding) has "never been so relaxed" on the course.
"Kevin is like my best friend, he's always there to hear me out and hear me vent, and we laugh so much on the course," she said.
"He knows my game very well. He's a player, too, so I'm very grateful to have him on the bag."