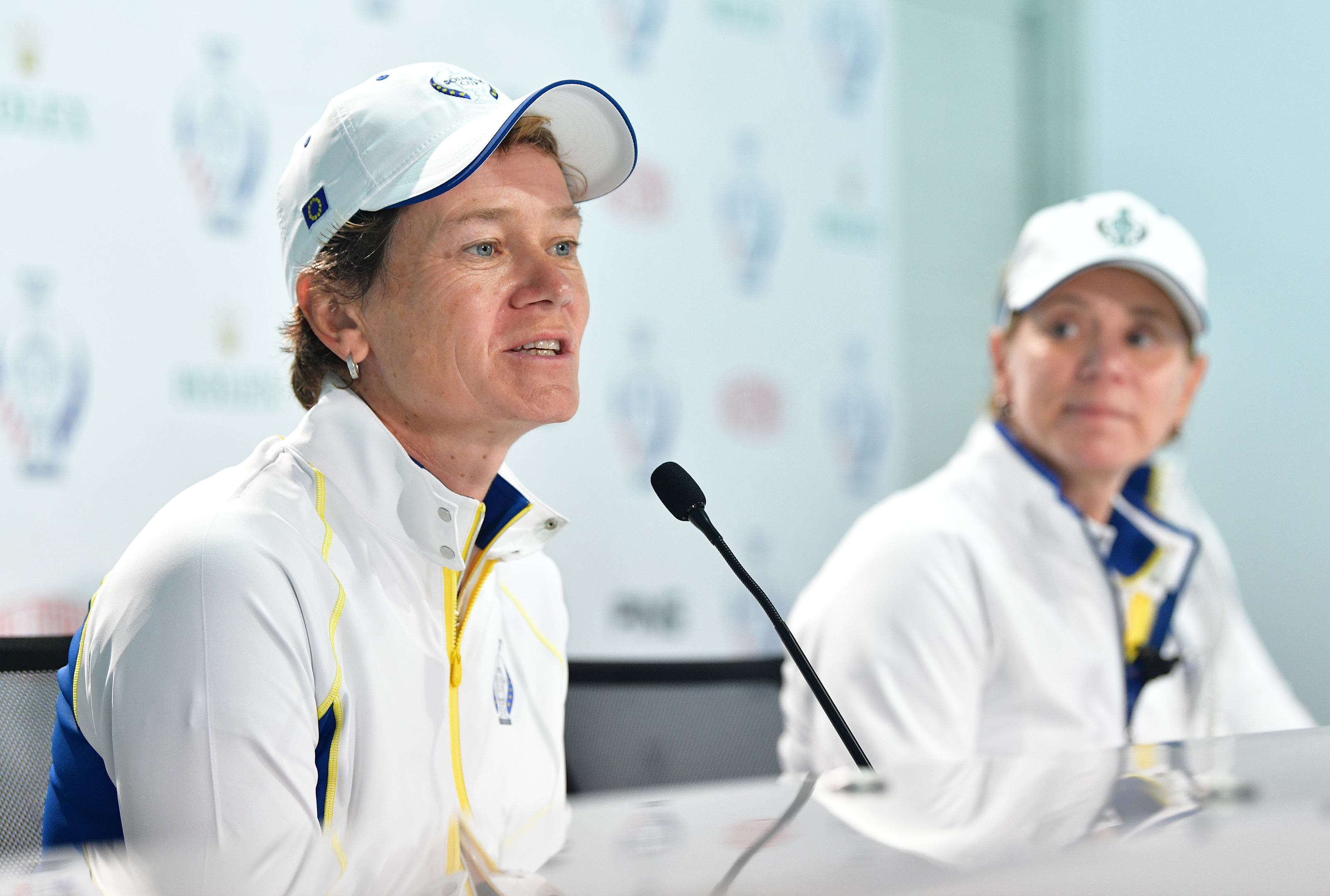 Catriona Matthew thought her last chance to play in the Solheim Cup had gone in the rainy gloom at Kingsbarns two weeks ago, but in similarly soaked circumstances in Des Moines she was suddenly back in Team Europe.
As the thundery rain in the American Midwest that postponed practice for a second successive day crashed off the roof of the media centre, captain Annika Sorenstam announced a straight swap between Matthew and back-injury victim Suzann Pettersen.
The 47-year-old Scot will play in her ninth Solheim while Pettersen will take over the role of "Beany" as a vice captain and if Sorenstam was to be forced into a change just 48 hours before the matches start, this is about as seamless as she could make.
Matthew and Pettersen have near identical records in this format – eight appearances, 33 games played, 19 points won – and while they are very different players, it's as like-for-like as the Swede could hope for in the circumstances.
Pettersen suffered a recurrence of a long-term disc problem while having a morning jog at home in Norway on Saturday. Sorenstam alerted Matthew immediately but the decision was only made yesterday after it became absolutely clear the Norwegian was not going to be 100 per cent.
"I think we're still in a good place," said the captain, while admitting there had been "a lot of juggling, to put it mildly".
"Catriona has played many times and she's very easy to pair with," added the captain. "So it's not going to be any more difficult. We had Plan A, we've now switched to Plan B, and hopefully there will be no Plan C.
"There was maybe a tear or two (when they told the team). But then we rushed to Catriona, got her going. We haven't looked back, this is not going to stop us."
Matthew admitted that she had reconciled herself to not playing again for Europe when not selected after the Women's British Open two weeks ago.
"It felt like the end," she said. "I thought that was my last chance. But Julie Inkster played in a Solheim at 51, I guess, so you never can tell."
She'd already brought her clubs with her and went straight into practice on Monday. Husband Graeme, her usual caddie, is now coming out – "it's probably my last one playing so he wants to see that" – but she'll use Pettersen's usual looper, Edinburgh-born Michael Paterson.
"Mikey's seen the course and worked with me before," added Matthew. "There's two Scots on the team now!
"I'm disappointed for Suzann because she was so up for playing, and I'd kind of got into the vice-captain role and was enjoying that, but I'm delighted to switch the focus to playing.
"Having played in this the eight times, I think it's given me that little bit more experience to deal with the uncertainty of the last few days while Suzann came to her decision."
She's confident that her underwhelming form this season can be put aside in the very different environment of team matchplay, where she has always excelled.
"I've been playing well this year and not getting scores, but this might just be the thing to spur me on for the rest of the season," she continued. "Matchplay's always a different thing entirely."
Sorenstam believes that Anna Nordqvist, who has glandular fever, will be able to play 36 holes in a day if required.
The removal of Pettersen from the contest proper might be to Sorenstam and the team's advantage in any case.
The Norwegian has been cast as the villain of the Solheim Cup here after her central role in the "concession" controversy in the matches in Germany two years ago.
She was likely to face a hostile reception from a crowd expected to number 120,000 or more over the weekend, and on the sidelines she's no longer a target for them.
Meanwhile US skipper Inkster is nursing key player Lexi Thompson through practice with an injury, having already had to make a switch when Jessica Korda withdrew injured to be replaced by Paula Creamer.