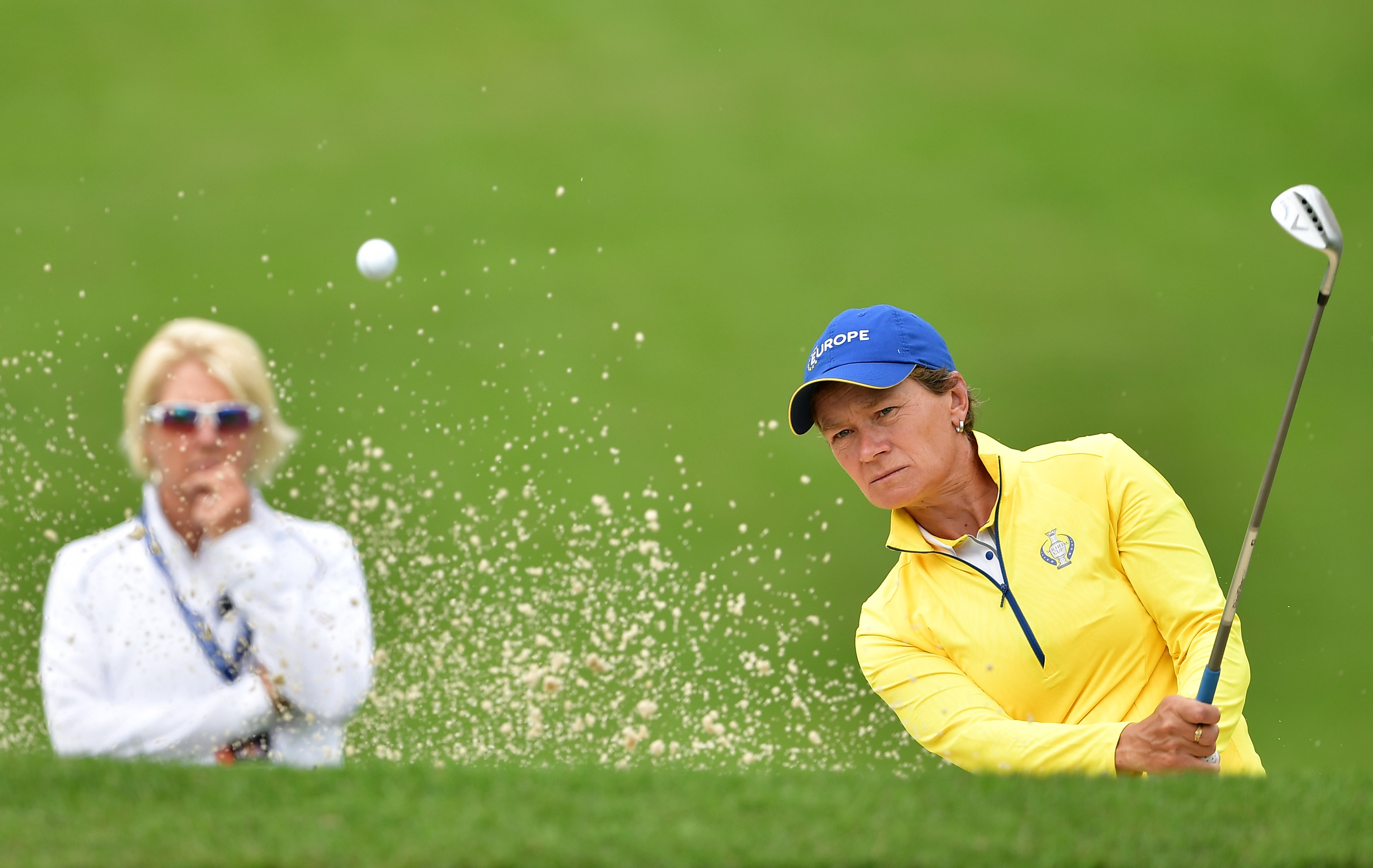 Finding her long-time pal Catriona Matthew was going to be playing in the Solheim Cup was "the saddest news" for Kathryn Imrie – but purely for selfish reasons.
Like everyone else Imrie, the former touring professional from Dundee and friend of Matthew for more than 30 years was actually thrilled "Beany" had been promoted into the team attempting to win back the cup in Des Moines.
"It's unfortunate for Suzann (Pettersen), but what a replacement," said Kathryn, who has been based full-time in California for nearly a decade now. "Beany's record in this, it speaks for itself. The Solheim Cup is a match made in heaven for her."
Only Kathryn had hoped to be caddying for her old friend in practice and maybe even in the matches themselves.
"That would have been so much fun," said the first Scot to win on the LPGA Tour, herself twice a Solheim Cup player and involved this week as one of Annika Sorenstam's back-up team. "It's the saddest for me, but she made absolutely the right decision to go with Mikey (Paterson, Pettersen's caddie, who hails from Edinburgh).
"She's playing great, swinging it really well. She's played in nine of these things now and has huge experience."
Kathryn also believes that Annika Sorenstam is an "amazing captain".
"Obviously I played with Annika as well, 21 years ago now at St Pierre, which is kind of frightening," she said. "She's a born leader, a lot of people are surprised at that who don't know Annika, but I'm not surprised at all. She's always been very analytical."
Kathryn is now a teaching pro at a country club in California, but still keeps her hand in at team golf by occasionally helping out at Stanford University, where Tiger Woods, Michelle Wie and many others studied and where she was once a golf coach.
"I work for myself now but I still go back there in a voluntary capacity sometimes to help out," she said. "It's worked out great, I'm a pure California girl now, although I still miss home very much, you definitely can't take Dundee out of the girl!"
The competitive juices are still flowing, however, and she's looking at getting back to playing competitively.
"I hit the magic number last month and I'm trying to get my game in some sort of shape because they're reviving a women's seniors tour here," she said. "I played in a senior event last month – not well, it was a bit of a rude awakening getting back into competition – but I want to keep playing, I enjoy it so much."
Certainly involvement with the Solheim rekindles the competitive nature.
"I've always said this is the best stage for women's golf," she said. "We have the Olympics as well now, but this has the passion, the fire, emotions people want to see.
"If we had something like this every week then people would want to see women's golf and imagine how it would help the Ladies European Tour.
"From my time I remember going in the team room at St Pierre after we hadn't done so well on the first morning and putting on some loud music to gee everybody up.
"I guess that's like my role this week. I'm just trying to keep the guys loose in the locker room because they're tense, no matter what they say."
And coming home in two years' time to Gleneagles definitely appeals.
"Catriona as captain next time, I would hope so, she deserves it," added Kathryn. "I would be ready to help if she gave me the nod, we'd make a good combo I think. We've stayed close friends simnce coming through the ranks together even though I gave up playing professionally eight years ago now.
"Being part of a Solheim Cup team so near home would be perfect. I played in two and I've done this helping stuff six times now, so I've got a bit of experience as well.
"It's all about getting together and gelling, and I think we're doing that."